Xiaomi Mi 6 vs OnePlus 3T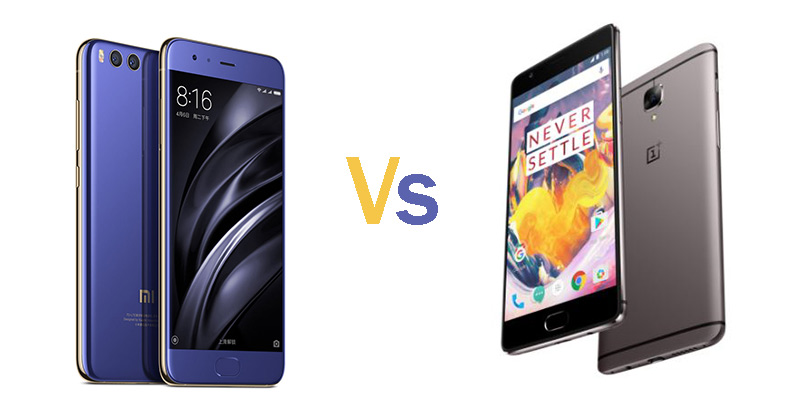 Xiaomi Mi 6 and OnePlus 3T both are mid-range android phones and known as flagship killers. OnePlus 3T was launched back in December last year where as Xiaomi Mi 6 was launched in April 2017. Now here we are comparing both the device. So main difference Xiaomi Mi 6 vs OnePlus 3T is its Processor i.e Oneplus 3T is powered with Snapdragon 821 Soc and Xiaomi Mi 6 is powered with Snapdragon 835 Soc which is the latest one. Xiaomi Mi 6 has better specs as it is launched recently. But on the software front with Oneplus 3T you will get stock Android feel and on Xiaomi Mi 6 you will have MIUI user interface over Android 7.0 Nougat.
Coming to some other specs differences, Oneplus 3T is having 16 MP camera at rear and front. whereas Xiaomi Mi 6 is packed with Dual pixel 12 MP primary camera at the back whic is better than 3T's 16 MP. Moreover, Xiaomi Mi 6 is priced little cheaper than Oneplus 3T, you can see that below.
Oneplus 3T 64GB variant – $440( Approx)
Xiaomi Mi 6 64GB Variant – $360 (Approx)
You can also see the specs Comparison Below.