Idea is the India's third largest telecom carrier offering 2G, 3G and 4G services. Its services are speared over the every corner of India. Recently in order to tackle the competition from Reliance Jio, Airtel and Vodafone, they have started expanding its 4G services.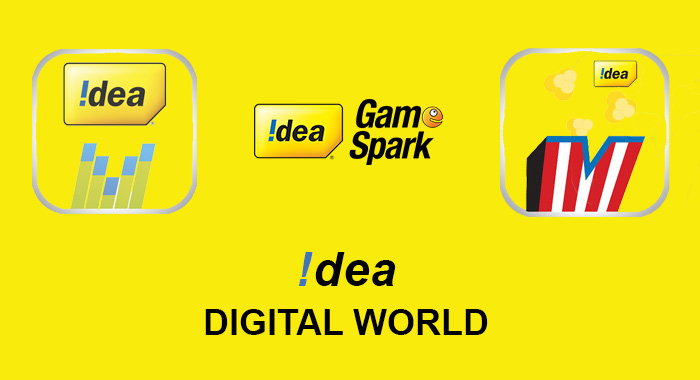 In this decade the internet and data services are going to be the major force behind the telecom operator's revenue generation mechanism. Last decade witnessed huge revenue generation from calls and SMS services.
To make it ready for the future and today's growing data market, Idea has come up with three new Apps. The new apps are named as Idea Music Lounge, Movie Club and Idea game Spark. Idea is moving forward to make the most out of the Data services as like we have seen with Reliance JIO and Airtel.
We have reviewed these apps and here's what we have got so far:
Idea

Music

Lounge

:

The application offers a rich library of nearly 2 million Indian and international music tracks currently. initially, and will probably go up to nearly 20 million tracks soon on Google Play Store and will hit the iOS store in the future. Idea customers can stream music for free or download it 24×7.
Features of Idea Music Lounge App:
DJ Mode: enables transition of songs similar to DJ effect.
Sleep Timer: It will automatically turn's off music after desired time.
Wake Up Mode: It has alarm feature, you can set alarm with the song you like.
Dynamic Lyrics: allows you to see lyrics of your favorite tracks
Data Saver mode: it pans down the data usage by little bit affecting the quality of songs.
Playlists: There's huge list of playlists for your different moods. You can select the playlists on the basis of your choice.
Featured Artists: You can listen to the best songs of your favourite artists.
Localisations: You can select any language of your choice to listen songs.
Further you can select the quality of the songs you want to stream on your device. You can also save the songs for listening it when offline.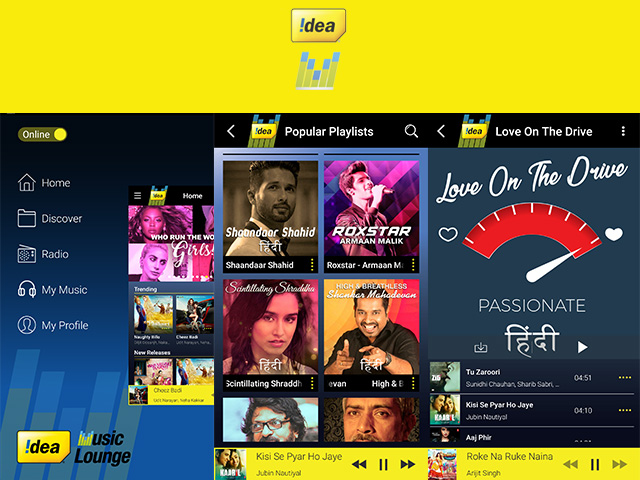 They have added the offline and online feature, so that you can run the app and play downloaded songs if you don't have network access.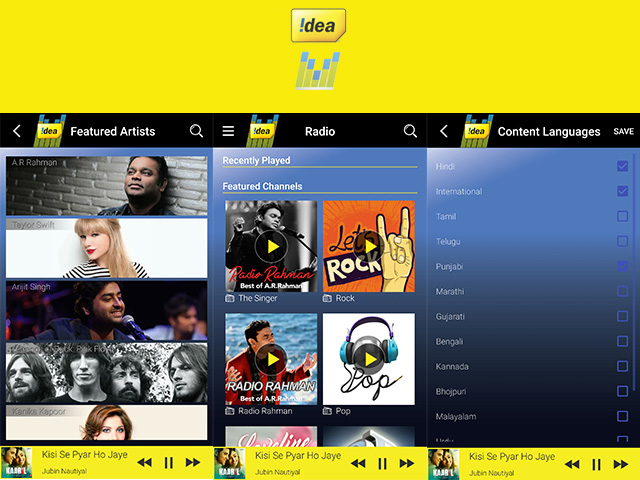 Currently the app is available free for trial period of 90 Days until 31st of March, 2017.  After that period users can listen to Unlimited music without any limitation. If, you want to download the unlimited music then you have to subscribe it for Rs. 49 per month.
Download: Play Store
Idea

M

ovie Club

This is one another app from Idea to further expand its hands in digital entertainment. As per a survey there's a huge surge in video viewing hours on YouTube. Rather than reading a text, users prefer to watch a movie.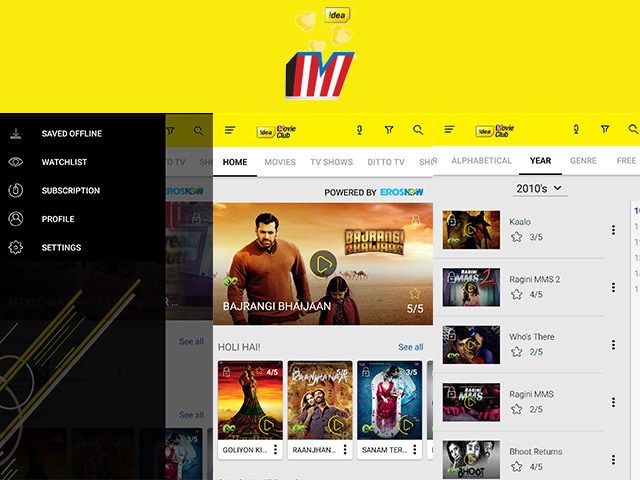 To cater to that growing demand, Idea has come up with to caters to the ever-growing video content needs of consumers, offering thousands of blockbuster movies, Live TV, 7 days catch-up TV, along with a series of Original content and Short Videos across all genres and several languages in the form of Idea Movie Club. The app is available on Google Play Store and iOS store.
Features of Idea Movie Club:
Live TV: You can watch live TV mix of global and regional TV channels.
Trending TV: You can watch popular TV shows from the past 7 days.
Dual Screen: YOu can watch and Browse the app's content simultaneously as like of YouTube
Thousands of New Movies: You can watch many new movies in HD Quality.
Session Resume: You can resume the session from where you left.
Auto Login: App allows you to auto login without any need of password and username again and again.
Clean UI: It packs clean user interface with precise tap locations.
Filter: Idea has embedded advanced filtration system. You can easily find you are looking for.
As like of the Music Lounge app, Movie Club allows you to localise the content as per your need.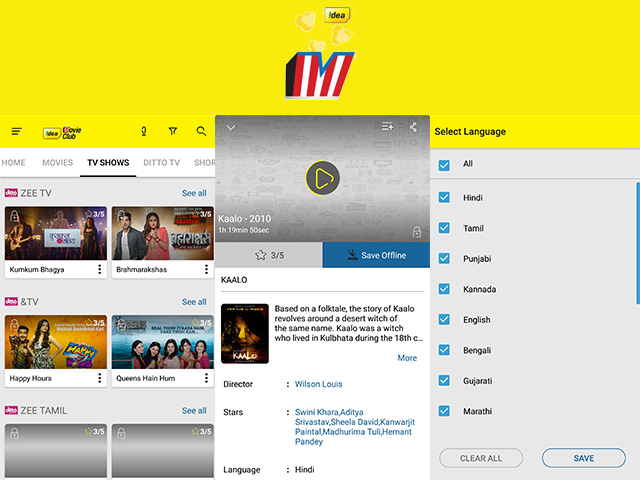 The standard subscription charge to Idea Movie Club App is competitively priced at just Rs. 49 per month for unlimited Movies, Videos and TV streaming. As a part of the exclusive introductory offer, all subscribers downloading the Idea Movie Club App till 31st March 2017 will be able to use this service for free for next 90 days.
Download: Play Store
Idea

Gam

 Spark:

It is another stop for the data users. It gives platform for gamers to download, Play and compete in the available games. There are over 1,500 games across all genres. Targeted at the gaming aficionado and the casual gamer, the games can be played both in the online and offline mode.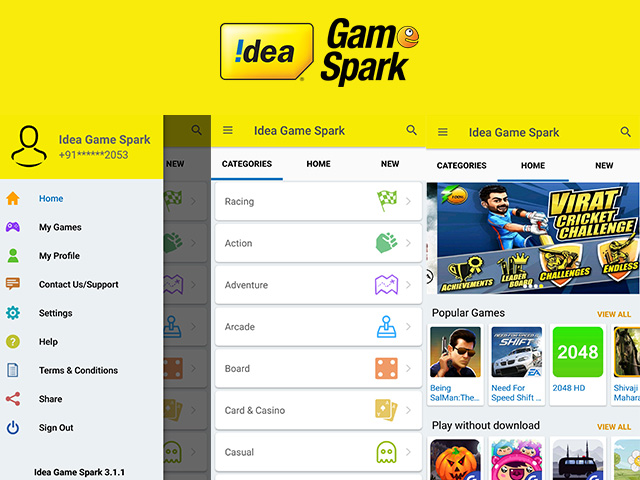 Idea Game Spark can be accessed by all Idea as well as non-Idea users on www.ideagamespark.com. This app is not available on Play due to restrictiction of Policies from Google. You can try it by heading to the above mentioned website.
Features of Idea Game Spark:
Virtual Reality: You can play Virtual Reality games.
Different Genres: There are Different Genres such as Racing, Cricket, Cards, Sports, etc.
Download Paid Games for Free: Users can download premium titles like 'Virat Cricket', 'Need for Speed', and many more for free.
Games are available on monthly subscription basis and the company intends to introduce range of other tariff models such as pay per download and freemium. The store also gives games users access to hundreds of free games.
Idea Game Spark monthly subscription charges are very competitively priced at just Rs. 29 per month for unlimited games both online and downloads, for all consumers. As a part of the exclusive introductory offer, post sign-in of the Idea Game Spark App till 31st March 2017, 90 days of free subscription will be available.
We hope you have got know every