OnePlus 5 is one of the most buzzing phone on the web right now. Already, there are several flagship devices having similar specs but the price of this one make it different from others. We have Samsung Galaxy S8, Xperia XZ Premium and other devices running Snapdragon 835 but no one is covering the price difference between this phone.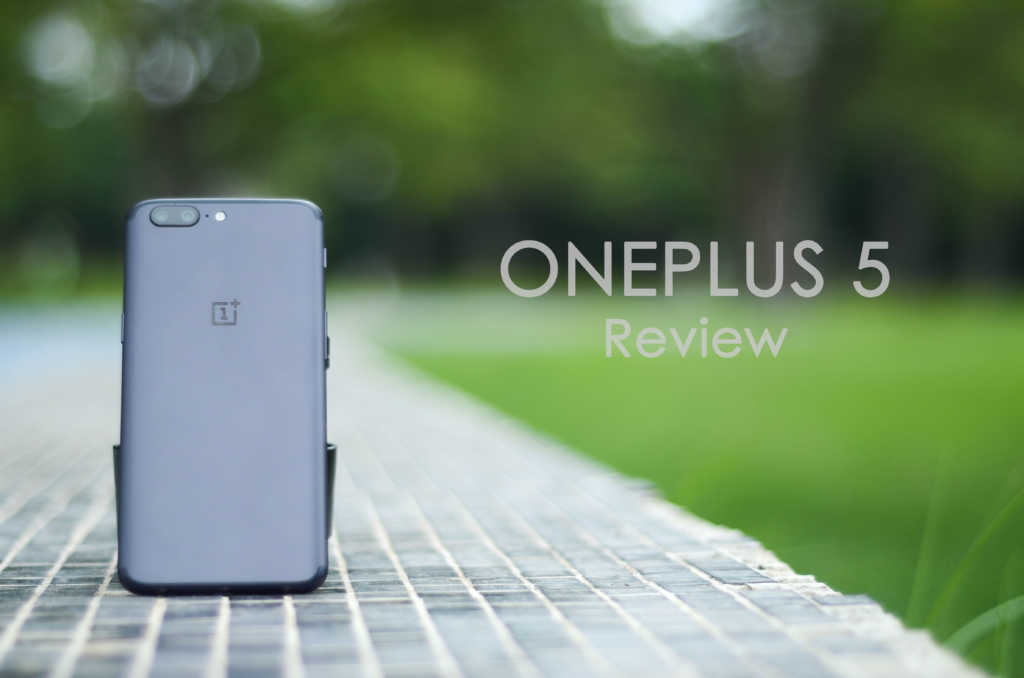 So, here we are with the review of OnePlus 5 on GoAndroid. As like of the previous phones OnePlus 5 is also a flagship killer which packs high end specs and some smart features. The main highlight of the phone is Snapdragon 835 Soc with 8 GB RAM. We will discuss every aspect of the phone in detail below.
Design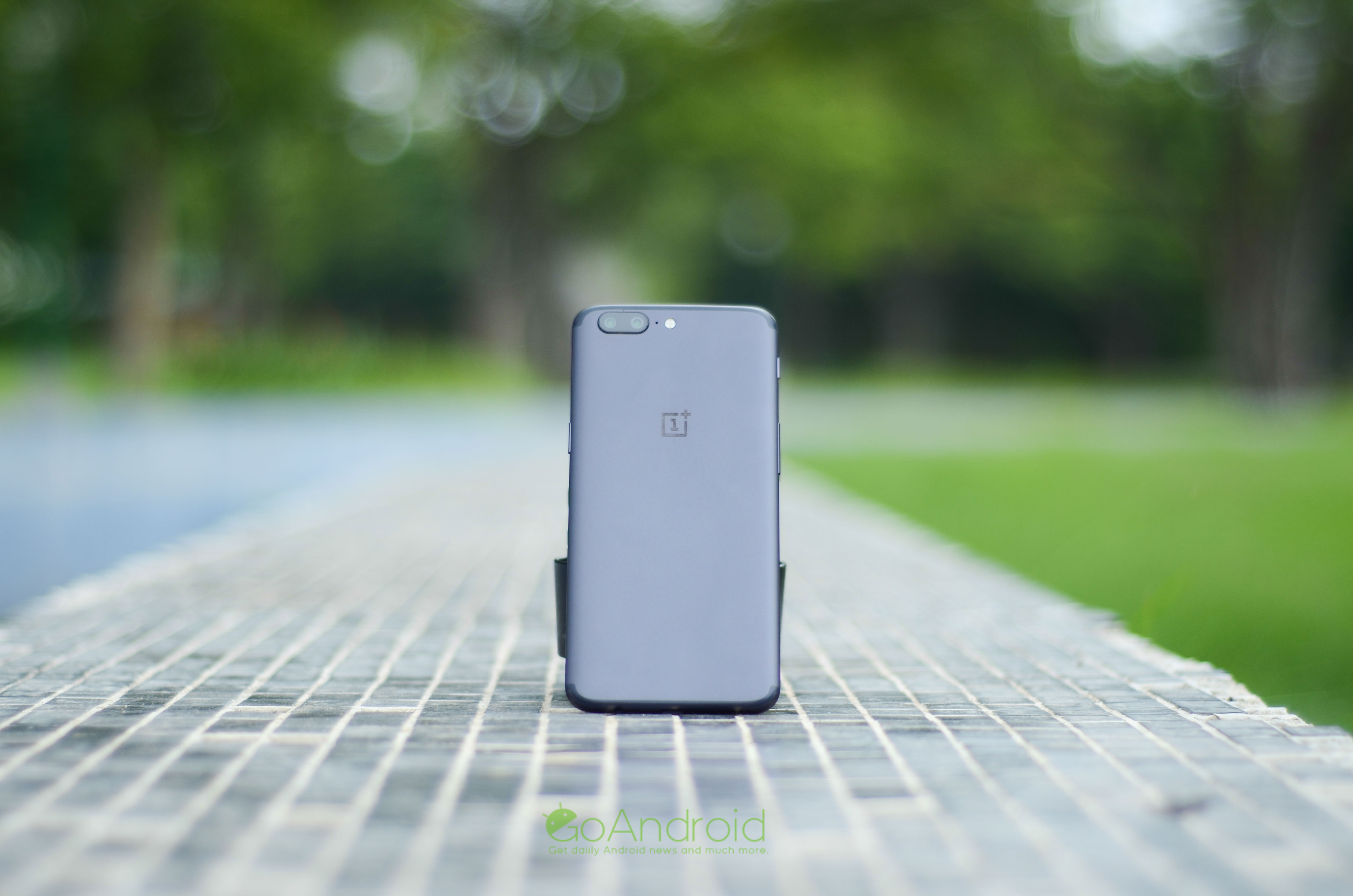 Firstly, let's start from the back of the phone which resembles a lot like iPhone 7 Plus, as per many tech enthusiasts. But in reality, it looks more identical to recently launched Oppo R11. Anyhow, OnePlus 5 offers a metallic body and it is thinner than its previous phone i.e. Oneplus 3T. On the back panel there is a dual camera with dual LED flash. All the things have been adjusted to bring out the real design of the onePlus 5. There's a huge curved line along with the top side of the device. it feels little slippery but it is much moore handy than OnePlus 3T.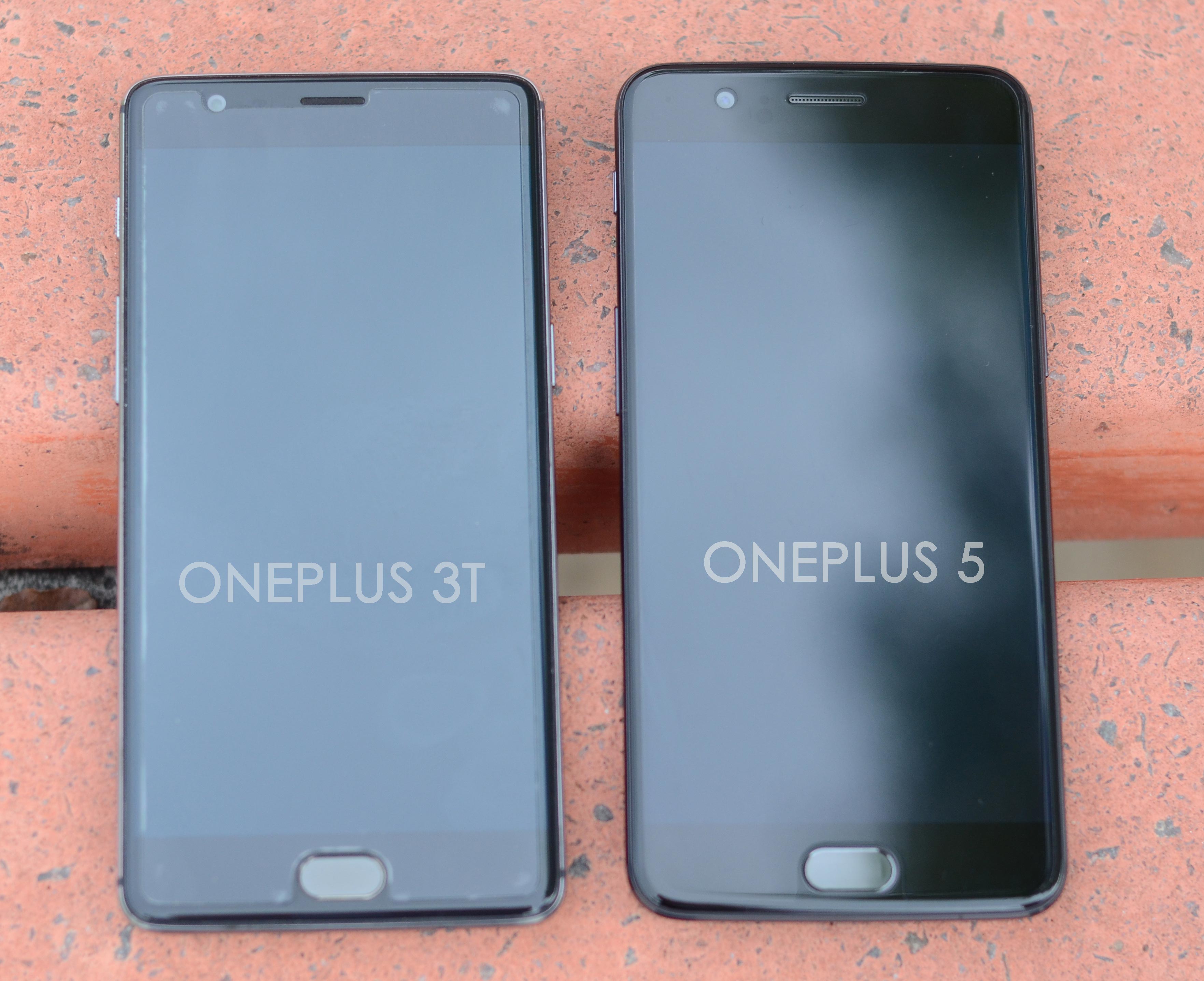 Now, Coming to the front panel it is very identical to OnePlus 3T. The edges of OnePlus 5 are more round than 3T, these round edges makes OnePlus 5 more comfortable to hold. When we compared it with design of other flagship devices like Galaxy S8, LG G6 and Apple iPhone 7 Plus  then we found one missing thing i.e IP67 certification. Yes, OnePlus is not waterproof device,it lacks this quality.
Now coming to the sides of OnePlus 5, left side packs a do not disturb button. There is a volume rocker also present on the left side and on the right side there is a power button. SIM slot is on the right side of the phone above the power button. All the things have been merged into the device by keeping in mind the premiumness of it.
At the bottom there is a Type-C USB port at the center, on the right side of the USB Type-C there is a 3.5 mm headphone jack and speaker is placed on the left side. It is simialr to the OnePlus 3T or 3.
Display
OnePlus 5 offers the "old-fashioned" 1080p 5.5-inch AMOLED panel with a 16:9 aspect ratio. It also offers the latest Gorilla Glass 5 protection over the display. However, all the flagship phones now have a QHD display some of them even have 4k display. In this section Oneplus 5 is behind most of the flagships. But when we compare it with other 1080p displays, OnePlus 5's display produces more vibrant colors that are full of contrast and deep blacks.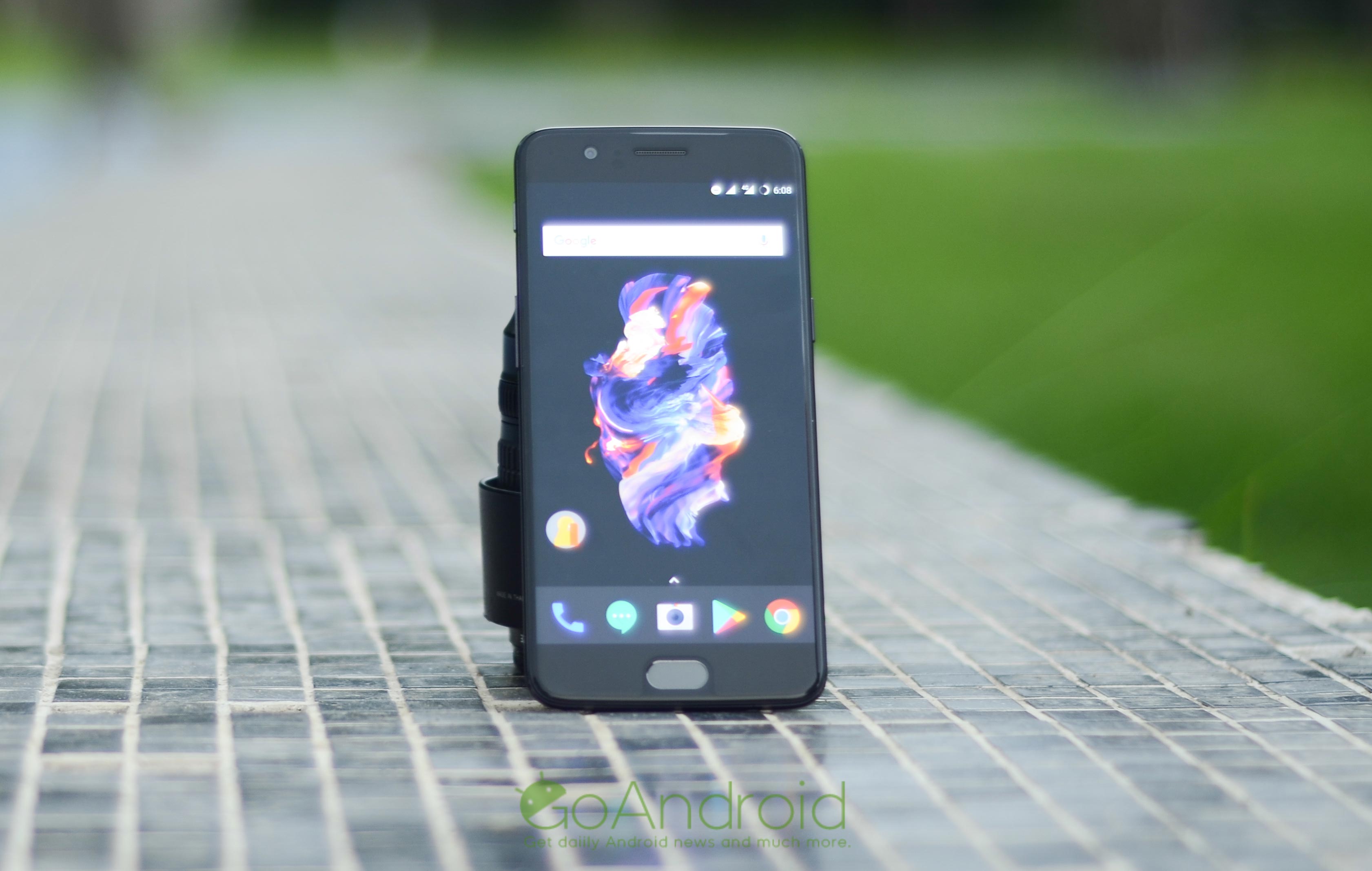 After using OnePlus 5 for a week, we figured out a problem i.e. when I turn on the phone's display in direct sunlight the brightness increases in a very slow manner. It approximately takes 2-3 seconds to adjust with the light. We hope, It might get fixed in future updates.
Hardware and performance
Coming to the hardware and performance section, where OnePlus 5 gains momentum among other flagships. In this, OnePlus 5 is a real flagship killer, it gives very tough competition to all the flagship out there. OnePlus 5 powers a Qualcomm's latest 2.45GHz Snapdragon 835 chip. It pairs with 6 GB/ 8 GB of RAM and 64 GB/ 128 GB of internal storage. In most of the tests OnePlus 5 managed to defeat Galaxy S8. These tests includes unlocking phone with fingerprint, Switching between the apps and many others. It works flawlessly and you can play high graphics games very smoothly on the phone.
To make OnePlus 5 acceptable world wide, company included support for 34 network bands across the globe. Which includes FDD LTE: Band 1/2/3/4/5/7/8/12/17/18/19/20/25/26/28/29/30/66, TDD LTE: Band 38/39/40/41, TD-SCDMA: Band 34/39, UMTS(WCDMA): Band 1/2/4/5/8, CDMA EVDO: BC0.
Software
OnePlus 5 runs on the Oxygen OS which is based on the latest Android 7.1.1 Nougat. Oxygen OS gives almost the stock Android with some tweaks to perform better. OnePlus 5 packs some unique and useful features like reading mode that turns the entire screen to gray-scale. It gives very similar experience to what we get in the kindle e-reader.
It also packs do-not disturb option while gaming. In this feature you will not get notifications while you are playing games or doing any other work on OnePlus 5.
There are inbuilt features like  App Lock, Gestures like "flip to mute", double tap, "drawing O on the display" and various others. Clear all apps from the Notifications Menu is also present with much bigger icon in the center of the display.
After the launch OnePlus has rolled out three OTA updates on OnePlus 5. Those updates included some fixes to camera and battery performance.
Camera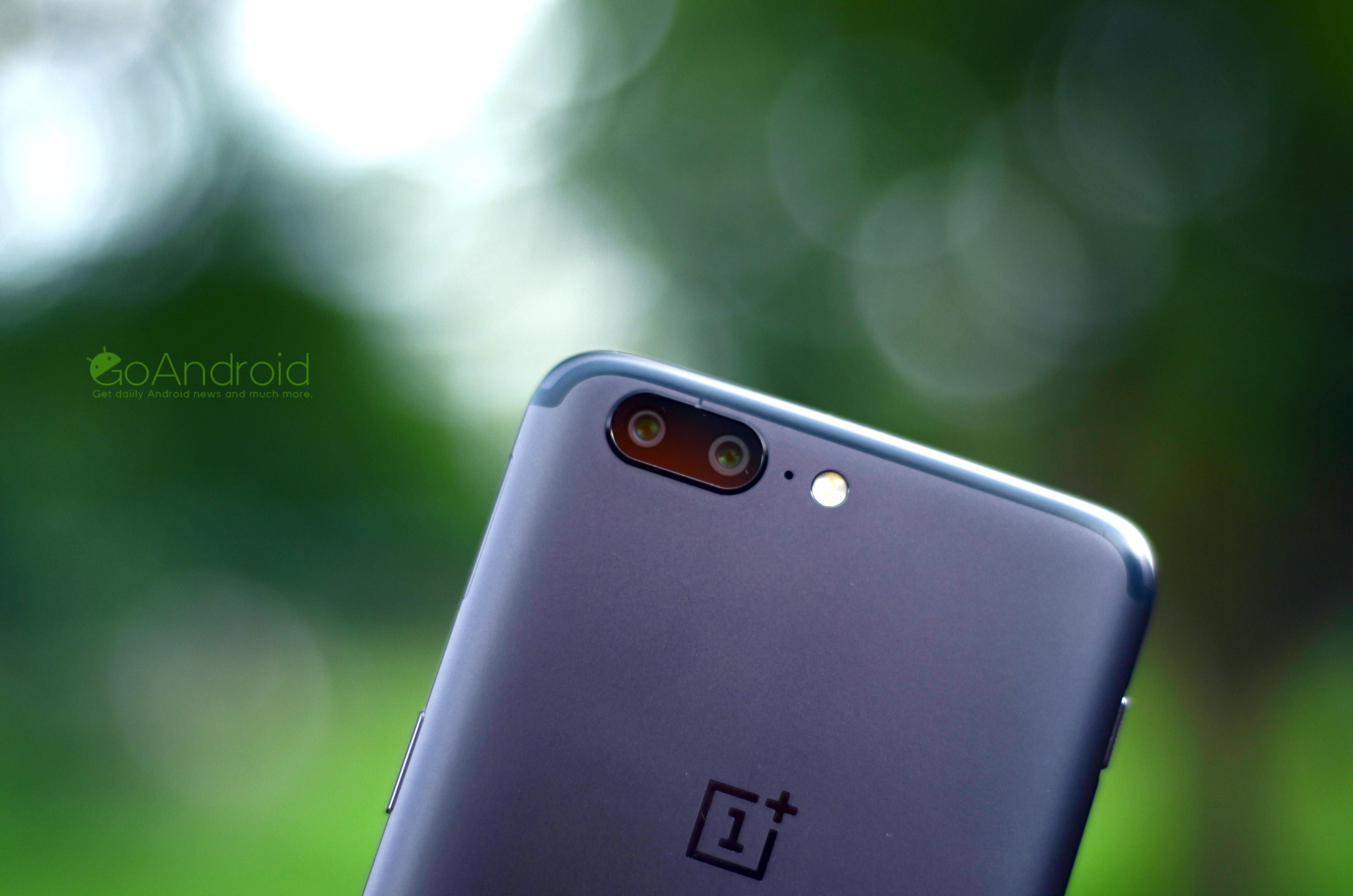 OnePlus 5 is the first phone from the company with Dual camera setup. It includes 16-MP, f/1.7 main camera and 20-MP f/2.6 telephoto camera lens. For selfie there is a 16 MP camera on the front. Now coming to the camera App which resembles iPhone 7 plus's camera app. It brings the 2X lossless zoom, although, actually it is 1.6x (fixed optical)+0.4 (electronic zoom). OnePlus 5 also includes an option to make the photos as liek they are taken from DSLR cameras with the depth effect, same as in iPhone 7 Plus.
Now as you see the photos above, it takes pretty good quality photos. OnePlus 5 performs very well in daylight but in night, it captures lens flares and overblown highlights. The autofocus is also made faster by 40% when we compare it with Oneplus 3T. Auto HDR helps to capture more colors and details. The Pro mode in the Camera App is also improved from the previous version.
Talking about the videos, OnePlus 5 is capable of capturing 4k videos but it is more prone to shakiness. It can capture shake free video at 1080p with the help of EIS(Electronic Image Stabilization). Even if we compare it with other flagship devices like Galaxy S8 and iPhone 7 Plus, OnePlus 5 can be the winner when it comes to 1080p video. Overall the camera is very good, only improvement is needed in the 4k Video Stabilization.
Battery
Among all the flagships of 2017, OnePlus 5 battery is the best as it can sustain a full day charge. Most importantly it charges very quickly all thanks to the Dash charging with which phone can be charged around 60% in just 30 mins.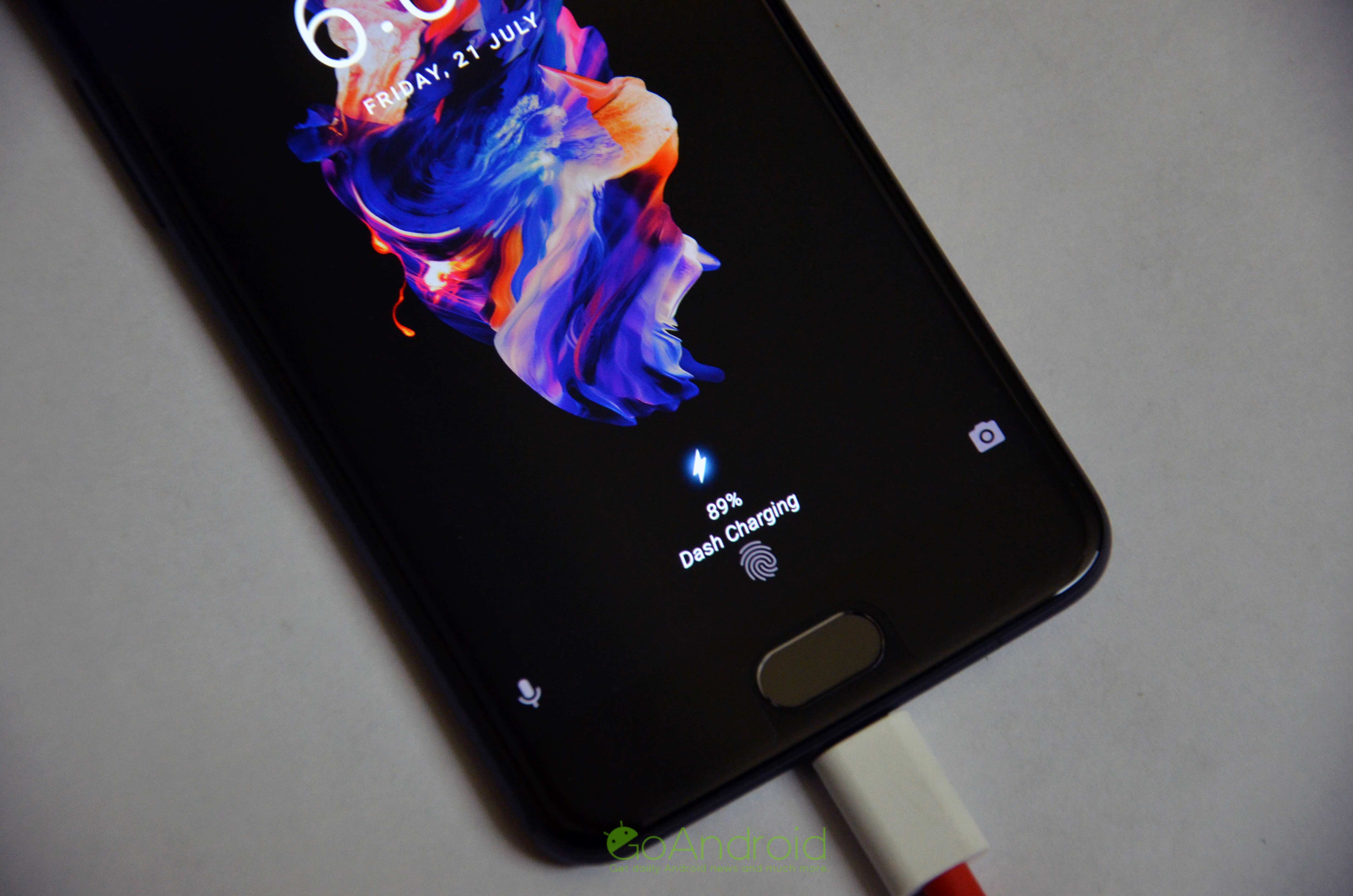 However, OnePlus 5 is packed with 3300 mAh battery which is 100 mAH smaller than the OnePlus 3T. Oneplus 5's battery performs well and it lasts comfortably throughout the day with heavy usage.
Verdict
At the end we say OnePlus 5 is the true flagship killer phone. As it gives neck to neck fight to flagship devices present in the market today. One most important thing about OnePlus 5 is its price which is $200 cheaper that other flagships. Although there are some downsides like it lacks waterproofness, 1080p display only while others have 2k and some of them even have 4k displays. However these are the things with which we can adjust and these does not impact too much in our daily lives. Final word – at this price OnePlus 5 is the beast out of hood device.