We all love to design or customize our smartphones software wise by changing color fonts, animations and other elements. In the Android world, Substratum holds the key to change the whole look of the device. And themes are actually the one that make our phones look pretty and beautiful. Here we will share with you best substratum themes to beautify your smartphone. Well, if you don't know then most of the themes over the Play Store are substratum themes. And personally I feel that in the future most of the themes will be substratum based.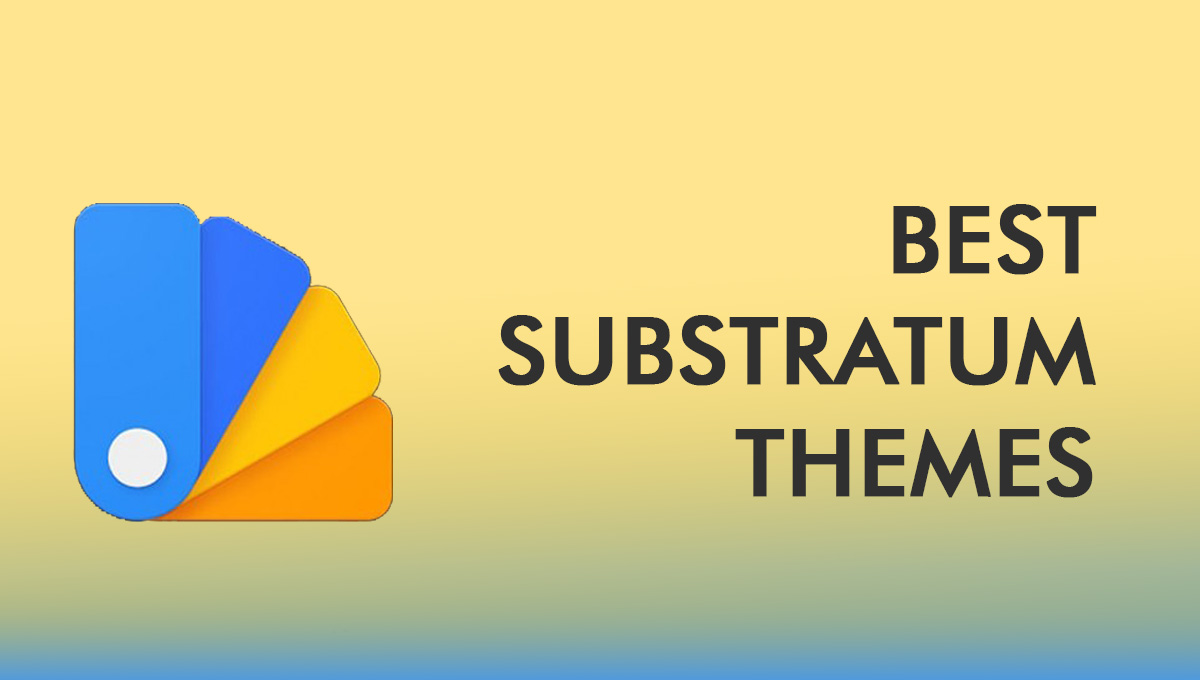 We are sure when you check the themes there are so many of them. So the question might be which one to select. But don't worry we are here at your rescue. Here in this article we will share with you the best 5 substratum themes which you can try.
You Might Love to check: 
10 best Substratum themes which will make your device look pretty
How to install Substratum themes on Android Oreo without root
Substratum themes on Android P will not work without root
List of best Substratum Themes in 2017
1. Android O Theme
Most of us really amazed to see the themes which other devices come with. And also want the same over our device. The same is Android O Theme. So if you are the one who does not own a Pixel or Nexus, then this is the best theme to give you the feel. This theme not only changes the UI of the device but also comes with wallpapers and sound packs. So you get the same look as well as wallpapers and sound packs available over a Pixel or Nexus device. The best part is that it is the latest one.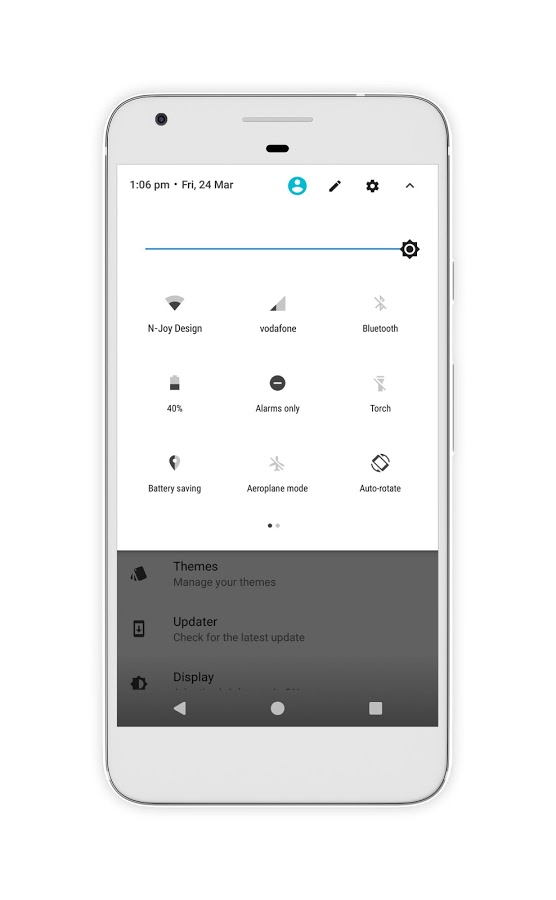 Download (₹60)
2. Reverie Theme
If you are the one who likes simple themes then this one will for sure suit you. It is not only simple but also stylish. It not only changes the system UI but also the fonts, icons as well as the color tone. So overall your smartphone gets a new look and feel.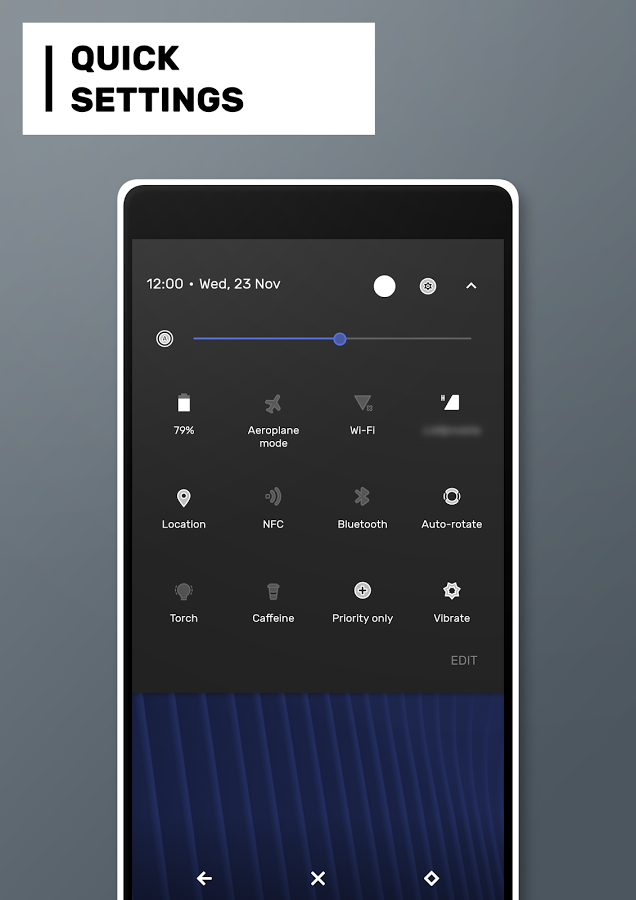 Download (₹149)
3. Pixel- Android O Dark theme
Usually most of us would for sure love the 1st theme i.e. Android O. But this theme gives a darker effect to it. Some of us love the same theme in the darker sense. If you are the one then you can download it. The UI would be the same but a bit more darker, overall a different experience.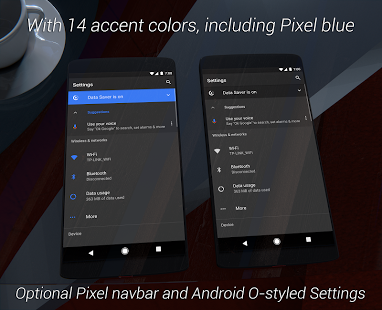 Download (₹95)
4. Antares Theme
This one is a bit different from the above ones. It is based on Hexagonal design. Along with the bluish-greyish primary color, selection of a secondary color is an added benefit. The theme also comes with font pack, sound pack and also boot animation. So for those who love the hexagonal concept this is the best theme.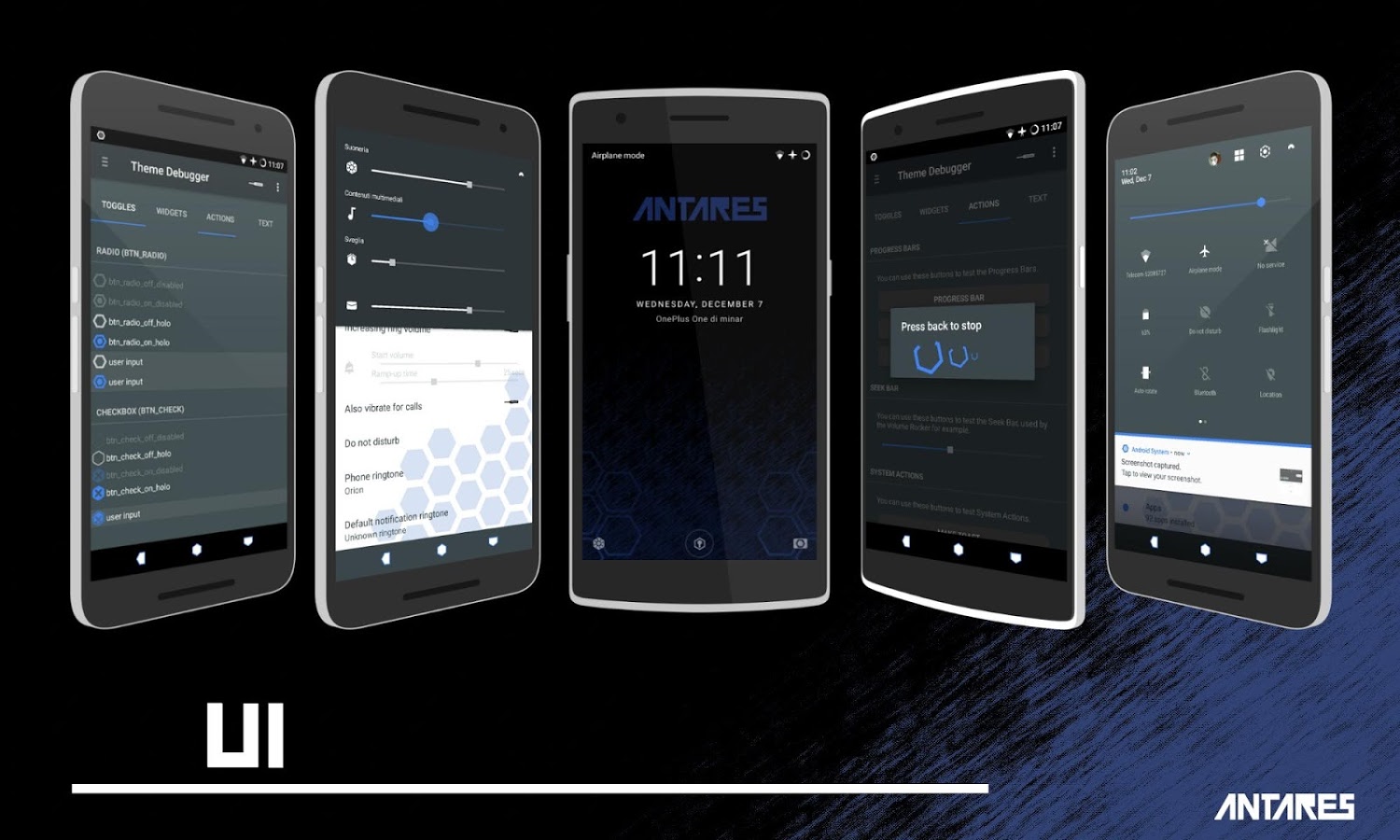 Download (₹75)
5. Compound Theme
What makes this theme different from above ones is that it is highly customizable. So for those who have devices with Android 7.0 Nougat or above and love customizing theme manually is the best one. Here you have a choice of selecting the theme tone which suits you lighter or darker. Though the darker one has more features.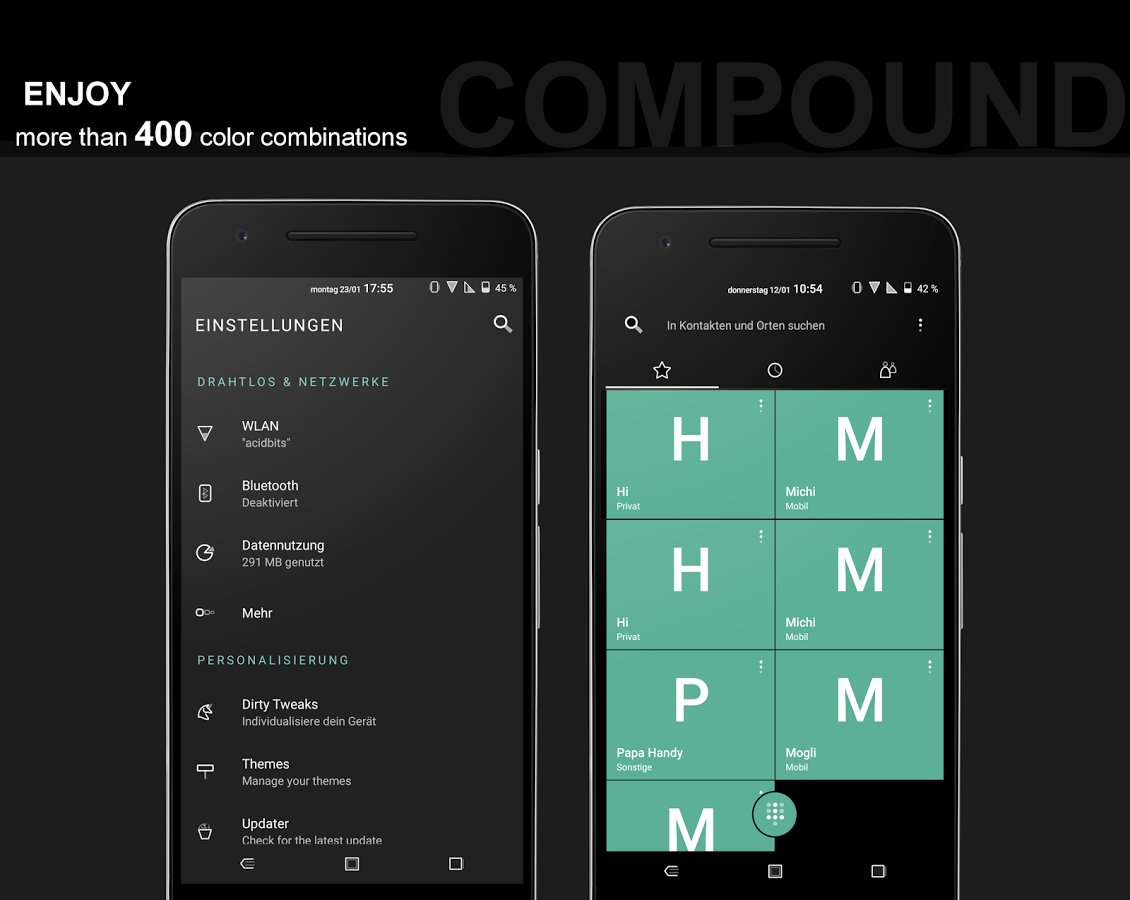 Download (₹60)
6. Pixel Android O Dark Theme
Well, this is for the Pixel lovers, it is the inverted version of the white or normal theme on the Google Pixel devices. It packs little dark notification bar with grey backgrounds on the settings panel.
It is better for the users who want to save their eyes from strain. It is better to give it a try and use it for a while.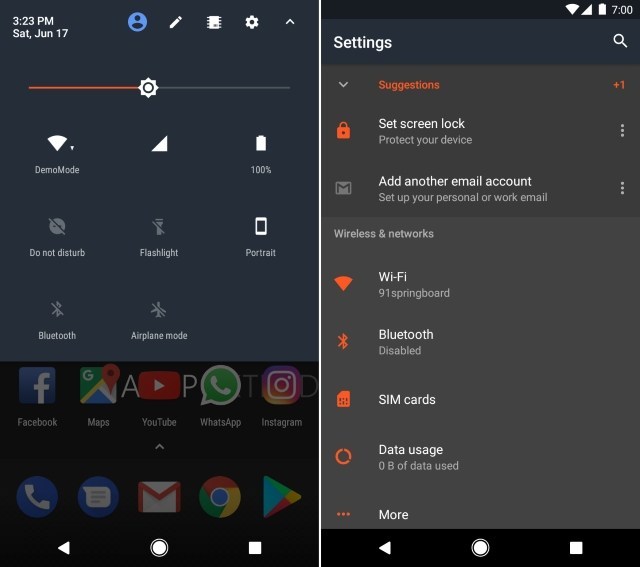 7. Pikzel – 12 in 1
This is all in one theme with different color shades or in total of 12 shades. You can the every color in single theme. This is a must have Substratum theme, it allows you to color the every element of the phone. You can make it like any standalone app color scheme.
Only the accent is changes and everything else is same as stock.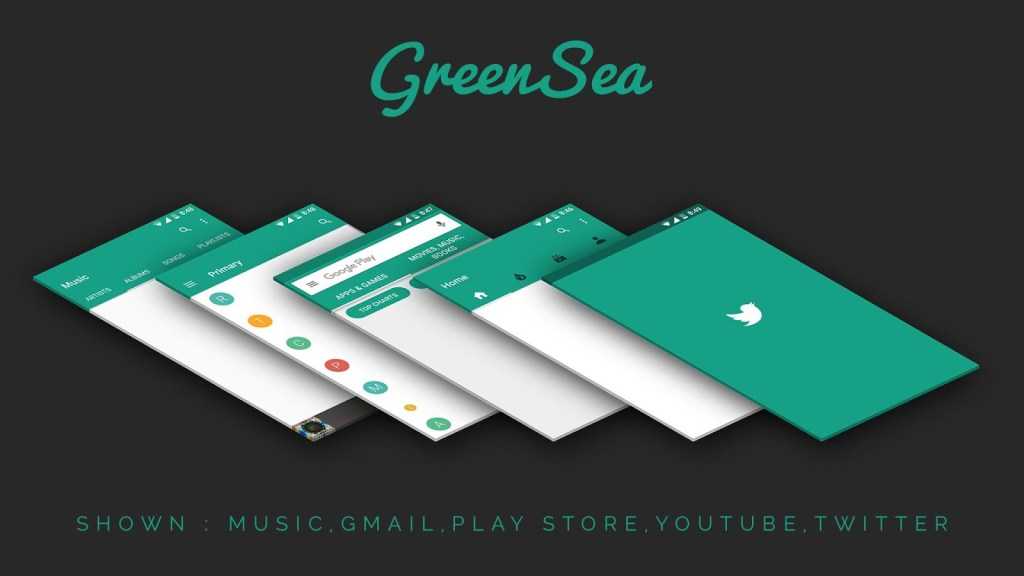 8. Streamlined Light
It is the best theme for users who want cool theme with loght color. It further has different color accents and icons. It has support for all the major apps like Whatsapp, Facebook and others. Even, it supports AOSP apps, Google apps, System apps and others.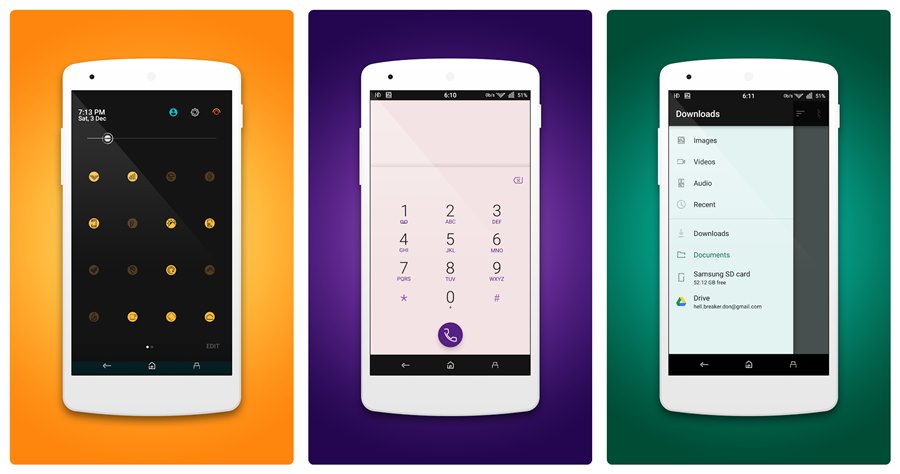 9. Swift Black Substratum Theme
Swift Black Substratum is pure black theme which will give your device fully dark look. It brings support for many native apps and other apps like Whatsapp, Facebook, Instagram and others.
You can download it from the button below.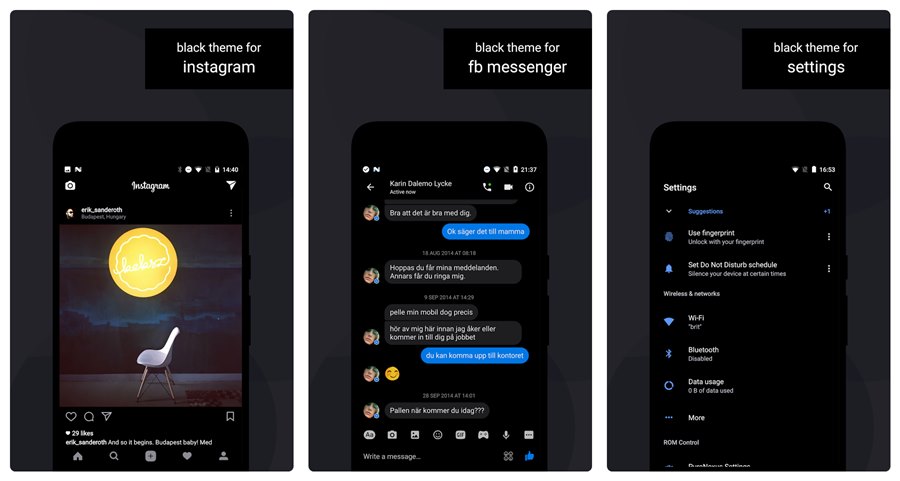 10. Dark matter
As the name suggest, it packs some space elements like a meteor tail. There are many other futuristic object in the theme. You can have a look at the thumbnail below to know about the design in detail. It is a different kind of Substratum theme available on the Play Store.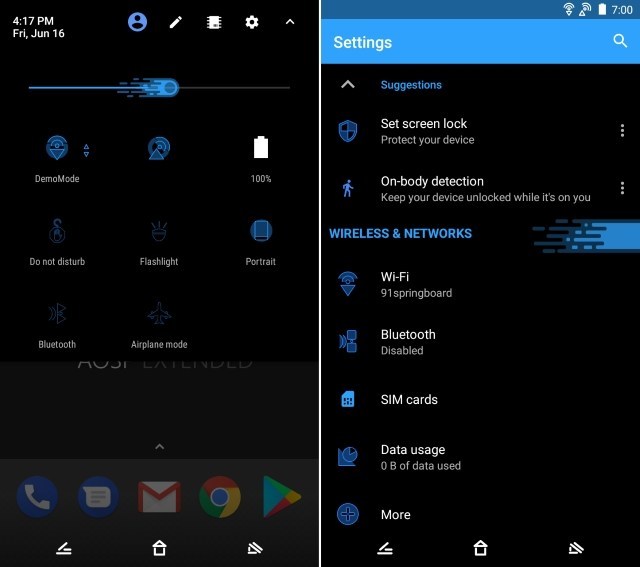 There are many other Best Substratum themes. You can have a look at them below:
List of Best Substratum Themes in 2018
Best Free Substratum themes you should Consider in 2018
So here we have come up with the best substratum themes. So, now you can check the ones that is based on your style and select it. Below every theme description there is a download link available as well.
You might love to see:
Best Free Substratum themes you should Consider in 2018
Best Android 4G smartphones under INR 7000 in India (2018)
Best Android Phones with Snapdragon 660 Soc
Best Android Phones with Snapdragon 845 Soc
Best Android Phones with Snapdragon 630 Processor (2018)
The best part is these themes aren't even very costly. But do check your phones compatibility with the theme before you download it. So, stay connected with us for more guides like these best Substratum Themes.
Any questions or suggestions you can mention in the comment box below.