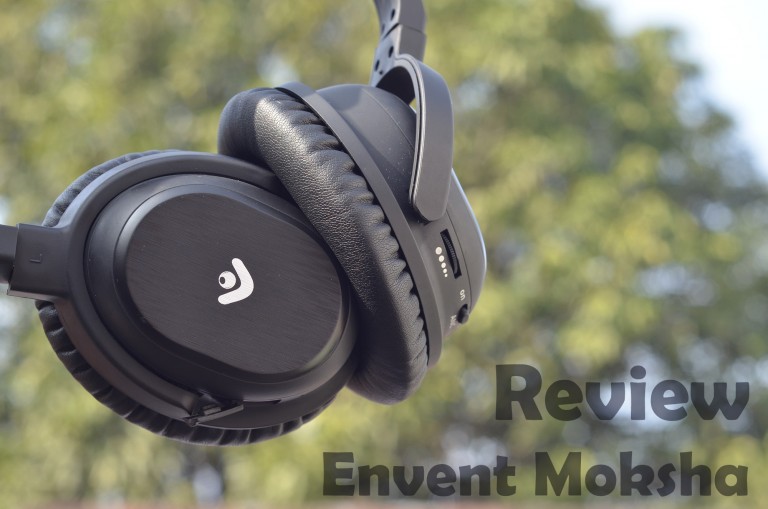 Envent is working pretty hard in audio and other consumer electronics field to provide you best tech at the economical prices. They are already competing with high end brands and giving them tough competition. Similarly, one of such competing product from Envent is its new Moksha Bluetooth headphones with ANC. These headphones packs some powerful features with quality sound. Here's Envent Moksha Review to let you know the pros and cons of this beautifully crafted headphone.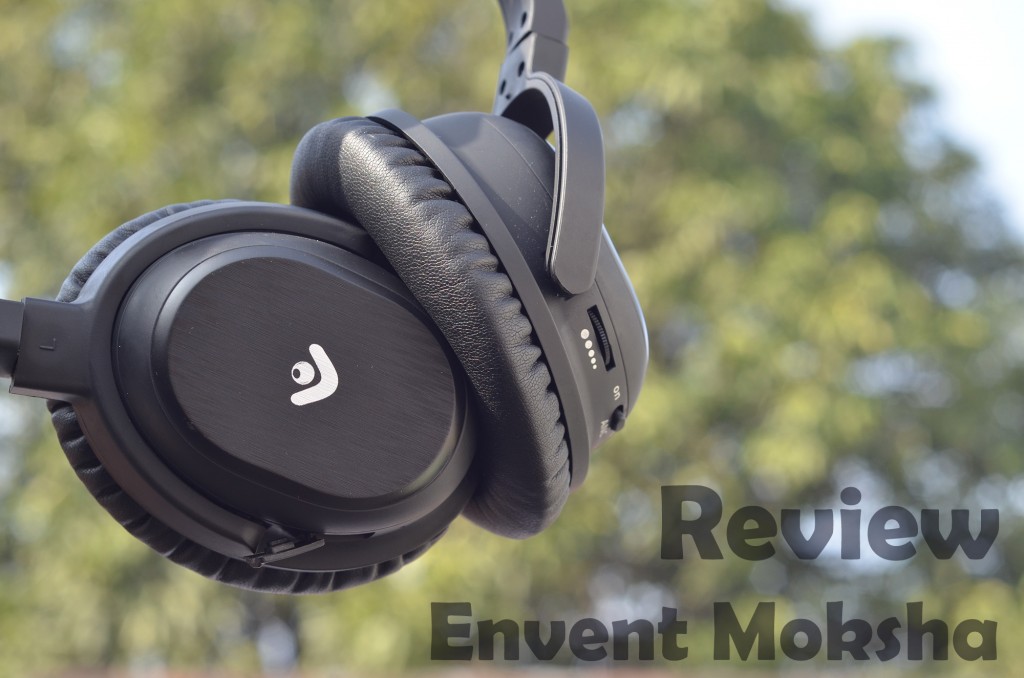 Envent Moksha Over the ear Bluetooth headphones are one of its kind headphones which carries ANC (Active Noise cancellation) with dedicated button for it. The device is incomparable to its competition as it packs Bluetooth 4.1, dedicated button for ANC, 90 degree swivel earcups and many other features. We are going to discuss every aspect of the Moksha headphones in our review below.
Let's see what's in the box ?
In the box you will get a guide, Moksha headphone, AUX cable, Micro USB Cable, 1/4 Stereo Connector, Airline Adapter, Gift Case.
You can also enjoy the beautiful photos of the Envent Moksha Headphones. The latest offering from Envent is beating all its competitors with a great margin. Here's the
Design – Envent Moksha review
Envent Moksha packs a rubberised build which make it anti slip or skid device. Headphone bears leather cushions on the top and on the ear cups. Envent Moksha buds are rotatable upto 90 degrees showing its flexibility. The Moksha headphones sets pretty well on your ears providing full comfort for as much time as you want. It will not let your ears hurt even if you are using it for long hours.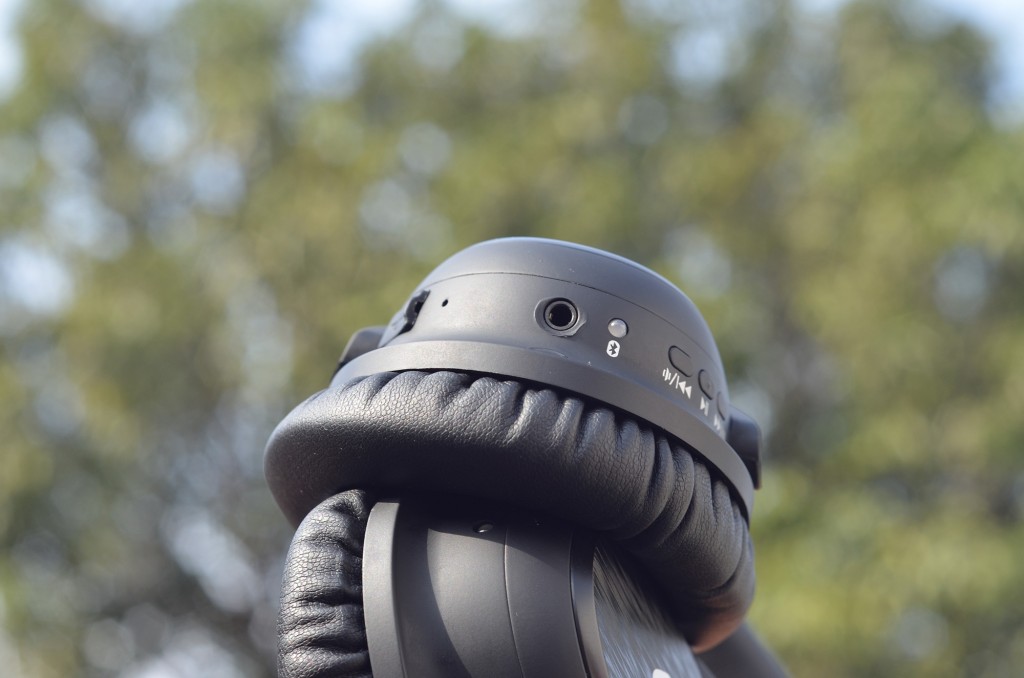 Talking about the on device buttons, Envent has placed very premium styled and responsive buttons for ease of access. On the right side earbud, Envent has placed Volume wheel to reduce and increase the volume. It is joined by the Noise Cancellation On /Off button. It is a realtime button and you can toggle it anytime when you want. Further, there's a Noise cancellation blue colored LED.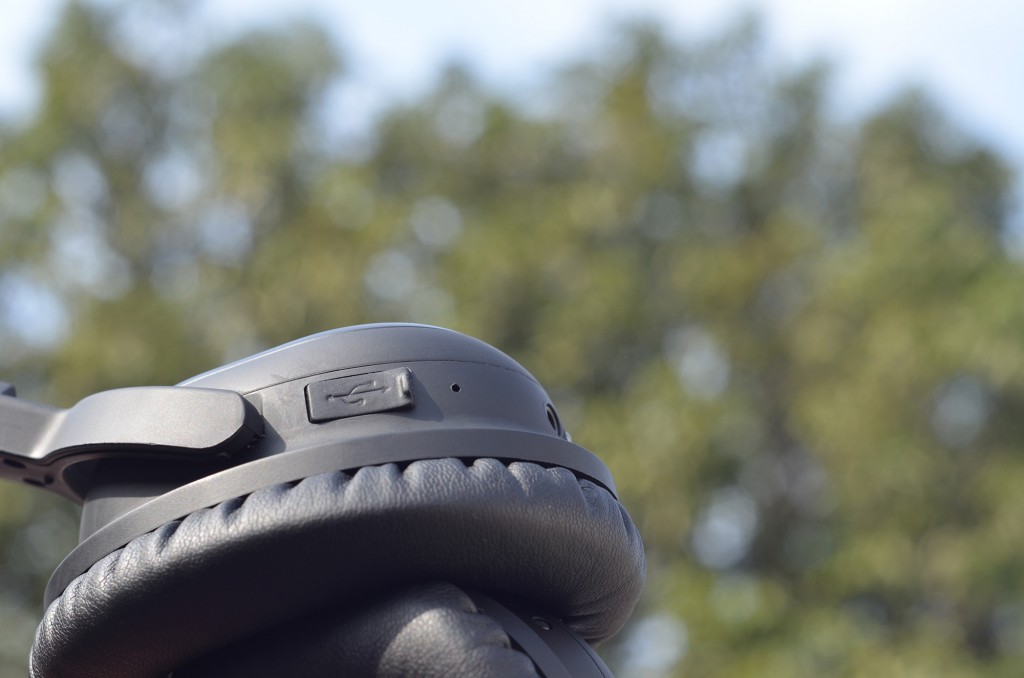 On the Left side of the earbud,  there's a USB socket for charging the bluetooth headset.  Further, if we move ahead then you will see previous and next button along with multifunction button placed in the middle of both buttons. These buttons are accompanied by Microphone, 3.5mm Audio Jack and Bluetooth LED indicator.
You can expand the headphones upto some extent for your comfort. The earpods are available for 90 degree rotation both vertically and horizontally.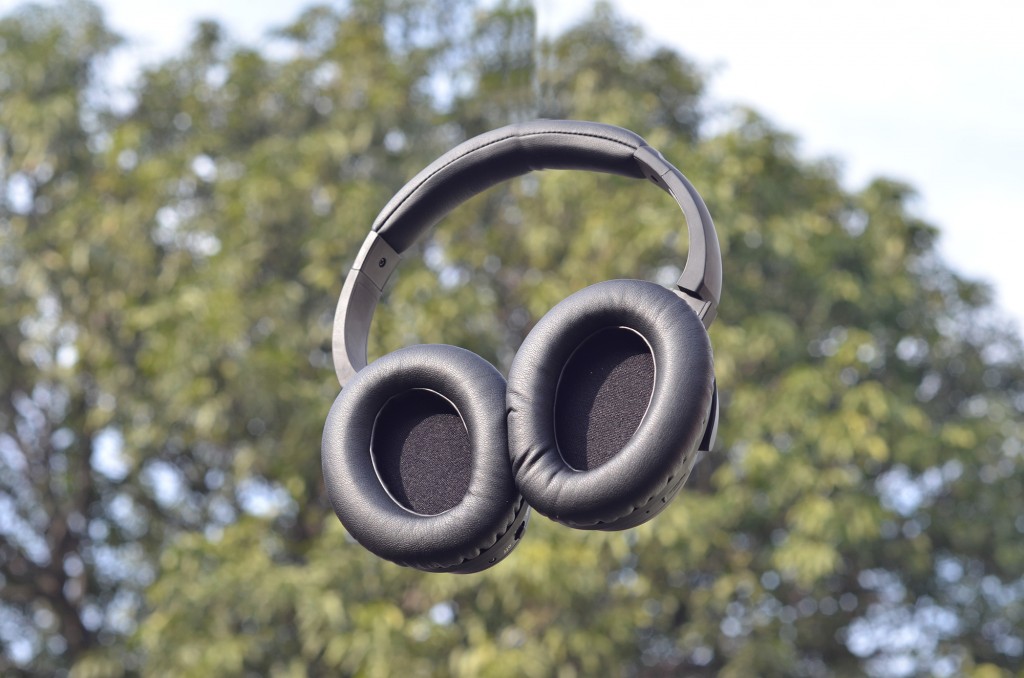 Overall, the placement of buttons, rotation, availability of ANC button and the rubberized gripping material make it much more better than others. In the price range of INR 6000 it is the only headphone which is providing the above mentioned features. In design part of our Envent Moksha review we have found it as a value for money pack.
Performance – Envent Moksha headphones
The most look after feature of every headphone is its performance. Envent Moksha gives you premium performance while listening to music. You can listen to music in detail using the ANC (Active Noise Cancellation) feature. All the effects and drops in music are easily hearable with wide range.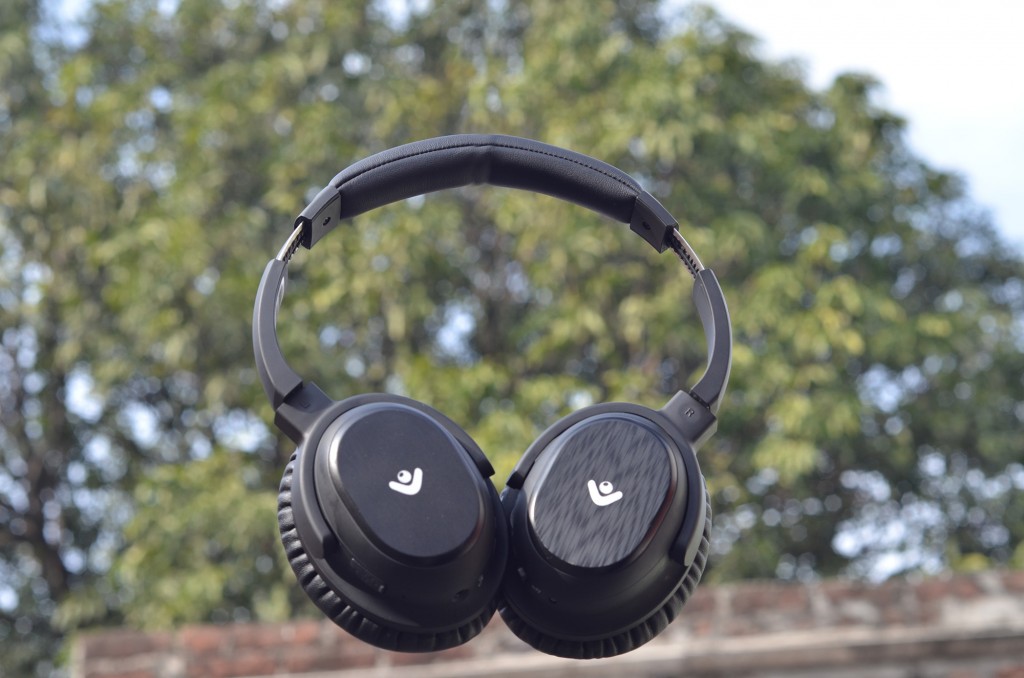 While watching a movie you can listen all the music effects as like you are using 5.1 environment. It gives you a feel as if you are listening audio in a studio environment.
In order to make the audio better, Envent has added Built-in 40mm superior drivers. It allows the Moksha headphones to reproduce quality music. It allows automatic tuning for high, mid and low tunes in order to give you best music possible.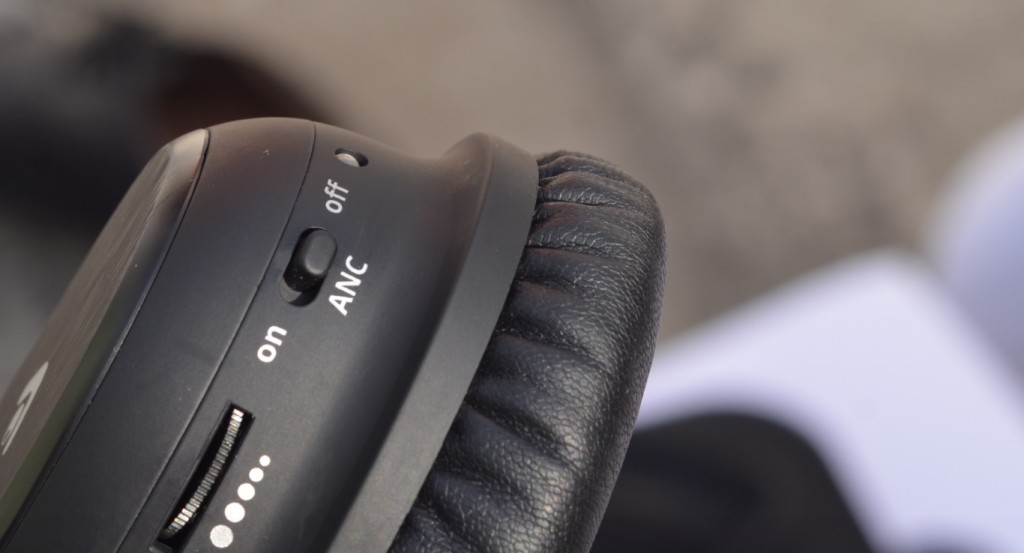 The built-in 40mm drivers help in reproducing quality music output. The high, mid and low frequency ranges are automatically tuned and adapted, so you can experience the best of the music with Moksha wireless headphones.
The bass is pretty stable and you can enjoy much better if you use equalizer. Watching movies with the Moksha is another pro due to its wide range of audio operation.
It performanced very well in terms of performance along with the comfort in our Envent Moksha Review.
Compatibility – Moksha Review
The compatibility of the Envent Moksha Bluetooth headphones is really good. You can easily connect it with your smart TVs, phones, tablets and other audio device. It is compatible with the device which does not have inbuilt bluetooth. You can connect it by the means of 3.5 mm AUX cable. It is also an important part of the Envent Moksha review.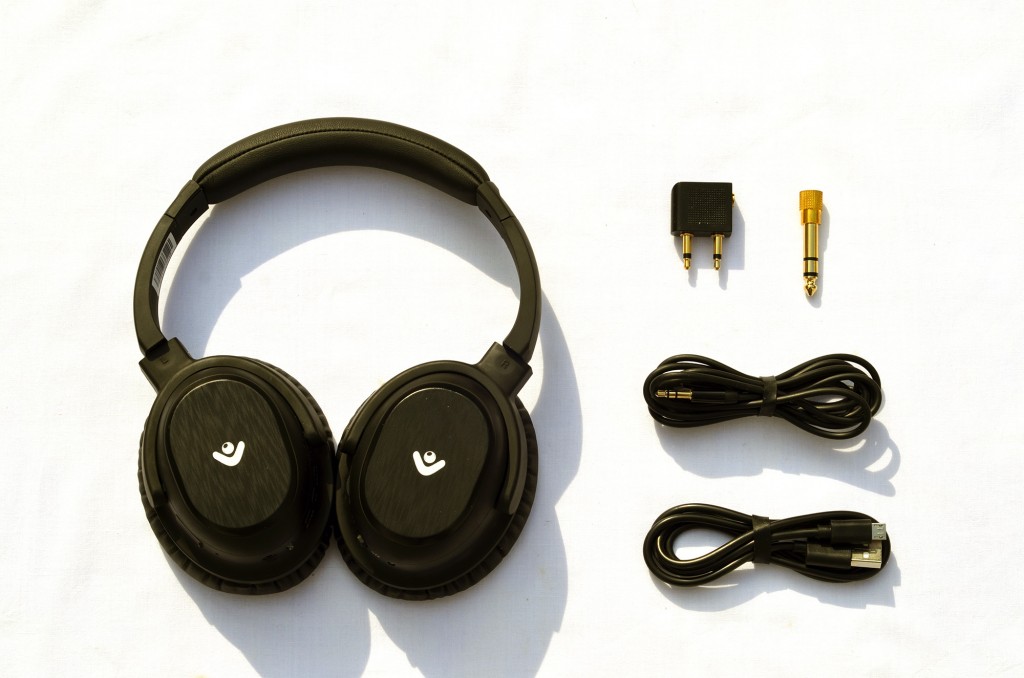 You can also connect it with Stereo directly via the provided 1/4 inch stereo plug adapter. Even, Envent is providing Dual-plug adapter for Airline, you can enjoy seamless entertainment unless wherever you are.
Additional Features:
Moksha packs some additional dedicated ANC button, Adjusting the headband, picking calls, last number redial, etc. Here are the features that are worth mentioning
Call related function

Answer a call
End a call
Ignore a call
Last number redialling
Swap calls

Dedicated ANC button
Dedicated volume controller wheel
Adjusting the headband
30 hours of continuous playback with 320 hours of standby
1/4  inch stereo adapter
Dual Plug Adapter for Airline
90 Degree rotatable both horizontally and vertically
One ear cushions do not hurt your ears
Bluetooth 4.1 for better efficiency and performance
Button controls
Every button has different functions and here's your guide to the working of every button
Left Side 
Previous button – It can decrease the volume and can change the track  (Only for bluetooth)
Next button – you can increase volume by holding this button, change track by simply slicking it.
Multifunction button – it is present in the middle of both next and previous button. You can turn on and off the device. It allows you to pair the device along with call handling features. YOu can make, end and reject a call using this button.
Right side
Volume wheel – you can increase of decrease the volume of headphone. It works even if you are connected via Aux
ANC button – Active noise cancellation button can be used to turn on and off the Noise cancellation feature.
LED Lights
Noise Cancellation LED -A blue colored LED will be on if ANC is active. Otherwise there will be no light on the Right Side earbud.
Pairing Led – on the left side earbud there's a multi colored led. It will flash continuous RED color if it is on charging. When it is used for pairing, it flashes red and green color simultaneously.
Conclusion
It is the best headphone that is available for under Rs 6000 with ANC control. The premium sound makes it more productive and economical with wide range of output. Even the compatibility of the device is also upto mark, you can connect it with stereo, with any bluetooth device and even on your Air travel.
It catches all the sound effects from any kind of video, music or podcast. You need not to worry about your surrounding s and its noise. It's ANC works as like it is promoted in he brochure. You will feel full commotion once ANC is turned on.
It is currently available for INR 6000 from AMazon and Flipkart. You can grab yours from the button slow.
Buy from Amazon  Buy from Flipkart 
Well, that's it from Envent Moksha Review. You can also check Envent BoomBud review over here.