Innovative ways to use the display notches is trending throughout 2019. Some OEMs like Samsung have already started using the display's punch hole housing the selfie camera as notification blink light. There are multiple devices with a waterdrop notch – Redmi Note 7, Note 7 Pro, OnePlus 6T, etc. These look less intrusive than the usual notch, but still, they are of no use except for housing the selfie camera.

Today, we are going to tell you a fantastic way to make the use of a waterdrop notch. Follow the steps below to add a battery indicator to devices with waterdrop notch. Oddlyspaced, a member at XDA developed Notice Pie app. To facilitate the Notch Pie's a bit long setup, we have prepared a full guide for easy implementation.
Requirements:
A Device with a Waterdrop Notch
Notch Pie Application – Download here
Android 9.0 Pie onboard.
Steps to add a Battery Indicator on Waterdrop Notch
Step 1: Download and Install the Notch Pie App from the Google Drive Link above.
Step 2: Open up the Notch Pie Application, Grant the permissions for Storage Access
Step 3: You will be brought to a page where it would ask you to adjust the position of the battery indicator in Portrait. Then, it would ask you to adjust the location of the battery indicator in Landscape. Just set it up according to your device using the up, down, left and the right arrow keys.
Step 4: Now, you will be asked to adjust the angle of rotation of the battery indicator, set it up according to your device and click next.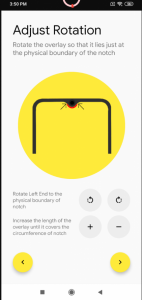 Step 5: Now, the users will be asked to adjust the thickness of the battery indicator around the notch, it depends upon personal preference. Now its all set!
Bugs Solved
This app is in beta stage and may have some bugs; developers at XDA have been continually working to improve the app.
Bug 1: Sometimes Users might not be able to see the overlay after granting permissions due to some issue in the app. To solve it, users need to exit the app and kill the application manually from memory. Then go to accessibility settings and turn on the permissions for accessibility settings manually.
(Source)