Asus recently launched its second generation, flagship Android gaming smartphone ROG Phone 2 in India. It is the best smartphone available for gamers right now. Why? Let me give you 7 reasons why Asus ROG Phone 2 is the best smartphone for gamers.
Reasons to buy Asus ROG Phone 2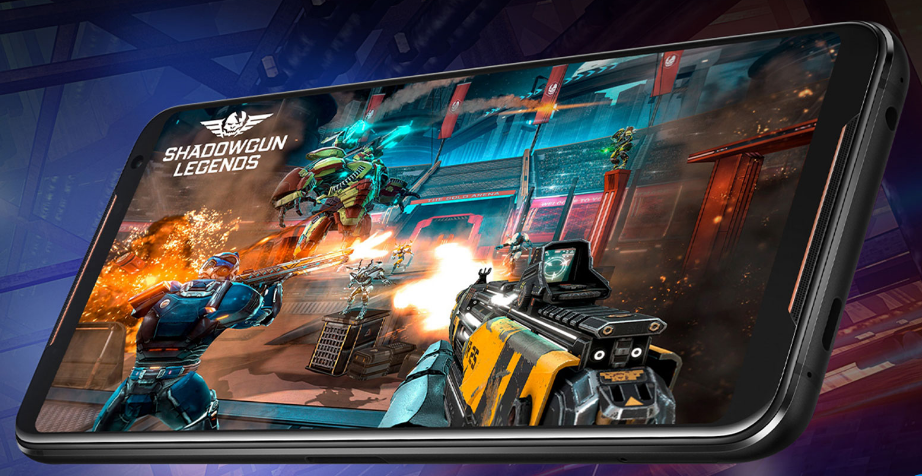 Must See: Download Asus 6Z (Zenfone 6) Wallpapers [ High Quality]
Display:
ROG Phone 2 comes with a huge 6.59 inch AMOLED capacitive display of resolution 1080 x 2340 pixels. The smartphone has 391 ppi pixel density. The display has Corning Gorilla Glass 6 protection. Nowadays, we have 2K and even 4K displays in smartphones. So, what makes ROG Phone 2's display the best one? Well, Asus ROG Phone 2 is the world's first smartphone which comes with a very high refresh rate of 120Hz. For comparison, OnePlus 7 Pro has a 90Hz refresh rate, Samsung Galaxy Note 10+ has a 60Hz refresh rate. ROG Phone 2 also has crazy 240Hz touch sensing and it also supports HDR 10. 120Hz high refresh rate and 240Hz touch sensing make gaming very fluid and smooth. In the near future, many smartphone manufacturers will follow Asus and use 120Hz display units in smartphones.
Hardware: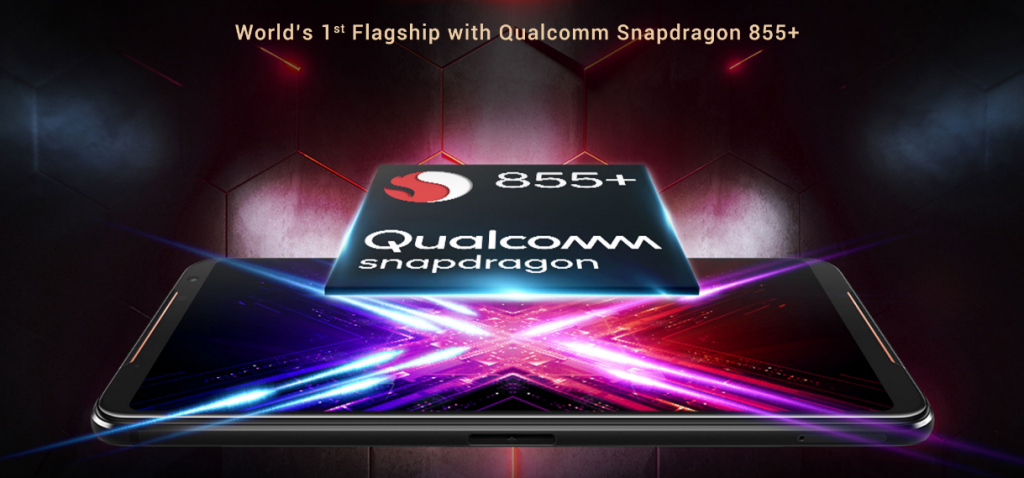 Asus ROG Phone 2 is the world's first smartphone which is powered by powerful 7nm Qualcomm Snapdragon 855+ processor. The high-end processor is also equipped with 12 GB of LPDDR4X RAM and 512 GB of UFS3.0 storage. Qualcomm's flagship processor, 12 GB LPDDR4X RAM and 512 GB of UFS3.0 storage make applications/games installation faster and intensive gaming and multitasking experience smoother.
Also, Asus ROG Phone 2 has 4 microphones for better noise cancellation and 4 Wi-Fi antennas for better internet connectivity while gaming. 4 Wi-Fi antennas give the user the freedom to hold the smartphone in any orientation without dropping the Wi-Fi signal. The complete hardware package of Asus ROG Phone 2 gives the ultimate lag-free gaming experience for sure.
Asus ROG Phone 2 comes with a class-leading thermal cooling system for longer gaming sessions.
Extra Buttons: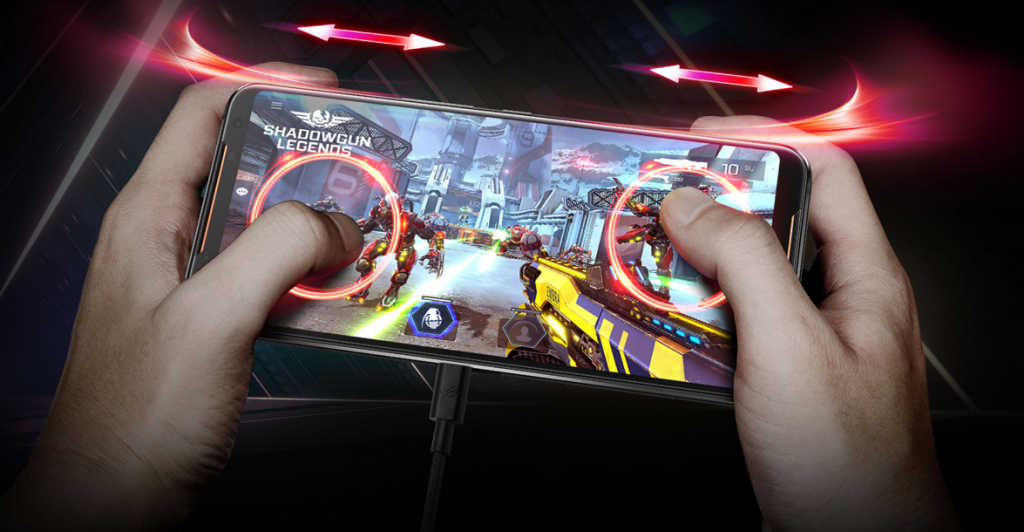 Along with typical set up of power button and volume rockers, Asus ROG Phone 2 has two Air Triggers based on ultrasonic sensors. As compared to first-generation ROG Phone, Air Triggers on ROG Phone 2 are massively improved. The sensors are now more precise, it can now recognize both taps and swipes and now it is possible to use Air Triggers without removing fingers. Two extra on-screen buttons in any game can be mapped to the Air Triggers for added convenience while gaming.
Extra USB Type-C Ports:
Yes, you read it correctly! Asus ROG Phone 2 has 2 USB Type-C ports. One port is located at the bottom of the phone and the second one is located on the left side of the phone. Both the ports can be used for charging your gaming beast but the purpose of the second one is to add some specially designed accessories for the better gaming experience.
Headphone Jack and Dual Front Speakers: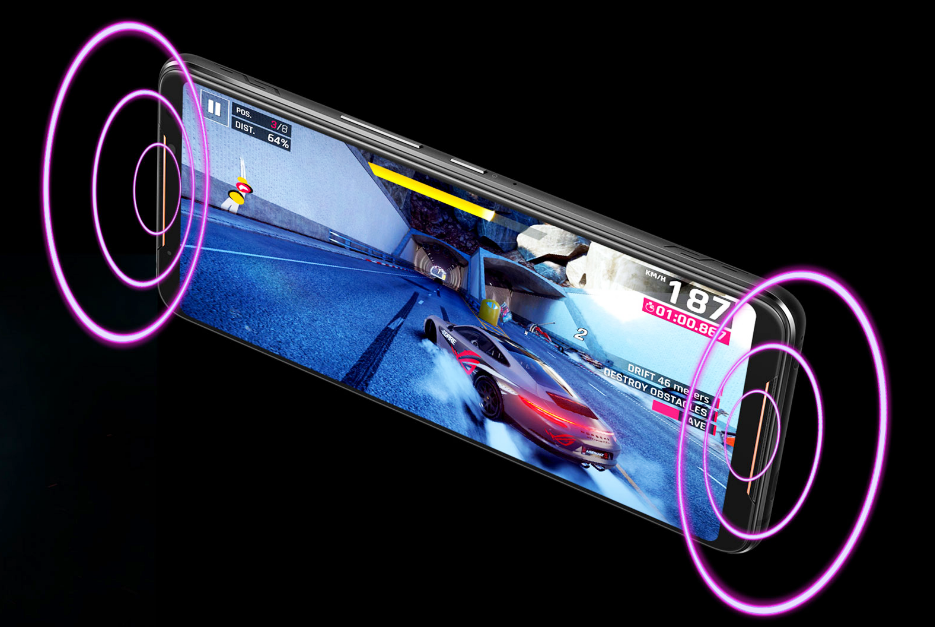 Thanks to a 3.5 mm headphone jack, you can plug your favorite headphone into ROG Phone 2 for a better sound experience. Also, Asus ROG Phone 2 has stereo speakers with 2 dedicated amplifiers giving ample gunshot sound to scare your neighbors in the night. Thank you, Asus for keeping 3.5 mm headphone jack (unlike Samsung Galaxy Note 10 series)!
Massive Battery: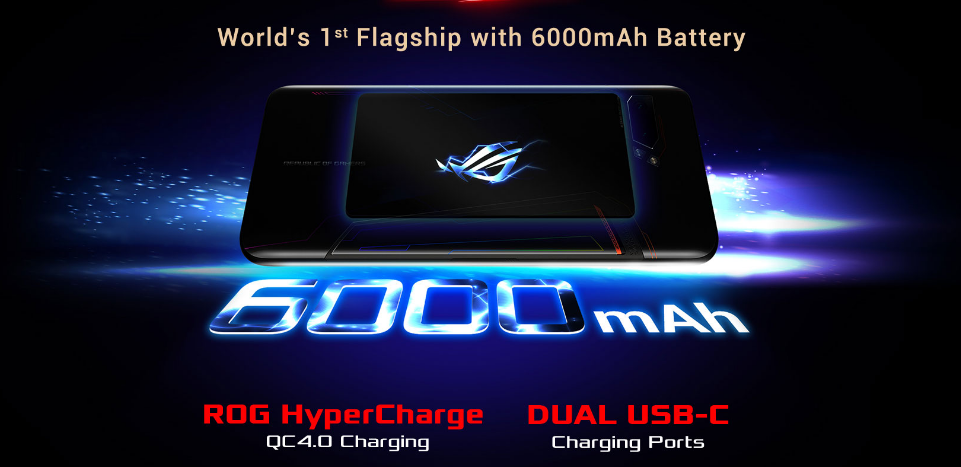 The best gaming smartphone needs the best in the class battery as well. Asus ROG Phone 2 comes with a massive 6000 mAh Li-Po battery with fast charging support. For comparison, newly launched OnePlus 7T has a 3800 mAh battery. You will definitely get much more battery backup from ROG Phone 2. With normal usage, Asus ROG Phone 2 will definitely last for 2 days.
Accessories: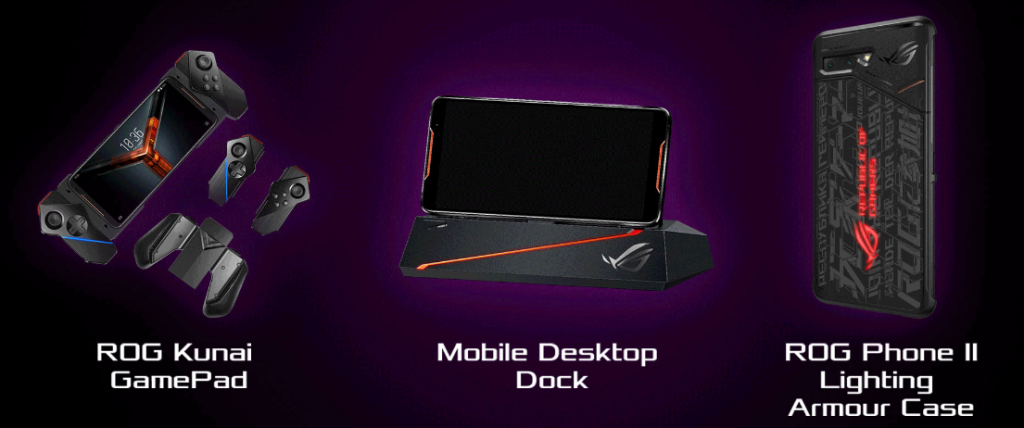 Along with ROG Phone 2, Asus also introduce some accessories for the smartphone which definitely improves the overall smartphone gaming experience. Below three are my favorite accessories for the phone.
AeroActive Cooler II: As the name suggests, this is the second generation of AeroActive Cooler which is an external fan to cool down the temperature of the smartphone (more specifically cooling down processor). As compared to first-generation AeroActive Cooler, the newer one is more efficient and makes less noise.
ROG Kunai Gamepad: This particular accessory form Asus transforms your ROG Phone 2 into PSP (PlayStation Portable).
Twinview Dock II: Twinview Dock is very useful for gaming and streaming at the same time. Because of Twinview Dock, one can use one screen for game controls leaving another screen free from on-screen game controls for complete game viewing experience.
Asus ROG Phone 2 is a fantastic smartphone and meant to satisfy a gamer's every wish. Asus really worked hard to give us the best gaming smartphone. What is your opinion about Asus ROG Phone 2? Let us know in the comment section.