Back at CES 2022, Google revealed that they are going to announce the Nearby Share for Windows as a Beta version app. The app has the ability to quickly transfer files between an Android smartphone and a PC. For Windows 10 and later (64-bit version), the Nearby Share Beta for Windows program can be downloaded directly from android.com (or Telegram) with the message "ARM devices not supported." Google mentions a transfer proximity of 16 feet (5 meters) between devices, therefore Bluetooth and Wi-Fi must be enabled on your computer.
With your Android mobile and Windows PC, you may easily transfer photographs, movies, documents, audio files, or whole folders. According to Google, you may use it to edit your images on a bigger screen or arrange your digital files. As soon as the software has been installed, you are requested to go into your Google Account to choose your preferred sharing settings, such as only allowing your contacts to share with you. The "Use without an account" option is also available.
Must See: Telegram update brings exciting new features!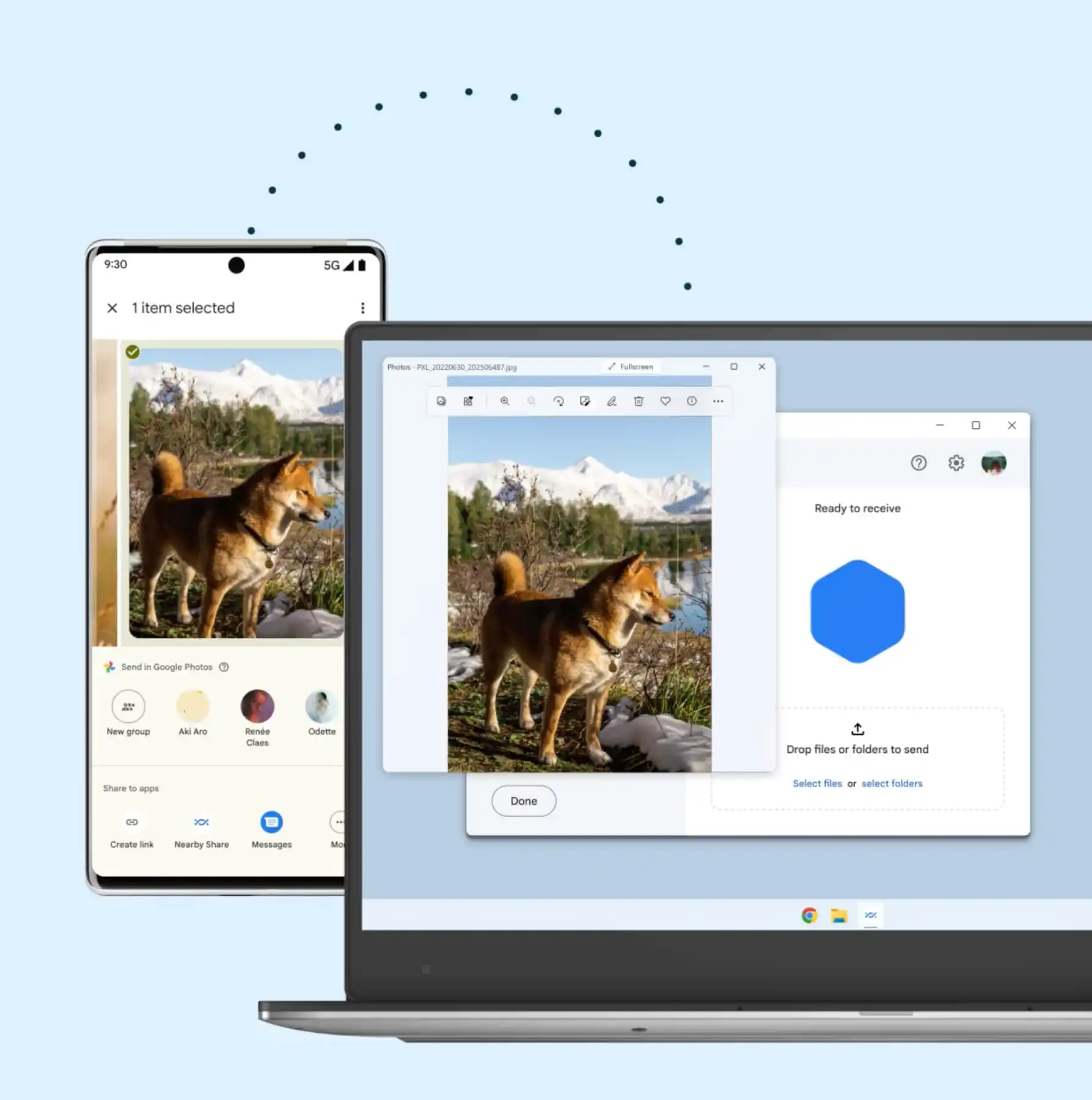 MAKE SURE TO READ: Android 13 QPR2 Beta 3 arrives for Pixel phones
Android Nearby Share for Windows
While operating in the background or open on the desktop, Nearby Share Beta is compatible with your Windows computer. The app's icon is an image of a blue double helix. You may drag and drop files to transmit them, or you can right-click on a file and choose to Send with Nearby Sharing, which has a Material 3 window style (with a blue accent).
The device visibility options for Nearby Sharing on Windows are the same as those for Android: Everyone, Contacts, Your devices, and No one. Much quicker is sending files to your own devices. Transferring files can also be automatically accepted even if your screen is off as long as both devices are signed in to your Google account. While receiving any file, you can choose to accept it or reject it.
While transferring or receiving the files, E2E encryption is used to safeguard every Nearby Sharing transfer. The giant search engine claims that the app beta version is rolling out in the U.S. and select locations abroad. The Sharing process is only compatible between Android smartphones, tablets, and Windows PCs. In the future, Google claims it would increase formal support for content sharing with other Google ecosystem devices.