Curved displays are evolving from past couple of years. We have come to know about 2.5d and 3d display but actually what they are we don't know? What's the difference between them we don't know. Today we are going to clear these questions and list best 2.5d glass Android smartphone present in the market in 2017.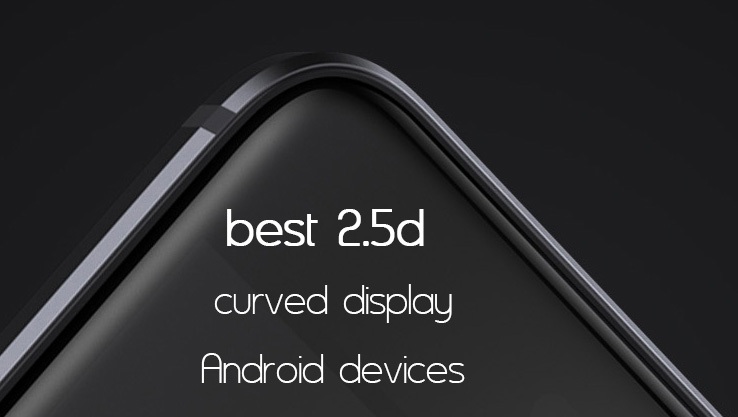 Let's begin with the normal understanding that what is 2d, 2.5d and 3d surfaces. The 2-dimensional surface is that which have two axis. The 2.5 d which have all the three axis but the z-axis is not used directly. In 3D all three axis are used to give real look. Now coming onto display:
What is 2.5D curved glass display?
The term 2.5D curved does not means that it is curved, it consists little curvature at its edges. In other words, a 2.5D glass display is a flat 2D screen, but it won't feature 90-degree glass edges.
Why smartphones use 2.5 curved glass display?
In order to give smoother look at the edges, device manufacturers are using the 2.5D displays. It gives better look, handling and feel to the device.
Difference 2D vs 2.5D vs 3D curved Glass Display?
2D display is not curved from the edges, while 2.5D does have little curvature at edges. While 2D has real curved display as like used in Galaxy S7 edge, etc. You can look at the image below for better look: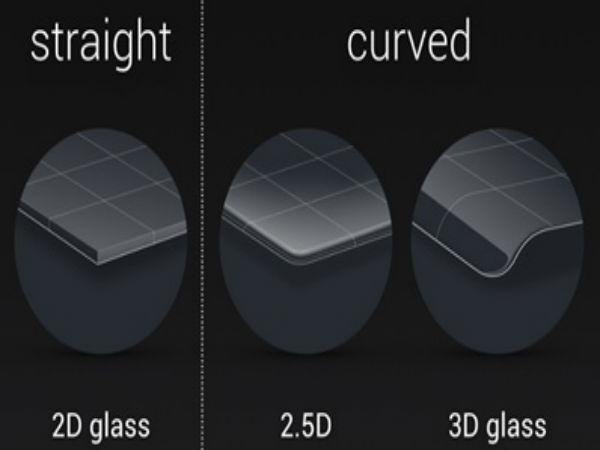 Now coming onto the devices that support the 2.5d curved display glasses. So here's the list of devices that packs 2.5d Glass display:
Best 2.5D Curved Glass Phones 2019:
Samsung Galaxy M10: It carries Octa-Core processor with 2 GB RAM and Android 8.1 Oreo on board. It features 13 MP Rear Camera and 5 MP Front Camera with 16 GB Storage. There's a 6.2 inch Screen with 3430 mAh Battery.
Vivo Y91: The phone comes with a 6.22-inch touchscreen display with an Octa-Core processor. It runs on Android 8.1 Oreo and hosts a 13MP rear camera and an 8 MP on the front side. Further, there's a 4020 mAh battery along with 32 GB internal and 2GB RAM.
Asus Zenfone Max M2: It is partly 2018 and partly 2019 devices. It was announced in December 2018 but went on sale in January. It features 6.26″ IPS LCD display, Snapdragon 632 chipset, 4000 mAh battery.
Best 2.5D Curved Glass Display Android devices:
Xiaomi Mi Max – It packs gigantic 6.4 inches 2.5D curved glass display. There are two variants of device, one with 3GB RAM and 32GB internal memory, other with 4GB RAM and 128 GB Internal Storage. Both these variants have different processors and chipsets to handle the internal memory storage. Xiaomi Mi Max 3GB variant comes with Snapdragon 650 while Mi Max with 4GB of RAM comes with Snapdragon 652.
Samsung Galaxy S7 – Samsung Galaxy S7 packs more improved camera with a 12 Megapixel sensor having LED flash and IR sensor on the back and 5MP on the front side for selfies. There's a 5.1-inch Super AMOLED Quad HD 2.5D screen with3,000mAh battery. Galaxy S7 runs with Snapdragon 820 processor with 4GB RAM, 32GB built-in storage with microSD support up to 200GB
Samsung Galaxy S7 Edge –  It comes with larger display 5.5″ Quad HD Super AMOLED 2.5D display and it is also powered with Snapdragon 820 processor with 4GB RAM, 32GB built-in storage with microSD support up to 200GB, 3,000mAh battery and it also have same Dual Pixel Cameras on front and back 5MP and 12 MP
Huawei Honor 8  – Huawei HOnor 8 is comprised of a 5.2-inch 1080p 2.5D display and the 12MP dual camera system. Other specs include, the phone is powered by Kirin 950 SoC and sports a 5.2-inch full-HD display. It comes with 4GB RAM and 32GB/64GB internal memory options, and packs in a 3,000mAh battery. In terms of camera, the device features a dual-12 MP camera setup on the back and an 8MP front shooter.
More 2.5D devices:
Similarly there are many devices that comes packed with 2.5D curved displays. Nowadays, it's mostly used in Every Android device. Few more devices are listed below:
LG K10
Samsung Galaxy A7
Coolpad Mega 2.5D
Asus Zenfone 2 Laser
Asus Zenfone Max
Blackberry Priv
Google Nexus 6P
Samsung Galaxy A5
Oppo F1
OPPO A37
Panasonic ELUGA Arc2
Vivo Y55L
The 2.5D screen glass just simply implies screens with contoured edges. They are becoming more widely used by smartphone manufacturers due to their aesthetic benefits and physical smooth user experiences. Hope you enjoyed ore list of devices having 2.5D Curved glass screens. Stay connected with us for more!!