The Xiaomi Mi A1 smartphone is a 1080×1920-pixel (Full HD) display smartphone with a 5.5-inch screen priced at Rs. 13,999. Packed with a 64-bit 2GHz octa-core Qualcomm Snapdragon 625 processor and it comes loaded with 4GB of RAM. It was launched last year with loads of good stuff at reasonable price. This beast is popular among youth and presence of Vanilla Android make it much better. Some users are now looking into best custom ROMs for Xiaomi Mi A1.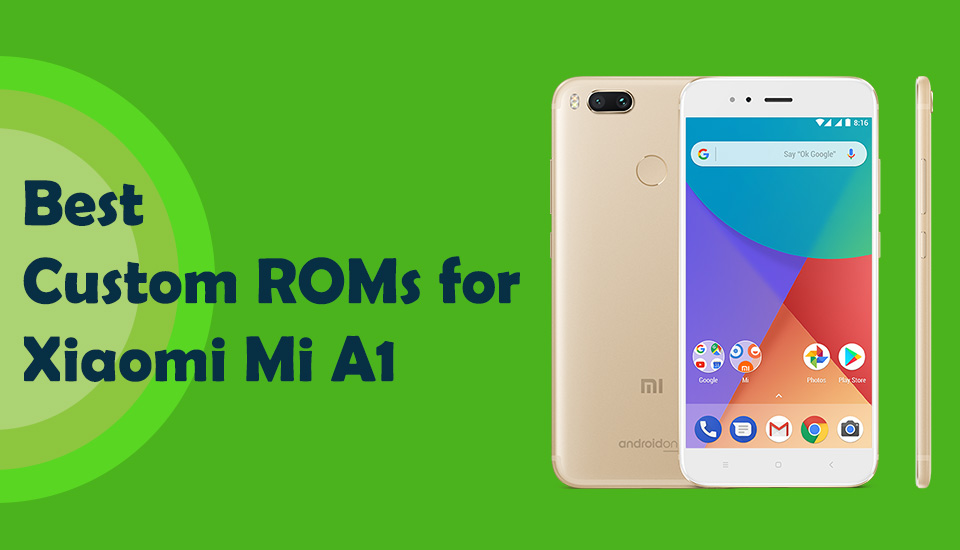 The phone features an internal storage of 64GB that can be expanded up to 128GB via a microSD card. The main camera of the phone is a dual 12-megapixel sensor and the selfie camera is of a 5-megapixel sensor.
This Most noteworthy phone comes out with Android Nougat 7.1.2 (Stock Android Version) out of the box with a 3080 mAh non-removable battery. It is an Android One Smartphone with Android Oreo now available.
The phone bundled with a very powerful hardware setup whose especially true power can be unlocked with various custom ROMs. When it comes to updating your phone custom ROMs helps you in improving and customizing your device. Installing a custom ROM can help in enhancing the device's performance and you can do a lot more than before. We have a list of best custom ROMs for XIaomi Mi A1.
You can use some custom ROM based on the Android latest version to enhance the functionality of your device. Even it will enhance the look of the phone. You can also change the font of your Mi A1 after installing popular Xiaomi Mi A1 custom ROMs.
First of all, if you don't know about "Custom ROMs" then you might want to read this paragraph. These ROMs comes up with a huge number of customization which probably makes them attractive and among the Android lovers. Best part includes modification according to need of user. Are you ready for the Mi A1 custom ROMs list ?
Launched in September 2017, the Xiaomi Mi A1 has got several sensors especially which include Compass Magnetometer, Accelerometer, Ambient light sensor, Proximity sensor and Gyroscope. On the basis of specifications of the most noteworthy phone, we have provided a list of custom ROMs for Xiaomi Mi A1 which can perform better on this phone.
Read More about Xiaomi Mi A1: 
[ROOT] How to change Xiaomi Mi A1 font 
How to install Xiaomi Mi A1 ROM on the Mi 5X 
How to unroot Xiaomi Mi A1 back to Stock Android Oreo
Pushing a wrong custom ROM in your device can especially convert it into waste, so you have to be careful and selective while performing this task. For your help we have created a list.
Best Custom ROMs for Xiaomi Mi A1
1) Lineage OS 15
It is a classical Android 8.0 Oreo, very commonly used and popular. The most talkative and supported custom ROM is Lineage OS 15.
Download: Lineage OS 15 for Xiaomi Mi A1
2) AOSP Extended ROM
This ROM enables wide range of customization and provides smooth performance but not very likely for battery purposes. WHo not loves Vanilla Android, with root permissions, it even gets tastier.
Download: AOSP Extended for Xiaomi Mi A1
3) Viper OS
It provides an optimum balance especially between battery and performance, which is best feature it can offer, among most noteworthy ROMs. It also have great support in the back for any issue or bug.
Download: AOSP Extended for Xiaomi Mi A1
4) CrDroid ROM
CrDroid ROM for XIoami Mi A1 provides performance and reliability over stock Android, for the users especially choosing performance and reliability over battery issues should Probably go for it.
Download: CrDroid ROM for Xiaomi Mi A1
5) Resurrection Remix
This is so fat best combination of performance & customization with power saving. For most noteworthy smart usage and balance a user can have faith on this ROM. It is also one of the best ROM for Oneplus Mi A1.
Download: Resurrection Remix for Xiaomi Mi A1
6) AOKP OS: Android Open Kang Project
7) CarbonROM
Also checkout, how to unroot the Xiaomi Mi A1. Well, before installing custom ROM you might want to take the backup of your Mi A1. You would also love to Root Xiaomi Mi A1 and install custom recovery running Android Oreo.
Choose any one of them especially according to your requirements and style. We hope it helped in resolving your problem of choosing Custom ROM for Xiaomi Mi A1. These ROMs are great when it comes to enhance the performance of the phone as per user requirement. IF you have any better recommendation for teh best custom ROMs of Xiaomi Mi A1 list, then comment below.
For any queries and suggestions do comment below in the comment section.