Android operating system luckily has a great market for apps and games known as the Play Store. Here you can get games belonging to different genres, and most of them are offered for free to install. Other than graphical performance and storyline, people are taking more interest in multiplayer games. These days a majority of fresh games are coming with multi-player feature, it allows a user to connect with their friends over the internet. Multiplayer has ignored the boundaries, and one can even enjoy multi-player title with a friend living abroad. So, today we made a list of some Best Offline Multiplayer Games for Android.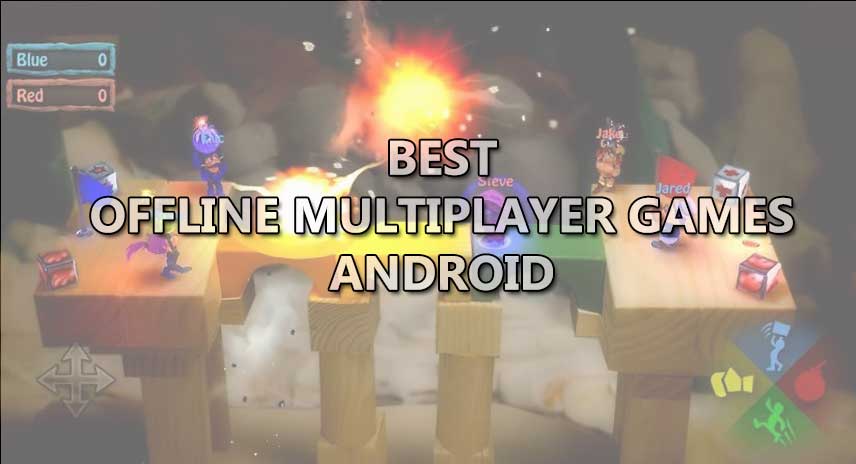 To be honest, in some regions of India stable internet connections are hard to find and there arises a new problem as one can't play a multi-player game without internet. However, in case you folks don't know there's still a way left which is using your smartphone's Wi-Fi hotspot. It is not an alternative to online multiplayer but still enables a user to experience the same adrenaline rush by playing it with those sitting nearby.
Best Offline Multiplayer Games for Android 
BombSquad
BombSquad is one of the most popular offline multiplayer game. At most 8 players can play together in this title. Being an offline multiplayer it doesn't require any active internet connection. All you need to enjoy this is a group of friends with some smartphones. It is among the few games which support controllers as well as touchscreen devices. One can even play it on an Android-powered Television with the help of a touchscreen smartphone or a tablet having BombSquad Remote app installed. It is free to download and has received a reputable rating of 4.5 on Google Play Store. The game includes almost all sorts of sports ranging from Soccer to Hockey. You can make your own team for fighting against a computer or can compete with each other.
Asphalt 8 Airborne
Our second choice is Asphalt 8. It combines crazy graphics with a nice gameplay and icing on the cake is its offline multiplayer option. For some of you, it might not deserve the second position, but I think those Supercar fans out there will get my point. The game offers a number of cars to choose from. However, one has to unlock them by winning valuables. For every drift and stunt, a person is rewarded with points. The game offers virtual lookalike of regions including Venice, Iceland, etc. In numbers, it offers more than 190 high-performance vehicles. Luckily Gameloft is offering this game for free through Play Store. The game weighs hefty at around 1GB and we would suggest you use a good Wi-Fi connection for downloading.
Mini-Militia Doodle Army 2
Mini-Militia is maintaining the third position in our list and is one of the most liked games by the students. The game offers both online and offline mode. In online mode, at most 6 players can play while in offline mode maximum 12 players can enjoy the game over a local Wi-Fi connection. One can master his/her skills in the offline mode to win those online battles. The game doesn't offer mouth-watering graphics but still, it is the best example of why simplicity often works. The game has cartoon based graphics and offers a number of weapons including Shotguns, Flamethrower, Sniper, and Hand Grenades. This version of the game is inspired by the Stickman Doodle Army game based on the public demand. The game is highly addictive and one will not regret installing it on his/her device.
Download Mini Militia- Doodle Army 2
Crossy Road
Crossy Road is a very popular game and probably most of you have played it sometime. I've tried it a long time but I wasn't aware of the fact that we can even select multiplayer option in it. The game is highly addictive and involves a user completely. Here you will be provided with a Chicken as a player. However, the game offers a mammoth 150+ retro styles characters which a user will have to unlock. The game can be played with multiplayer feature through an offline network. Here you have to make the chicken crossroads and at the same time protecting it from obstacles like traffic and rivers. The game is simple and can even be played on an Android Television. Crossy Road weighs at 60MB's and can be easily downloaded for free through Play Store.
Badland
Badland is a very popular Adventure category game and its successor Badland 2 is also available on the Play Store. The basic story of the game is to fly and survive. Here a user has to control a distinct creature and protect it from various obstacles. It is simple yet has attractive graphics which you will appreciate a lot. According to the official listing of a game, more than 50 Million peoples are playing this game. The game mainly includes the environment of a forest which looks dark, dense where you have to protect the creature using side screen controls. The controls are very simple to use which even take your multiplayer experience to the next level. It has received an appreciable rating of 4.5 on Google Play Store and can be downloaded for free on your device.
According to us, the above-listed games are best when it comes to offline multiplayer functionality. There are a few more but adding them will create further confusion among the users. For more Android updates stay tuned to GoAndroid.