Most of you might have heard about the Android Fastboot Reset tool. Don't worry if you don't know about the same, we will explain it to you, and can download Android Fastboot Reset tool too. Android Fastboot Reset Tool is a simple tool developed for One-Click FRP and Factory Reset program. It is developed by Mohit KKC and is available to download for free. The tool helps to unlock FRP and Factory Reset smartphones through Fastboot, EDL, and ADB Mode. That said, it can be used to remove screen lock, read device info and remove the Mi account.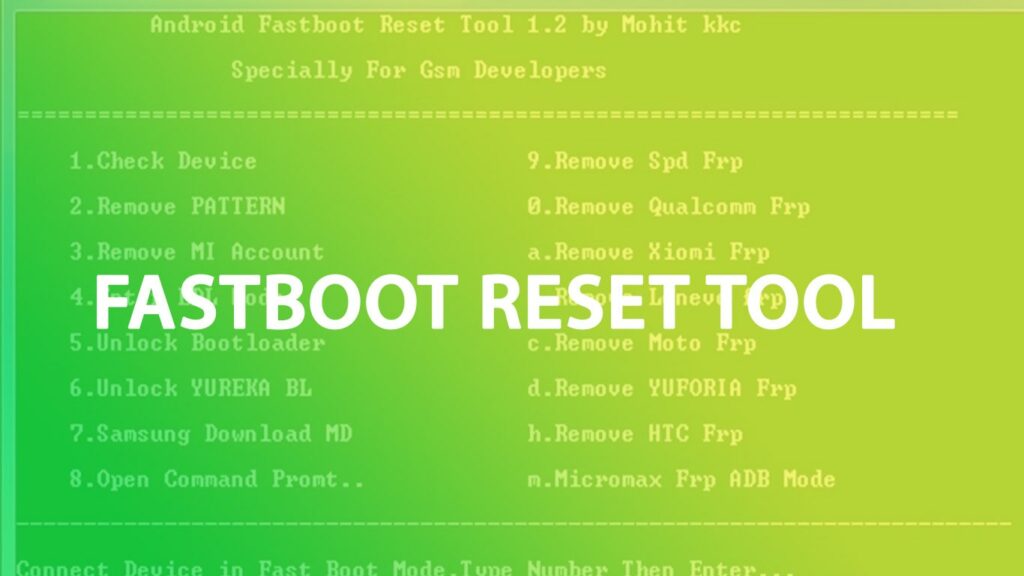 Unlocking FRP is one issue most users face after forgetting their GMAIL id and password. Factory Reset Protection (FRP) is an in-built feature that protects data on all Android smartphones. Once an Android user adds his Google account to his smartphone, the FRP would be automatically enabled on the smartphone. If you perform a factory reset, your device would ask to enter the Google account he had linked. It helps to prevent unauthorized access to smartphones.
Must See: How to Download and Install Spotify Premium APK [no root]
However, some users might forget the id and password of their Google account. What happens is that your phone will be locked and can't be accessed without taking it to the service centre. To unlock FRP, the Android Fastboot Reset tool can be used. It will reset the FRP lock by resetting the FRP storage on the smartphone. The tool will work on smartphones using Qualcomm, MediaTek, and UNISOC chipsets.
Android Fastboot Tool v1.2!
With the introduction of FRP in Android 5.1, the security of Android smartphones was increased. As mentioned above, Mohit's Android Fastboot Tool came as a rescuer for many users. The tool also came with many features that were useful for Android developers. The app came as handy because it didn't require any root access. Here are the significant features of the Android Fastboot Tool v1;
Open Command Prompt 

Remove Pattern Lock.

Remove UNISOC FRP.

Micromax FRP ADB Mode.

Remove Qualcomm FRP.

Remove Xiaomi FRP.

Unlock Bootloader.

Remove Lenovo FRP.

Remove Moto FRP.

Samsung Download Mode.

Remove Yuforia FRP.

Remove HTC FRP.

Enter EDL Mode.

Remove Mi Account.

Check Device.

Unlock Yureka BL.
Download Android Fastboot Reset Tool v1.2
You must have gained nutritional information about the Android Fastboot Tool by now. The latest version of the Android Fastboot Reset is v1.2. The tool is available for devices that run on Windows OS only. It weighs around 600KB and is available in the RAR format. Interested people can download the tool using the link given below.
Steps to use Android Fastboot Reset Tool on your device
Turn off Windows Defender or any other Anti-Virus software present on your PC. Then, download the tool from the link given above.
Extract the RAR file and open the ADB.exe file.

After this, run the Fastboot.exe file.

Now connect your Android smartphone to your PC after booting into fastboot mode.

Enter "1" to check if the device is connected or not.

Then, enter any number listed in the options and press enter.

The process will finish in a few seconds.

After this, turn on your phone, and you can see that by FRP lock has been bypassed on your smartphone.
See More: [Latest] Download Android Multi Tools v1.02b Password/Pattern/Pin Lock Remover
That's it, and you have successfully removed the FRP lock or any other lock on your smartphone. If this article has helped you to solve your issue, then please do consider sharing the article with your friends.