Touch Circle Clock Wallpaper is a live wallpaper that displays various information like time, date, next alarm or calendar event, favorite motto or quote in a handy and attractive way right on your home screen.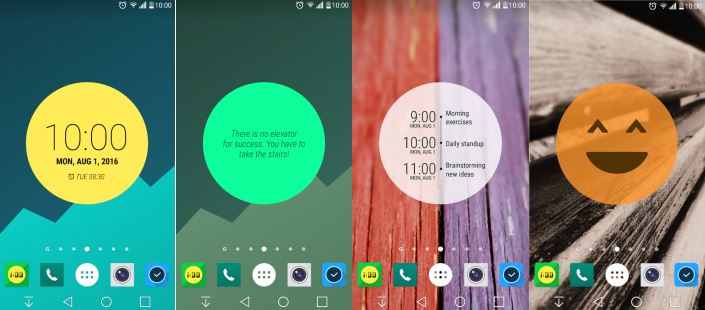 It can change your wallpaper as per need or you can set manually. It gives information like Time, date, Alarm, next calendar event, favourite quote or motto on a single live Wallpaper. You can choose between different looks of Live Wallpapers. There are gradients, background colors and more.
There's one special thing and that is called symbol on the wallpaper. You can add symbol of your choice from the wardrobe.
There's a Touch Circle Clock Wallpaper pro version of the app and it allows various advanced features:
Time and date for various time zones
Your 3 next calendar events
Days countdown to a particular date (can be changed on a configuration dialog)
Set gradient background
Set image background – the app will try to find out appropriate colors for circle and text depending on your image (Touch Circle can handle images from any other application where you can download, edit or share images)
The price of the app has also been slashed. Ii has been reduced to $0.99 and it's even low for India at just 35 INR.
Touch Circle Clock Wallpaper Video Teaser:
So, Gradient and image appearance options, time zones, multiple calendar events, days countdown – all available in PRO version for just $0.99.
Gallery Touch Circle Clock Wallpaper:
Touch Circle Clock Gallery
Today, we are going to give Free Pro Version Keys to the first 10 users who will comment on our social media pages or here.
You can redeem them by redeeming a code while purchasing through redeem code.
Currently app is unreleased but is available via the link below. Public release is planned on November/December, 2016. At the moment app is available as BETA on Google Play.
Touch Circle Clock Wallpaper can be downloaded from the Play Store link below.
Download from Play Store