Google Introduced Android O on May on the I/O conference this year with a lot of interesting and new features. One of them was the Smart text selection. Which uses Sophisticated machine learning algorithms to automatically display functions based on the text you select.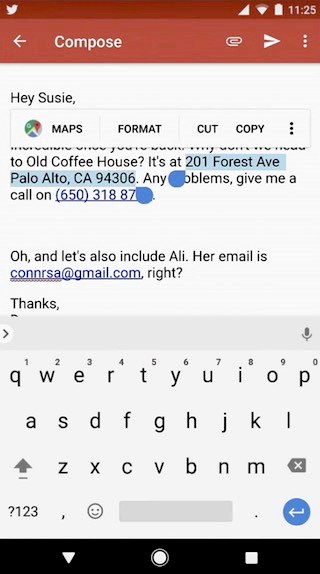 For instance, if you select a phone number online, then you will get the phone option as a pop up along with the usual copy and paste options. This also works for addresses and you will be displayed the map option so that you could directly enter the maps app when you select an address.
Google is now rolling out the Smart text selection to its Google Docs Android app.The users who are currently enrolled in the Android O Beta program will have this feature. Google has also released some bug fixes and performance updates along with this update for Docs.
You can download the apk of the latest version the Google Docs app from the source link below and install it to check whether you can use this feature.
Thought this is not a huge upgrade, it is still useful considering it could save you a lot of time. It will help you when you are dealing with a lot of numbers or addresses while using Google Docs. After installing it, Let us know in the comments below whether you have received the update or not and how do you find it useful.