Affected with Slow Charging Issue on Galaxy S22? We have listed some fixes for the same that might help you resolve it.
However, Samsung unveiled its Galaxy S22 series in February this year. The lineup includes Galaxy S22, Galaxy S22+ and Galaxy S22 Ultra. It came with many improvements over its predecessor. Samsung has updated the smartphone in various aspects. However, like any other smartphone, Samsung's Galaxy S22 series also faced issues. Samsung has been working on it actively and fix it via updates. In fact, the brand has pushed a couple of updates to the latest flagships. Another major issue that some users of the Galaxy S22 series face is the "Slow Charging" issue.
What is Galaxy S22 Slow Charging Issue?
The issue is mainly found in the Galaxy S22+ smartphone. According to the affected users, the devices take more than usual hours to do a full charge. Users even report that after using Samsung's official 45W charger, the device takes around 3 hours for a full charge. Another user said that he even tested the speed by keeping his device turned. After 10 minutes, the device charged only up to 46% from 40%. Users shared their ordeal via Reddit.
User I
I got myself a S22+ last week, but finding the charging speed not per exepctation.

Using 45W Samsung charger, its taking ~3 hours for a full charge.

As I'm typing this, I tested the current charge speed keeping phone in switched off mode. In 10 minutes it has charged from 40% to 46%.

How is other's experience, seems quite worse when online articles suggest near 1 hour for full charge
User II
I have a 45W charging brick and when I plug it in it says "Super fast charging" and then gives me an apparent time it'll take for it to be fully charged, I did some calculations and it's telling me it charges at about 2% per minute, which would be insane.

Now, the problem is that it's actually not the truth. It's way slower. In 10 minutes it goes up by like 4%. I've used an app and it says it's only charging at about 4 Watts?
User III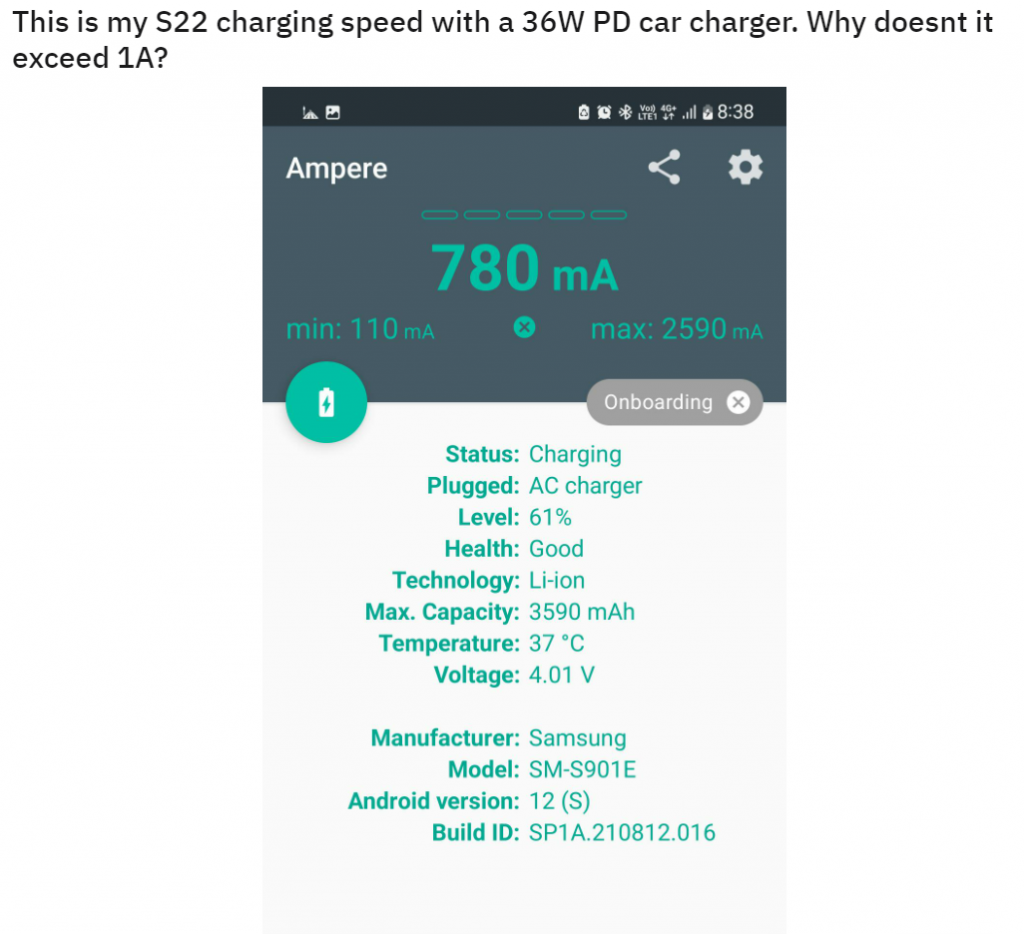 The second user is using the Galaxy S22 Ultra smartphone. The issue isn't just limited to the Galaxy S22+ smartphone. There are a few fixes for the slow charging issues.
How to fix the slow charging issue on Galaxy S22 Series?
Since, the Galaxy S22 series doesn't have an adapter inside the box, you will have to buy the adapter. The 45W adapter comes with a USB cable, and most of you guys will use the same.
Fix 1:
One of the Galaxy S22+ users said that his slow charging issue got fixed after switching to the cable that came with the smartphone. So, try changing the cable and see if it fixes the problem for you guys.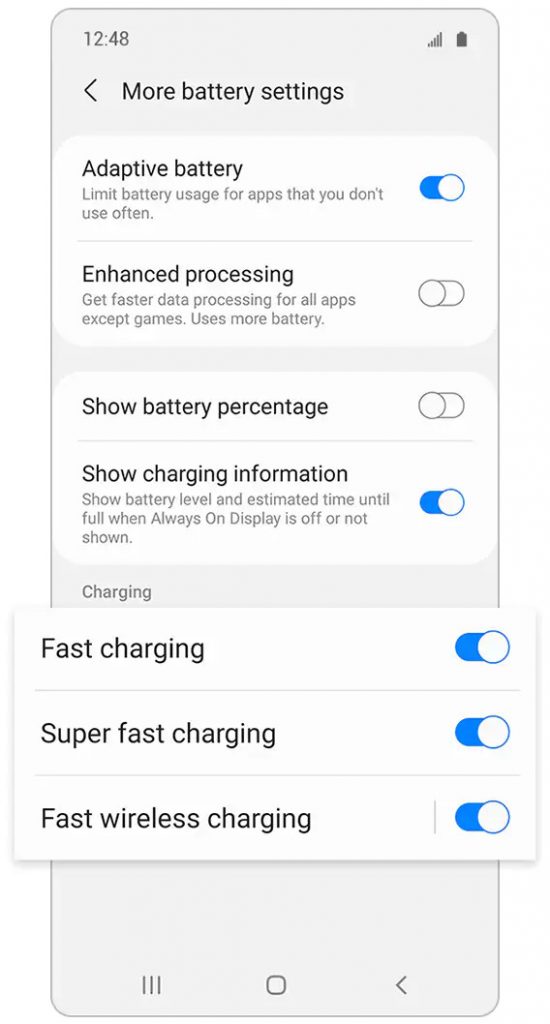 Fix 2:
Another thing to look for is that make sure that the Samsung Thermal Guardian isn't limiting your charging speeds. Make sure to update your smartphone to the latest version. Try to charge your device in cooler areas as the temperature directly affects charging speeds. Most importantly, check if the fast-charging option is enabled on your Galaxy S22 series smartphone. Head to Settings, tap on Battery and device care and choose the Battery menu. From here, tap on More battery settings and switch on everything related to Fast Charging. Make sure to refer to Samsung's helpdesk for more.
Fix 3:
Always make sure your device is updated to the latest firmware. You can keep a tap on our Galaxy S22 Update tracker.
Fix 4:
Avoid charging the Galaxy S22 high a temperature environment. It will improve battery health.
We hope these fixes resolved the slow charging issue on Galaxy S22.