Samsung Galaxy Note 10 and Note 10 Plus are the flagship devices of 2019. Both the phone is very good still if you're getting any problems while using them. Like sometimes apps are opening slow or crashing moreover, sometimes the phone is hanged. To get rid of these issues you should simply reset your phone. Even then your issues are there, then you should hard reset Galaxy Note 10 or Note 10 Plus.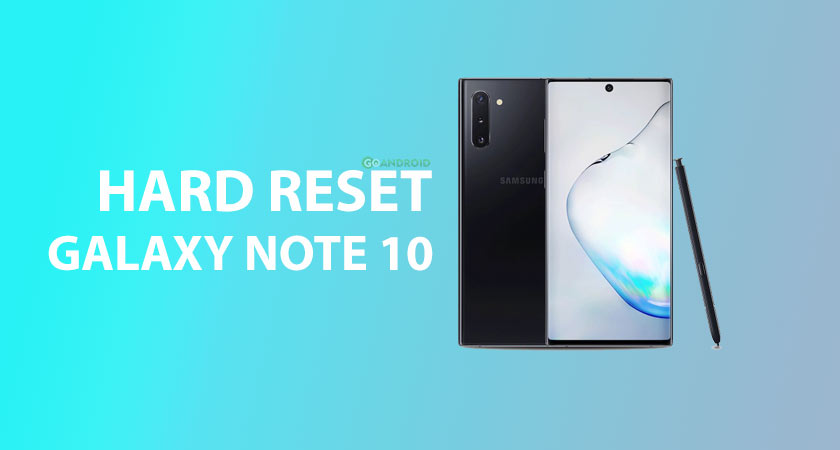 Although you may already know, Still we are reminding you that before starting the process of resetting your phone, take a full backup of your data. As resetting a phone will format all of the data saved on it. There are two methods to reset your phone one is from the settings of the phone and the other is a hard reset.
How to Factory Reset Galaxy Note 10 and Note 10 Plus
Open the settings of your phone and if you did not take backup yet then tap on Accounts and backup after that tap on Backup and Restore.
After that, you have to select back up my data.
Go back to the setting of Galaxy Note 10 or Note 10 Plus.
Tap on the general management and select reset.
Now, tap on the factory data reset option and tap on the RESET >DELETE ALL.
In a few mins, the resetting process will complete. That's it.
How to Hard Reset Galaxy Note 10  and Note 10 Plus
Turn OFF your phone.
Press and hold the Volume Up + Bixby/Power button until the Samsung logo appears on the screen.
After that, the recovery mode will start.
You will see many options, you can navigate with the help of volume keys and select wipe data/factory reset option with the Power button.
The alert message will be popped up on your screen now asking "wipe all user data? This cannot be undone". You have to select YES  to confirm.
After the completion of the reset process now select the Reboot system now. Then your phone will restart your phone to use.
Related: How To Fix Samsung Galaxy S10 Overheating
We hope you successfully hard reset your Samsung Galaxy Note 10/Note 10 Plus. If you get any problem following the method above then use the comments box below to ask us any question about the method above we will try to provide you a solution.