With OneUI 2.0, Samsung focused on refining the UI which is considered as the most feature-packed Android skin to date. Animations feel smooth and snappy than ever, system is now less of bloats and more polished. For all these minor, but substantial changes under the hood, Samsung users have very well accepted the OneUI 2.0. The OneUI 2.0 based on Android 10 which is available only for S10 Series as of now, is going to hit the Galaxy Note 10 Series as well very soon.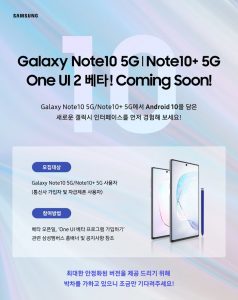 Samsung Members Korea has teased the OneUI 2.0 beta for Galaxy Note 10 Series. So, it won't take much of time for the owners of the latest Note beasts to have a taste of the OneUI 2.0. As it was the case with the S10 Beta programme, the OneUI 2.0 Beta should kickstart initially on South Korea and later expands to countries such as Germany, U.S., India and other few.
The OneUI 2.0 brings nothing new fancy features for which Samsung is known for. This time around, Samsung has gone for perfecting the UI which is full of features and options, but slightly mediocre in fluidity compared to its light-weight competitors such as OxygenOS, MIUI and so on. The OneUI 2.0 hopes to provide the fluidity which puts it on par with the competitors.
For the Note 10, we could expect some minor changes in the Note-centric apps such as Live Drawing, Lock-Screen Memo and so on. That being said, are you excited for the OneUI 2.0 beta on this gorgeous smartphone? Do let us know your views and excitement level down in the comments.