In today's world, video constitutes about 40% of online media. VLC is the most used video player in an era where video watching is increasing day by day. Today, we will let you know how you can navigate a video frame by frame in VLC. Although, before proceeding we will let you know what does it means in the VLC player.
VLC player packs various features that help you to get a seamless video watching experience. It carries features such as converting audio or video files to any format, stream /download videos, capture screenshot and much other. The VLC Frame by Frame feature is just a single jewel in the box, and it carries various other useful features.
What is VLC Frame by Frame?
Video files comprise thousands of frames, and these frames can around 30 per second. It can vary between 30-960 frames per second, depends on the camera from which it got recorded. A standard movie or a song video is limited to 24-60 frames per second.
Usually, users want to navigate to every frame in the video to find something. It is usually was done by security agencies to scrutinize the camera's footage to solve any crime. Even though some individuals trying to figure out something watch video fraction by fraction on VLC.
How to watch a video frame by frame on VLC?
There are multiple ways, through which you can watch every video frame by frame. There's a dedicated way, the VLC developers have added through which users can watch a video on a frame-per-second basis. Let's see in how many ways we can achieve frame by frame video watching:
Usual method (Shortcut key)
It is quite easy to play video on a frame per second basis on VLC. Follow the steps below:
Open a Video in VLC Player by going to Media > Open File.
Press the E key to pause the video.
Now every E press will allow you to play video frame by frame.
To start the video at a normal pace, press the spacebar button on the keyboard.
Assign a new hotkey in VLC frame by frame feature
If you're having an issue with a current hotkey for fraction by a fraction in VLC. Then you can follow the procedure below to assign a new hotkey in VLC for it: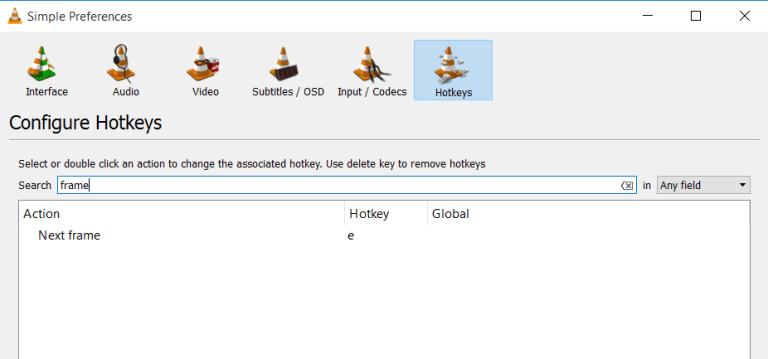 Goto Tools>Preferences in VLC media player.
Then select the Hotkeys tabs.
Now in the search field enter the 'frame' keyword.
Select and double click to assign a new key to 'Next frame' faction from the list.
Press save!
Toolbar button (Advanced Control)
Toolbar Control is usually not available in default settings. You need to tinker the VLC player toolbar a bit to get access to the frame by frame option on VLC.
If you have not changed any setting on VLC then, follow the steps below:
Go to view the menu on the VLC player.
Now click on Advanced Controls to turn it on.
A new line of player controls will appear right above the default media controls.
Now, select the last button in advanced controls to get frame by frame feature.

If you don't find the button, you can add it by going to the Tools>Customize interface feature.
Cheers!
So, following the guide above, users can easily navigate a video in VLC frame by frame. There are a lot many features that VLC offers, which you can use to improve the viewing experience on VLC. Did you manage to see the video frame by frame using the above guide?