Google has published the fresh stats of the Android Distribution for the month of January 2018. Well, CES 2018 is going on and most of the biggest OEMs are busy revealing their new technologies. Many new things are getting into the AI driven technologies backed by Google Assistant and Android. On the other note, we have received a Android distribution chart revealing the staggering growth of the latest Android version.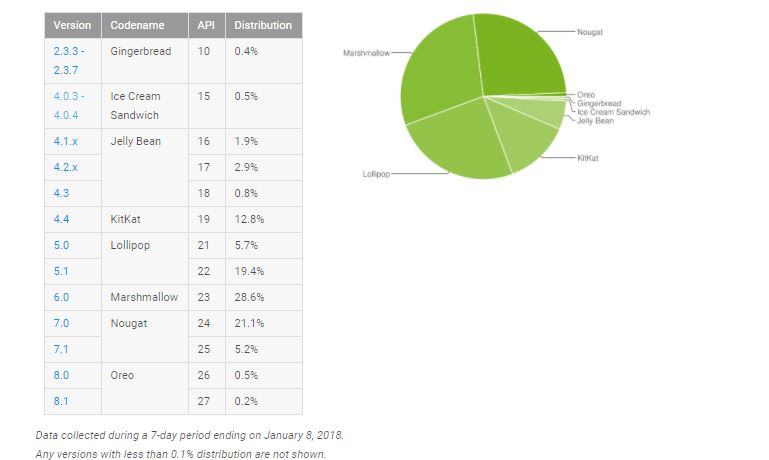 As per the latest stats, Android Oreo is at 0.7% which has increased from 0.5% from the last month. The new entry of the Android Oreo 8.1 is now visual in the latest chart with the lowest market share.
If we have a look at Nougat stats, then it is evolving every month and has reached 23.3% in Janaury. Android Nougat 7.1 and 7.0 both increased by 1.2% and 1.8% respectively.
Finally, the Marshmallow has started to decline and is now on 28.6% of devices. Android Lollipop has gone down from 26.3% to 25.1%. Similarly, Kitkat experienced 0.6% drop from the previous metric. The Jelly Bean and Gingerbread are also running 6% of devices in the Android world.
The number seems pretty well, but the latest Android versions should pick up the pace. There are many devices, even the flagships which have to receive these updates yet.