If you're fan of Galaxy S8 and want to buy it. Then this is great deal for you. Sprint's prepaid brand Boost Mobile is offering Galaxy S8 for Just $646. Moreover, If you order the latest Samsung flagship device Online, Then you will get 20% more discount by applying a coupon BOOST17. Which mean you will get Samsung Galaxy S8 for only $520 off contract.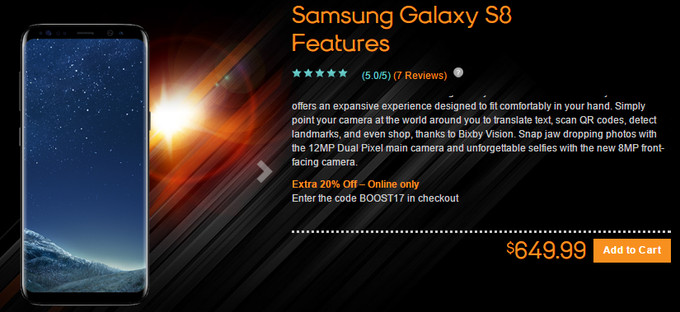 While purchasing Galaxy S8 form Boost Mobile before check out you have to enter the coupon BOOST17 to get 20% discount.
For a reminder, Samsung Galaxy S8 packs with a f/1.7 12MP Rear + 8MP Front Cameras with Octa-Core Snapdragon 835 Chipset, 64GB internal Storage Capacity and 4GB of RAM and 5.8″ AMOLED Infinity Display. Device is IP68 Waterproof to 4.9′ and runs on Android 7.0 Nougat. It includes AKG by Harman-Tuned Earbuds.
Buy Samsung Galaxy S8 by going through the source link below.