Essential Phone is receiving some new updates on Android P Developer Build. Launched last month at Google IO 2018, Android P Developer Preview for Essential Phone is getting an update with some bug fixes and improvements. The Build PPR1.180412.090 is now rolling out as an Over The Air update.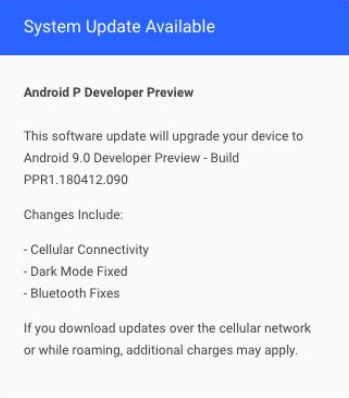 The new build has come with fixes like Cellular connectivity. Even, the Dark Mode has been fixed in the latest update. Along with, there are some bluetooth fixes. Still, there are many bug that are present in the Developer Preview. Well, these Previews are meant for fixing and making it stable.
Even users know these bugs might occur but still they use in lieu of getting the new features earlier than the rest. On the other hand it is a necessity for developers to install these builds, so that they can tweak the ROMs, build applications more stable in the new environments.
Essential promised the continuous updates for the next two years and Android Security updates for three years. Now, whatever the reason, it would be good to see whether Essential will give the updates or not in later future.
How many of you are using the Android P Developer Preview on Essential Phone.