Snapchat is one of the most popular Social network App. You can send photos, videos in your snap stories and in messages too. The Stories feature which is very popular now days is first developed by the Snapchat. The Snapchat app is officially available for Android and iOS Platform. But it is not available for PC or web right now. So here we are with a guide for how to use Snapchat for PC.
Snapchat features include the stories, which last for 24 hours after that the story will be offline. It this app you can also message your friends and send them photos and videos. In Snapchat messenger when the message is seen by the recipient the message whether it is photo or video or a chat. According to a report the app has more than 100 million daily users, who spend around 20-30 mins per day on it. Now people who are looking for how to use Snapchat for PC, follow the steps below.
How to use Snapchat on PC
To run Snapchat on PC you have to first install the Bluestack on your Windows PC. You can download the Bluestack by going through the link. Bluestack is the most popular Android emulator for PC.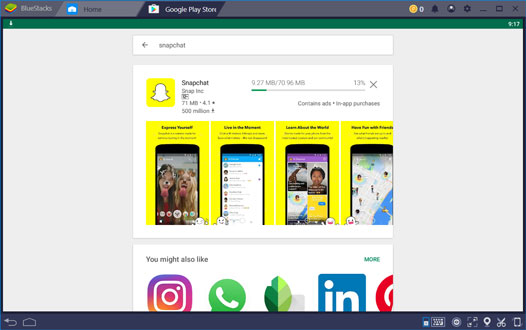 The first step is to download and install the Bluestack. After that, you have to sign in to play store with your Google Account.
Once you complete the installation and log in process. To run Snapchat on PC you have to download it through the Play Store on Bluestack on your PC.
Log in to your Snapchat, After login, you can see the other people and your friends Snap Stories.
However, PC which is not embedded with a camera or not connects to any other camera might get some errors. But you can still use the Snapchat on PC by clicking on Cancel buttons on the errors.
If you have a camera connected to your PC, Then you can post a quick snap of yourself.
Also Read: How to save Snapchat media files using Snapsave
If you get any problem in using Snapchat for PC by using out Guide. Then you can tell us via comments below we will try to give you a solution to that problem. Stay Tuned for more guides.