After the Blackberry and LG, now is the time for Huawei. Huawei has unveiled Leica powered P10 and P10 Plus devices at MWC 2017 in Barcelona. This is Huawei's second high end device after Huawei Mate 9 which was launched at CES 2017.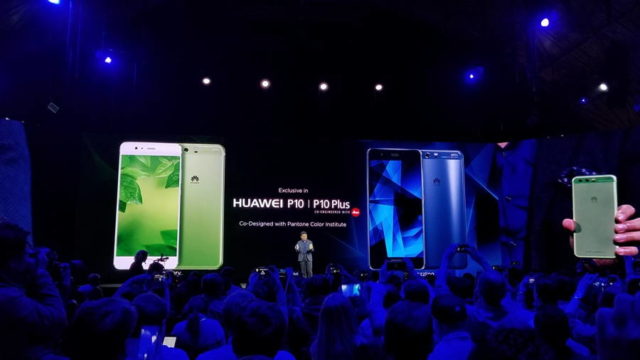 Well, talking about the P10, it features a LEICA dual camera modules design, except that the two modules are not identical this time: the monochrome sensor is 20 Megapixel while the RGB sensor is 12 Megapixel. It consists of a F1.9 SUMMILUX-H lens also.
The P10 Plus gets a brighter lens with F1.8 aperture, and the P10 lens features a F2.2 aperture. There's a 8 MP Camera for both the devices on the front size.
Both the P10 and P10 Plus packs EMUI 5.1 which is based on Android 7.0 Nougat. These devices are powered by Kirin 960 octa-core processor with 4 GB of RAM.
Huawei P10 packs 3200 mAh battery and P10 Packs 3700 mAh battery with super charging facility. The P10 Plus supports 4G LTE 4×4 MIMO, which can deliver up to a 600 mbps download speed. The P10 gets a regular 4G LTE modem. It comes with 2 antenna which will double your download speed (less signal still fast speed).
Huawei will, however, sell a version of the P10 Plus with 6GB of RAM and 128GB of memory too.
Huawei P10 Specs
Hardware
3200 mAh battery
5.1" FHD display
USB-C
Kirin 960 Processor,
64GB / 4GB (?)
Cameras LEICA design
Rear 20 MP monochrome sensor
12 MP RGB Sensor
F2.2 wide lens
Front 8 MP with custom features
Multiple Color versions (see article)
Huawei P10 Plus Specs
Hardware
3750 mAh battery
5.5" 2K display
Kirin 960 Processor
64GB / 4GB  – 128GB/ 6GB
Cameras LEICA design
Rear 20 MP monochrome sensor
12 MP RGB Sensor
F1.8 wide lens
Front 8 MP with custom features
USB-C
4G LTE 4x4MIMO support P10 Plus only = up to 600MBps downlink
Software
Android 7
EMUI 5.1
Highlights – intelligent photo application
These are available in lots of colors like Dazzling Blue, Greenery, Rose Gold Prestige Gold, Dazzling Gold, Black, and may be another color, probably Silver. The Huawei P10 is priced at €649 and the first markets to get it are Australia, Austria, Chile, China, Columbia, Denmark, Finland, France, Germany, Greece, Italy, Malaysia, Mexico, Netherlands, New Zealand, Norway, Peru, Philippines, Poland, Russia, Saudi Arabia, Singapore, South Africa, Spain, Sweden, Thailand, Turkey, UAE, United Kingdom, Vietnam.
Huawei P10 Plus will be available on the same markets as the P10 this March. The 64GB option is priced at €699, while the 128GB model will set you back €799.