2020 is around the corner, and it's time to bid adieu for 2019 which acquainted with us a lot of innovative and interesting smartphone designs. It seems the upcoming year will be yet another revolutionary as the competition is becoming intensified with the key players such as Samsung and Huawei ready to push all the boundaries to its limit and beyond. A newly out image of the much anticipated Huawei smartphone for the new year is out which is just a teaser of what these OEMs have up their sleeves for 2020.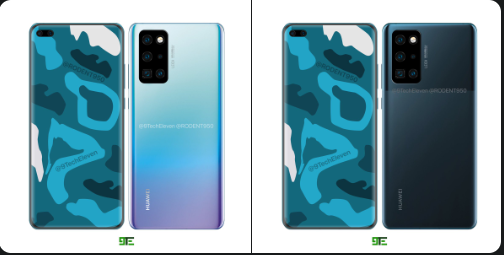 The first clear image or render of the Huawei P40 Pro is out in the wild flaunting a design never seen before but which we already have foresight of it coming. The trend which Samsung kickstarted with its Galaxy S6 Edge is getting yet another evolution with Huawei P40 Pro if the leaked image is to be trusted by any means.
As you can see, the display of the Huawei P40 Pro image is curved on all four edges. At first glance, the device will be taken as a hybrid of the Galaxy S10+ and the leaked Galaxy S11+. But hey, smartphones design is getting saturated and at a time all the smartphones will be a look-alike, we should accept the fact instead of quarrelling who copied whom.
The Huawei P40 Pro wrap around display has a dual hole-punch, so for those who're in search of an uninterrupted display ought to be disappointed. Nonetheless, the P40 Pro looks stunning giving us a hint of the miracle in smartphones we're going to witness in the brand new year. Are you excited? Do let us know your resolution for 2020 revolving around smartphones down in the comments.