While Android 12 was considered the major overhaul over the years, Android 13 will be the next major update by Google. The version is still under testing until its stable release which is expected to be around in Q4 2022. Before that, let's take a look at the eligible Oppo smartphones that will get the upcoming Android 13. As always, the company will toss up the operating system with its own skin iteration, ColorOS 13.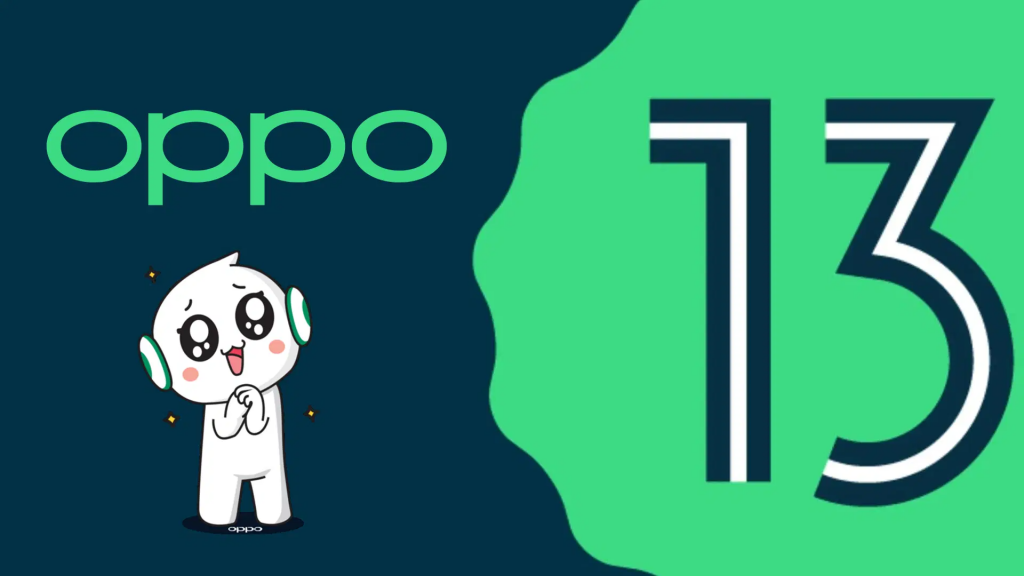 Although Oppo has not published any list officially, there are a bunch of devices that are will get the Android 13 update. The likelihood of your smartphone getting the new software depends upon the updated policy for your specific device. According to the latest Oppo update policy, the handsets will get three generations of major Android updates and at least four years of security updates.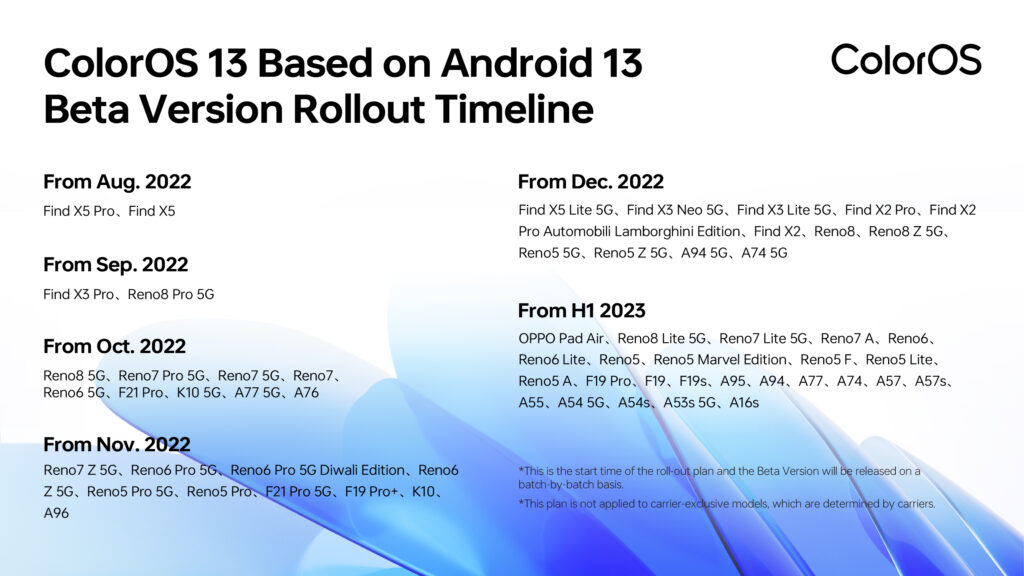 ColorOS 13 Beta Version Rollout Plan
From Aug. 2022
Find X5 Pro, Find X5
From Sep. 2022
Find X3 Pro, Reno8 Pro 5G
From Oct. 2022
Reno8 5G. Reno7 Pro 5G, Reno7 5G, Reno7
Reno6 5G, F21Pro, K10 5G, A77 5G, A76
From Nov. 2022
Reno7 Z 5G, Reno6 Pro, Reno6 Pro 5G Diwali Edition, Reno6
Z 5G. Reno5 Pro 5G. Reno5 Pro, F19 Pro+, K10,
A96
From Dec. 2022
Find X5 Lite 5G, Find X3 Neo 5G, Find X3 Lite 5G, Find X2 Pro, Find X2 Pro Automobili Lamborghini Edition, Find X2, Reno8, Reno8 Z 5G, Reno55G, Reno5Z 5G, A94 5G, A74 5G
From H12023
OPPO Pad Air, Reno8 Lite 5G, Reno7 Lite 5G, Reno7 A, Reno6, Reno6 Lite, Reno5, Reno5 Marvel Edition, Reno5F, Reno5 Lite, Reno5A, F19 Pro, F19, F19s, A95, A94, A77, A74, A57, A57s, A55, A54 5G, A54s, A53s 5G, A16s
Android 13 ColorOS 13 Update List (Expected)
Oppo Find series
Find N
Find X5
Find X5 Pro
Find X5 Lite
Find X3
Find X3 Pro
Find X3 Neo
Find X2
Find X2 Pro
Find X Neo
Find X2 Lite
Oppo Reno series
Reno 8
Reno 8 Pro
Reno 8 Pro+
Reno 7 Pro
Reno 7
Reno 7 Z
Reno 7 SE
Reno 6
Reno 6 Pro
Reno 6 Pro+
Reno 6 Z
Reno 5
Reno 5 Pro
Reno 5 Z
Reno 5 F
Reno 5 A
Reno 5 k
Reno 5 Lite
Reno 4 4G
Reno 4 5G
Reno 4 Pro 4G
Reno 4 Pro 5G
Reno 4 Z 5G
Reno 4 Lite
Reno 4 F
Reno 4 SE
Reno 3 4G
Reno 3 5G
Reno 3 Pro 5G
Oppo A series
Oppo A96
Oppo A95
Oppo A95s
Oppo A57
Oppo A55s
Oppo A56
Oppo A36
Oppo A53s 5G
Oppo A55
Oppo A55s 5G
Oppo A74
Oppo A74 5G
Oppo A76
Oppo A93 5G
Oppo A94 5G
Oppo A95
Oppo F series
Oppo F21 Pro
Oppo F19 Pro
Oppo F19
Oppo F19s
Oppo K series
Oppo K10
Oppo K10 Pro
Oppo K9x
Oppo K9s
Oppo K9 Pro
Read more: [Updated] List of OnePlus devices eligible for Android 13 update
As mentioned, the list is not official and is based on Oppo's firmware update policy. therefore, the company may add some more devices to the list eventually. Needless to say, the upcoming smartphones by the brand will also receive the new OS.