Flipkart has launched the new Motorola 4K Android TV Stick with a price tag of Rs 3,999 in India. As you'd expect from a streaming stick, the Moto TV Stick hosts a plethora of streaming apps that you can stream on a TV for a better viewing experience. As icing on the cake, the streaming stick supports up to 4K resolution given you have a 4K supported monitor/TV to make use of it to the fullest.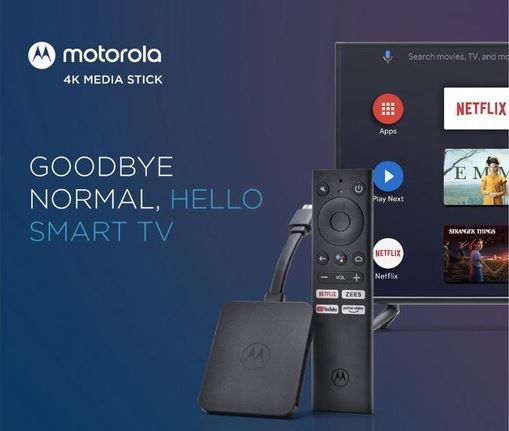 The Motorola 4K Android TV Stick is in existence as a result of the strategic partnership between Flipkart and
Motorola
. As per Chanakya Gupta, Vice President Private Brands, Flipkart" –
"There has been a notable rise in demand for in-home video entertainment solutions since the pandemic began, and TV streaming sticks have become even more widely popular as a result. It is a great time for brands to enter the segment. Motorola is a globally reputed and trusted brand, and the Motorola TV stick is a great option for consumers wanting to enjoy their favorite video content at home".
Flipkart Motorola 4K Android TV Stick Specs
It's palatable to expect a streaming device to run an older-gen of Android. As such, the Motorola 4K Android TV Stick runs on Android 9.0 Pie with an Android TV interface. What could be better than having a native Google Play Store? Yes, you can download your favorite apps, such as Netflix, YouTube, Amazon Prime Video, Disney+ Hotstar, ZEE5, Voot, among others with the native Google Play Store. If that's not enough, you can also download games on your stick but make sure you have got a controller to be able to play.
The built-in Chromecast on the Android TV Stick allows you to cast your content and screen from your Android phone, certain apps on iPhone, and Chromium-based browsers on PCs and laptops. Additionally, the Moto Android TV Stick also supports Dolby Audio for worldly surround stereo sound for an immersive content experience.
As mentioned earlier, you can stream a 4K content to your 4K supported monitor/TV. Supported formats even include HDR10 and HLG video formats which you can mostly find on content hosted by Netflix and Amazon Prime Video. Powering the Stick is a quad-core 2GHz 64-bit processor with Cortex-A53 cores paired with a Mali-G31 MP2 850MHz graphic engine. Coupled with 2GB of RAM and 16GB of internal storage, the Stick is capable of doing its job effortlessly.
Related: Chromecast with Google TV to bring Kid Profiles soon, sans multi-user support
Last but not the least, the device supports both 2.4GHz and 5GHz WiFi bands for seamless connectivity and lag-free content streaming. That being said, Flipkart will start the sale of the Motorola 4K Android TV Stick on March 15.