HMD Global's new Nokia Lite Earbuds BH205 could be their new True Wireless Earbuds. The earbuds were listed for certification on FCC. The listing provides live images of the earbuds and the charging case along with some other details.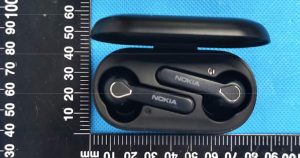 From the image listed, the complete design of the earbuds can be seen. The Earbuds comes with a long stem design currently trending in the market and a compact case for charging and storage purposes.
The listing also provides a manual that reveals more information about earbuds, for example, an LED indicator on the case showing charging status.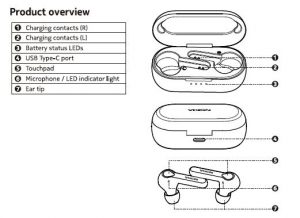 As per the listing, it comes with a charging case supporting Type C cable and houses a 400mAh battery. It also features an LED indicators on the front side of the case. The earbuds also support an LED indicator showing charging status, which turns RED when charging and stops charging when charged fully. The earbuds support Touch functionality also, to provide multiple usages, for example, tapping once or twice for music or attending calls.
The Earbuds houses a 40mAh battery in each unit and come with Bluetooth 5.1 support. However, the manual does not provide anything more than this, apart from how to use the device. From the image listed, we can see that the earbuds come in glossy black color and may have a white variant also.
Nokia has an event scheduled on 8th April for the launch of Nokia X20 and X10. There is a strong possibility that these earbuds will also launch with the new smartphones. However, the company has not confirmed it yet.
(source)