Nokia is returning to smartphone segment. Many new phones have been reported and leaked in the recent past. We have yet to see new Nokia Android based smartphone but before that here's something new from Nokia. According to reports, Nokia and Alcatel-Lucent have jointly instituted a major legal battle with rival company, Apple.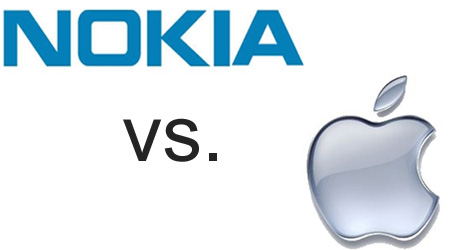 Finnish Nokia, once the world's top mobile phone maker, said the two companies had signed a licensing agreement in 2011, and since then "Apple has declined subsequent offers made by Nokia to license other of its patented inventions which are used by many of Apple's products."
In response "We've always been willing to pay a fair price to secure the rights of patents covering technology in our products," said Apple spokesman Josh Rosenstock. "Unfortunately, Nokia has refused to license their patents on a fair basis and is now using the tactics of a patent troll to attempt to extort money from Apple by applying a royalty rate to Apple's own inventions they had nothing to do with."
Shares of Nokia fell 4.8 percent to 4.50 euros at 10:22 a.m. in Helsinki, extending their decline this year to 32 percent. Apple advanced 0.1 percent to $117.06 in New York.
Nokia's lawsuits, filed in courts in Dusseldorf, Mannheim and Munich, Germany, and the U.S. District Court for the Eastern District of Texas, cover patents for displays, user interfaces, software, antennas, chipsets and video coding.