Leaks of the next most awaited smartphone the OnePlus 5 have been coming in thick and fast. Sketches, renders, images, product listings on websites. It's been everywhere. And the leaks have pointed out to some specs which will definitely be found on the OnePlus 5 like the Snapdragon 835 while other specs like the Camera arrangement and RAM are hot topics not yet confirmed. We have covered them all. We already have a time frame for the release of the device.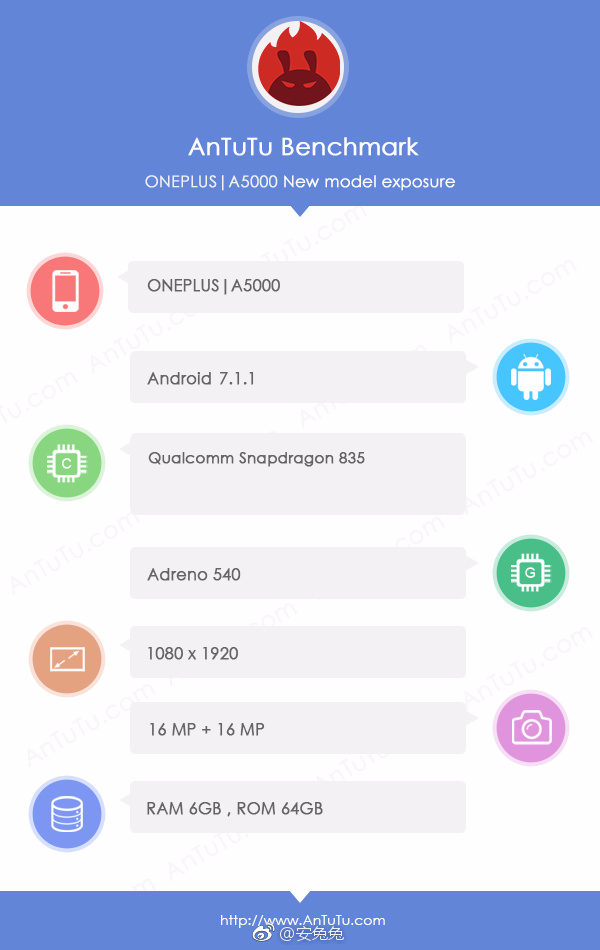 But more credible are those specs which get leaked on AnTuTu today on Weibo. It runs on Snapdragon 835 and has an Adreno 540 GPU. No surprises there.It is running Android Nougat. And everybody is expecting that as well.
Now the controversial part. As shown by the AnTuTu report the OnePlus 5 has a Full-HD display. Now previous leaks have backed the Quad-HD resolution for the OnePlus 5. The other talking point in the report is the 6 GB of RAM displayed by Antutu along with 64 GB of ROM. While previous leaks have shown that the phone might have 8 GB of RAM, we would not be surprised of OnePlus carried on with the 6 GB of RAM as it is in more than sufficient for even power-users. Also, the other opinion is that Oneplus might launch two variants one with 8 GB and the other with 6 Gb of RAM like it did with the One Plus 3 and 3T.
The AnTuTu report has confirmed a dual camera setup on the OnePlus 5. But will the two sensors be placed on the rear or front? This has not yet been confirmed. The AnTuTu shows the OnePlus sporting 16MP+16MP cameras without alluding to the fact that they are rear sensors or front. Now a previous report stated that that the device will have dual cameras on the front as well as the rear, we are yet to see that confirmation from credible sources.
Other specs worth mentioning are the 3,600 mAh battery along with the 5.5 inch screen.