Two days earlier, an Amazon India page posted the launch date of the OnePlus 5 as well as the time of sale. Soon after that, we got to know from the page source code, that the OnePlus 5 harbors 8GB of RAM. That was a day or two ago. Today we also have leaked pricing of the Indian OnePlus 5 variants.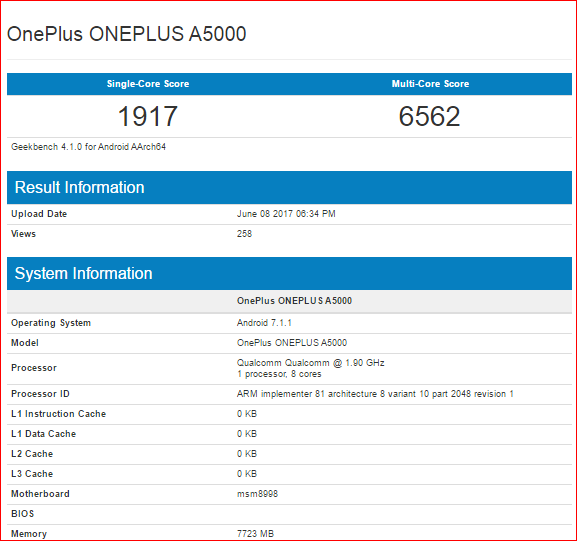 But now, after visiting Geekbench, OnePlus 5 has got its mains specs all visible in plain daylight. The Geekbench listing confirms the 8GB present in the device. And now, there are no doubts about it. The Geekbench scores of the device are spectacular as expected. the Snapdragon 835 SoC scored 6562 points in multi-core and 1917 in single core tests. The OnePlus 5 appeared on the benchmarking website, as OnePlus A5000. Apart from this, a dual camera is also confirmed.
A continuous hard edge, refined over 3 years. https://t.co/KVXBWmhBt8 pic.twitter.com/KBNppQ0R0U

— OnePlus (@oneplus) June 8, 2017
OnePlus seems to have gone a bit over the top with the OnePlus 5 teasing this year. Hours earlier, the company has put to sleep all the rumors surrounding the design of the OnePlus 5 to sleep. The company posted a photo(above) displaying the upper half of the OnePlus 5 back on Twitter. And indeed it looks much like the iPhone 7. But there are very subtle changes. The image also confirms the dual camera of the OnePlus 5. OnePlus might have been forced to out a teaser of the device after recent render leaks pointed to an iPhone 7-ish design. But we are not certain about that.
For now, the OnePlus 5 will have a 6GB variant along with an 8GB variant. It will go official on June 20.