Samsung has finally announced its Galaxy S4 device. From past many days its been rumored again and again. As revealed earlier Samsung has announced Galaxy S4 at Times Square in New York. Now its time to see how much it will affect Apple's iPhone 5 sales. Samsung Galaxy S4 is the fastest smartphone, according to benchmarks, it scored above 3000+ points, whereas HTC One was at around 2600. Overall new Flagship device from Samsung is thinner, lighter and faster than any other smartphone.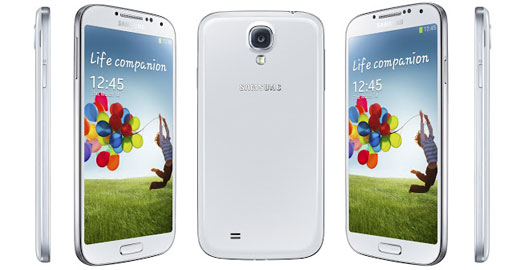 Samsung Galaxy S4 was already rumored for 5 inch display and now its true. Galaxy S4 carries a massive 5-inch 1080p Super AMOLED display with a pixel density of 441ppi. Internally Galaxy S4 consists newly announced Exynos 5 Octa processor and 2GB of RAM. It has built-in temperature and humidity sensors, and a removable battery.
Coming onto its shooters aka cameras which has 13-megapixel sensor on back, up from the Galaxy S III's 8-megapixel sensor. There are also many new features Samsung preloaded in the device like Dual Shot, Eraser, Drama Shot, and Sound & Shot.
It runs on Android 4.2.2 Android Jelly Bean along with Samsung's new features like smarter eye tracking software, including Smart Pause that stops video playback when you look away from the screen, and Smart Scroll that checks when you're looking at the screen and will move the page as you tilt the phone back and forth.
It has a polycarbonate case, but it's now slimmer (7.9mm) and lighter (130g) than its predecessor.
The Galaxy S4 will ship in April on 327 carriers in 155 countries in both 4G LTE and 3G versions. In the U.S. it will be offered on Sprint, Verizon, AT&T, T-Mobile, and others. In India its reported to launch in month of Aril along with 154 more countries.
Its expected price is of about $800.