Samsung Gear 360 camera along with the Galaxy S8 and Galaxy S8 Plus. Now the Samsung Gear 360 (2017) companion App is available to download from the Play Store. With this Companion App we can capture video and photos from the camera to your phone. We can also check the settings and status, and start a live broadcast.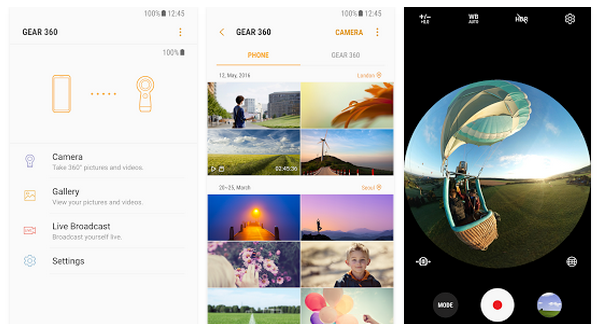 Samsung Gear 360 (2017) App main features:
Connect to and disconnect from Gear 360
Remote shooting and preview the recording
View content and save files to a smartphone
Share the created content to social media services
Share your best moment using Live Broadcast (only Gear 360 (2017))
Check Gear 360 status and settings
Sync Date & Time, GPS data
Highly compatible with Gear VR
Samsung Gear 360 VR camera 2017 is packed with 1160mAh, It is also packed with a microSD card slot which can support up to 256GB. Gear VR 2017 can be used on Android, iOS, Windows and Mac via compatible softwares. Compatible smartphones includes Galaxy S8, S8+, S7, S7 Edge, Note5, S6, S6 Edge, S6 Edge+, A5/A7 (2017) running Android 5.0 or later and iPhone 7, 7+, 6S, 6S+, SE running iOS 10.0 or later.