Samsung Galaxy Note 7, that's the name which can cause havoc at any Airport over the Globe. Today, due to a single person who changed his device's hotspot name to Galaxy Note 7 caused a delay in flight.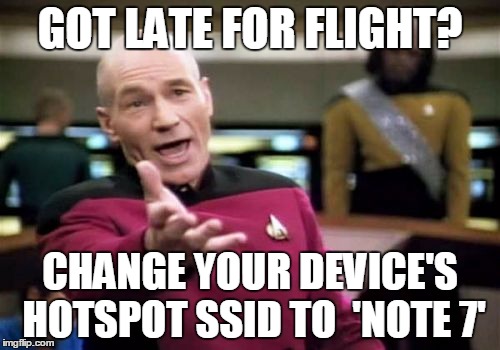 This story was conveyed by iMore editor, Serenity Caldwell via her Twitter handle.
According to Caldwell, she arrived at her gate to learn that her flight had been delayed (several times). When she was in the mid flight, flight attendant noticed a "Galaxy Note 7" WiFi hotspot. This is something that would have forced an emergency landing had personnel not been able to track down the perp who likely had a long talk with TSA upon landing.
Samsung galaxy Note 7 is banned by Samsung on October 11th and later Airport authorities in most of the nations banned it for carrying along during flights.
Well, this was hoax as it was some other device. But until December 19th there are many users who are still using the Samsung Galaxy Note 7. The usage is higher than that of OnePlus 3T users.
Warning*: We appeal those customers who are still using Note 7 to submit their device to Samsung counters.