Here comes a new report from Apteligent's which claims that there are still more users who are using Galaxy Note 7 than the combined Note 7 and OnePlus 3T.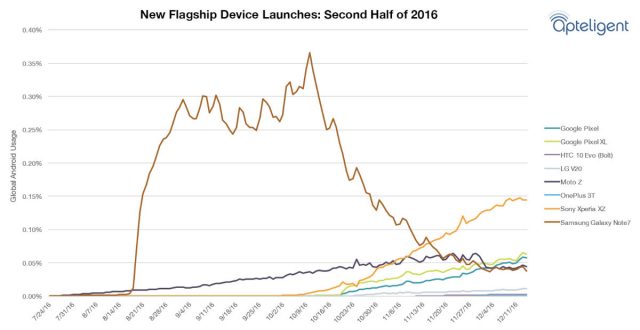 As depicted in the graph above you can see the sudden descent of Galaxy Note 7 but still it is more or equal to the OnePlus 3T and LG V20. In coming days we know it is going to deplete but we can imagine what Samsung has did to their own market.
After the October 11th when Samsung took decision to ban the device , we can see a steep descent in the graph since after that. We can even see the little shocks before when some fire incidents were reported and Samsung pulled off the device for the first time.
Also, It is depicted in the graph that OnePlus 3T didn't picked up sales as estimated by the OnePlus but it is improving. Eve, its launch in India will now gain more sales. Due to immense popularity and sales in India, OnePlus has even made a decision to build its devices in India.
Further, LG if we say, than it is launched in few markets and it's dual features doesn't impressed the masses.