Xiaomi's subsidiary YI Technology has teamed up with Google to develop a new 360-degree camera based on Google's Jump project. Named YI Halo, it is the most advanced 3D-360 camera. It has been designed and developed to target professional VR marketplace.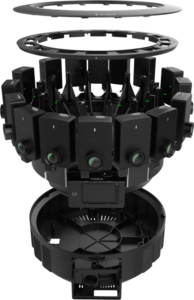 Its impeccable design will remind you of some weird gadget from a science fiction movie. This 3D-360 camera is future ready with total of 17 unit cameras, allowing users to experience the scene in every direction without missing a thing. It offers True stereo 360 and is capable of recording videos at 8K resolution at 30 fps or 6K videos at 60 fps.
It also supports Advanced image quality settings such as ISO, WB, EV, shutter and flat color for professionals.
YI Halo is fully portable weighing less than 8 pounds. It also promises to deliver 100 plus minutes of battery life during continuous shooting.
With its built in Wi-Fi, you can securely and remotely control your YI Halo with your smartphone app. It also has a built-in LCD touch screen control panel.
Since YI Halo is targeted at professionals working with high-quality, high-resolution 360-degree photos and videos as well as VR, its price is expected to be sky high at $16,999. YI Halo will be available for puchase later this summer.