A few days back some images and renders have shown us the partial design of the upcoming Xiaomi Mi MIX 3. This time again we have something special for you all. We've recently witnessed their Mi8, Mi MIX 2S handset and now Mi MIX 3 leaks have already started appearing. At times we feel like brands are a little too quick in producing new devices, however, will talk in detail about it some other time. So, for now, let's take a look at the fresh Mi MIX 3 image.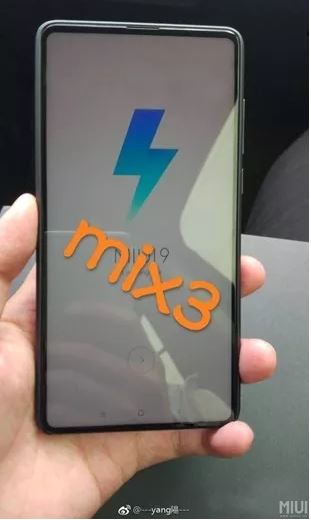 According to us, it is the most straightforward render of the device we've seen so far. The leaked image confirms that the handset will come with a full-view display and will even ignore the presence of a notch. So finally  Xiaomi new flagship device is coming in the market which has a great screen-to-body ratio with no display notch. The biggest problem a user is facing from ages with the MIX-series handset is that it sports a front facing camera in the bottom. Although there seem to be some rays of hope as this renders doesn't have a bottom-placed camera module.
The device has very thin bezels surrounding the display, however, a physical earpiece can be clearly noticed on the top segment. The volume and power buttons are there on the right side of the handset. This image has put us in a confusion as there is no visible front-facing camera module in the front. Xiaomi might be working on some elevating hardware similar to Vivo's Nex device. No other details are there about it, for more stay tuned to GoAndroid.