Xiaomi is now a well-established brand in India. If you recall, they have entered the India market with their Xiaomi Mi3 handset. Since then they have sold uncountable smartphones in the market. Their Redmi Note 4 was among the top-selling smartphones in India. As per the recent market analysis, Xiaomi is leading the Indian market with 31% of market share. If you are a diehard Xiaomi fan then you need to know more about it.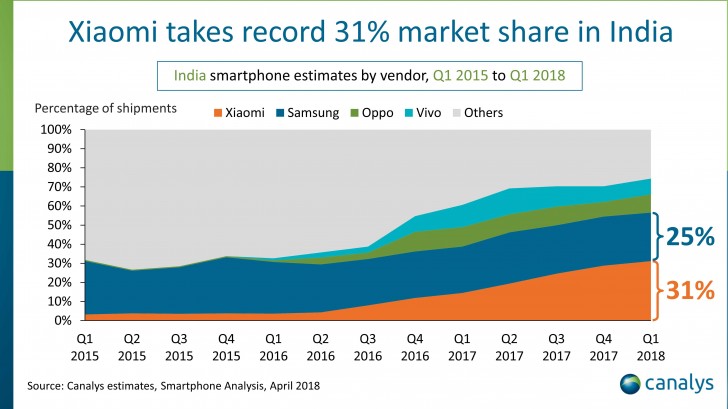 These analyses are coming from the house of Canalys estimates and according to them, the brand has even outshined Samsung in the India market. Xiaomi is on the top with 31% share followed by Samsung with 25% share and then followed by Vivo and Oppo. It is worth noting that how Chinese brands are slowly capturing the entire market. Out of 4 top smartphone manufacturers, three are Chinese here. Quarter 1 2018 suggests Xiaomi has experienced a 155% annual growth in terms of the device shipments.
As revealed by Canalys, Xiaomi's distribution has improved a lot over the last year which means their strategies are working super fine here. But due to Xiaomi a lot of other brands had to change their market strategies. Otherwise it will become typical to exist in the market. Their recently introduced Redmi Note 5 and Redmi Note 5 Pro are doing exceptionally good in the market. Almost every inventory of the smartphone is going out of stock in 5-10 sec duration during flash sales. As per stats Xiaomi has sold more than 3.5 million units of the Redmi 5A budget device. Which obviously is a humongous figure to achieve.
If you are following the brand for a while then you may be knowing that from the beginning Xiaomi's strategy is to sell maximum products at minimum profits. Xiaomi is the only brand which has maintained up to the mark quality even when they are offering the top-end device at an affordable price. According to us in Q2 2018 as well Xiaomi will continue to achieve the new sale targets.