Xiaomi took its wrap off from Xiaomi 13 Ultra, Xiaomi Pad 6 Series, Xiaomi Smart Band 8, Xiaomi 86-inch Mini LED, and other products at the "A shot above" launch event. The main highlight of the event was eventually the Xiaomi 13 Ultra. Along with it, Xiaomi Pad 6 Series were also the main focus. Xiaomi Pad 6 Series includes two models: Xiaomi Pad 6 and Xiaomi Pad 6 Pro.
The Xiaomi Pad 6 Series features an 11-inch IPS LCD with an 1800 x 2880 pixels resolution, a 144Hz screen refresh rate, and a 16:10 aspect ratio. The Pad 6 Pro offers a 144Hz smooth screen refresh rate. On the other hand, the vanilla offers a 120Hz from its predecessor model. While Pad 6 has a Snapdragon 870 SoC, Xiaomi Pad 6 Pro has the top-of-the-line Snapdragon 8+ Gen 1 processor.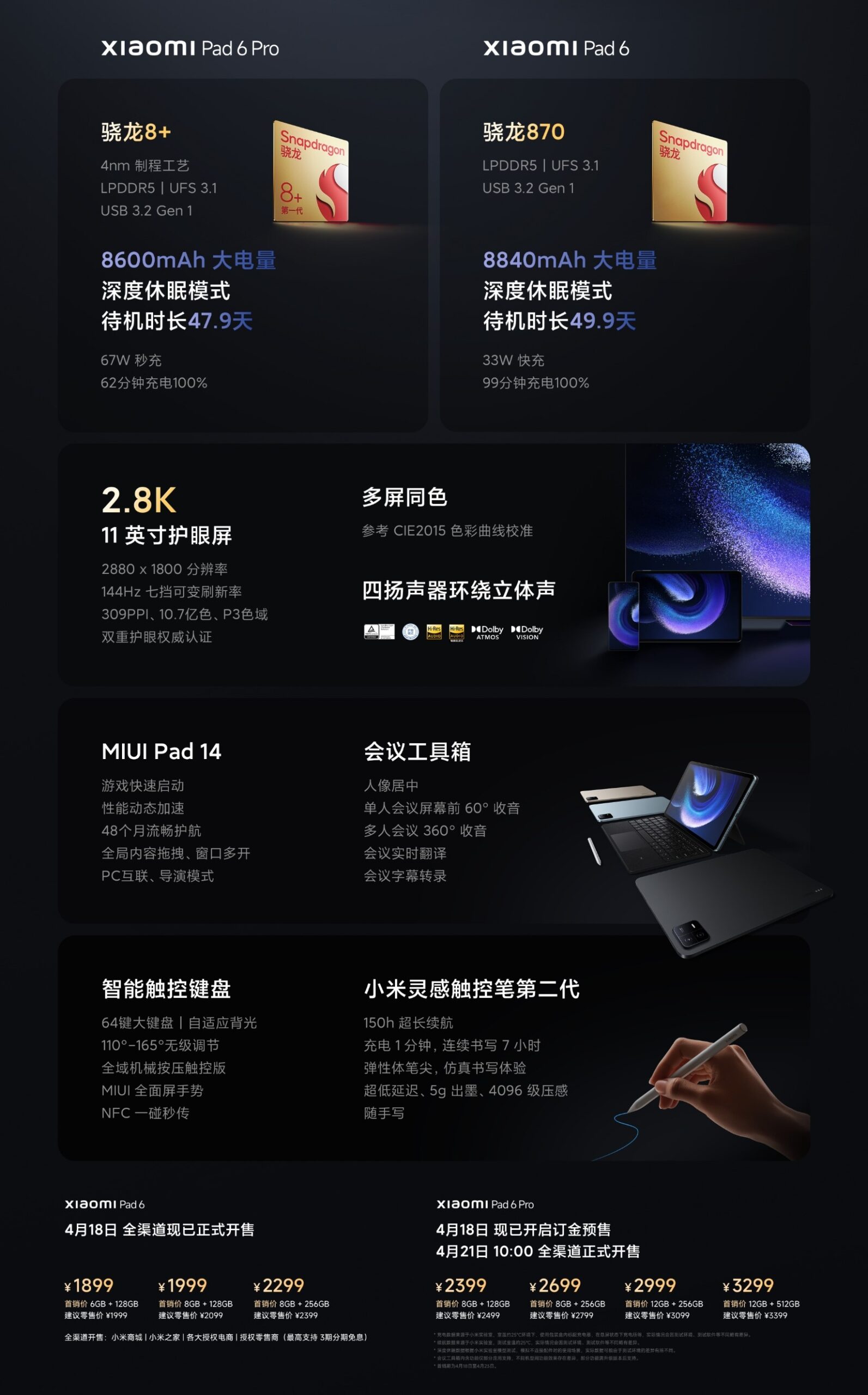 MAKE SURE TO READ: Xiaomi Smart Band 8 launched with a longer battery, and improved display
The Pad 6 has an even bigger 8840 mAh cell but only supports slower 33W charging, compared to the Xiaomi Pad 6 Pro's 8600 mAh battery and 67W charging. The MIUI Pad 14 running on Android 13 boots on both tablets. A 20MP front-facing sensor with auto-tracking to follow you during video conversations is added to the Pad 6 Pro, along with a 50MP primary camera on the back. Whereas, Pad 6 is equipped with a 13MP rear sensor and an 8MP front-facing camera.
Both tablets have quad speaker systems with built-in Dolby Atmos. Additionally, Xiaomi unveiled a redesigned keyboard cover and a second-generation smart pen attachment with enhanced wear resistance on the pen tip, longer battery life, and lower input latency.
Xiaomi offers the Pad 6 and Pad 6 Pro in three colours: black, blue, and champagne gold. Xiaomi Pad 6 starts at CNY 1,999 for the base model. The price of the 8/128GB model is CNY 2,099, while the 8/256GB variant is CNY 2,399.
The entry-level 8/256GB of the Xiaomi Pad 6 Pro is priced at CNY 2,699 and 12/256GB is priced at CNY 2,999, with the top-of-the-line 12/512GB variant costs CNY 3,299 instead.
ALSO READ: Xiaomi Smart 7 NFC goes live for sale in the global market