Marshall, the renowned audio equipment manufacturer, has launched its latest portable speaker, Middleton, in India. Priced at INR 31,999, Middleton boasts an impressive quad-speaker set-up that delivers immersive audio wherever you go.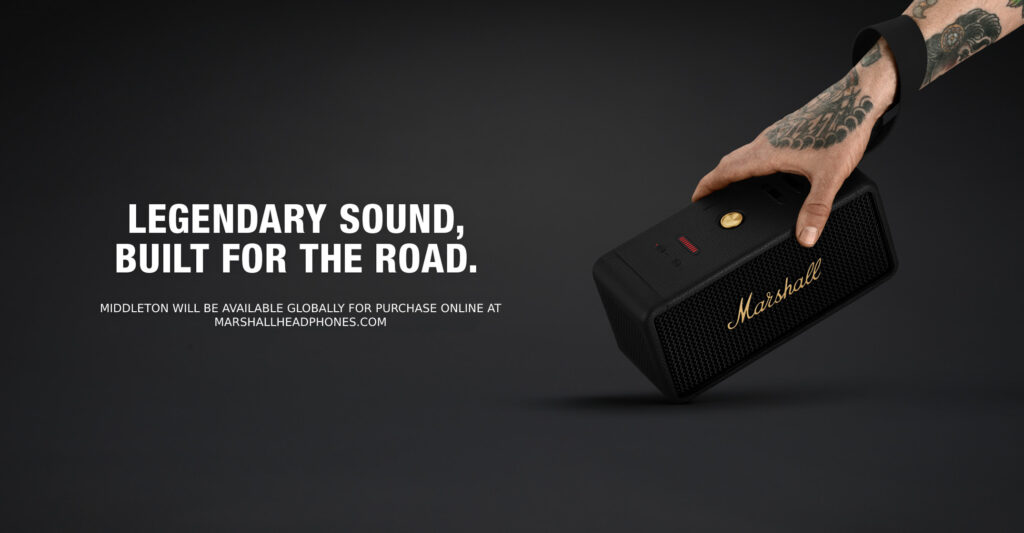 Must See: Marshall Acton, Stanmore, Woburn Third Generation Speakers launched in India
Get Ready for Immersive Audio Experience with Marshall Middleton – The Ultimate Portable Speaker
Designed for ultimate portability, Middleton features True Stereophonic audio, a unique form of multi-directional stereo sound from Marshall. This provides a superior spatial and binaural sound that flows around you, filling any space with an absolute 360° sound experience. Whether you're at a festival or at home, Middleton's iconic yet durable design can withstand the elements, thanks to its rugged IP67 dust and water-resistant build.
With Middleton, you can enjoy over 20 hours of portable playtime on a single charge, allowing you to keep the music going without interruption. And when you do need to recharge, Middleton can be fully charged in just 4.5 hours with a 5V, 3A charger. Middleton also doubles as a power bank, allowing you to charge your devices on the go.
One of the standout features of Middleton is its ability to connect to other Middleton speakers and amplify the sound with Stack Mode. Whether you stack them up or spread them out, you can create a colossal sound that fits any space, making it perfect for parties or gatherings.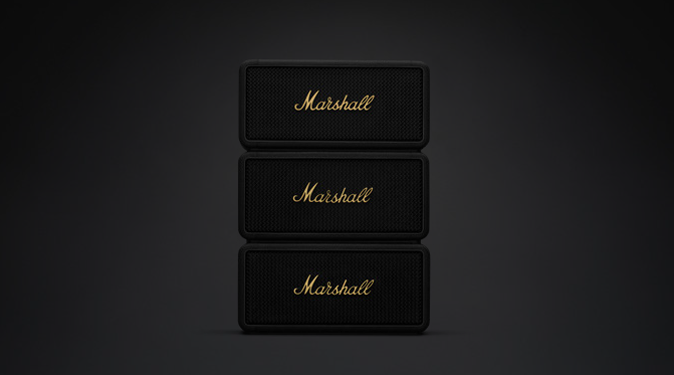 Middleton also offers hassle-free listening with its top-mounted controls for adjusting bass and treble, or you can download the dedicated app for wireless sound customization. The speaker is also made with sustainability in mind, as it comprises 55% post-consumer recycled plastic from used electronics, water bottles, and automotive light covers, and is 100% PVC-free.
Marshall Middleton Technical Specifications:
Power Amplifiers: Class D amplifiers – 2 x 20 W, 2 x 10 W
Maximum Sound Pressure Level: 87 dB SPL @ 1 m
Frequency Response: 50 Hz – 20 kHz
Stereo/Mono: Stereo
Dimensions: 109 x 230 x 95 mm (4.29 x 9.06 x 3.74 in)
Weight: 1.8 kg (4.0 lb)
Time to Fully Recharge: 4.5 hours with 5V, 3A charger
Marshall Middleton Pricing
With its impressive audio performance, durable design, and sustainable approach, Marshall Middleton is set to be a game-changer in the portable speaker market in India. Priced at INR 31,999, it offers music enthusiasts a premium audio experience on the go. So, get ready to immerse yourself in the world of Marshall sound with Middleton, the heaviest portable sound from Marshall.