AGM became the world's first rugged smartphone brand with the introduction of Rock V5 in 2011. They also introduced AGM M7 rugged smartphone carrying numeric keypad a few months ago. AGM now introduced its new G series flagship and the maiden device is finally launched as AGM Glory. As per the company's CEO, the smartphone is the "most sophisticated product by the brand so far."
The design of the AGM Glory is inspired by the Enterprise from Star Trek. It features a Spacecraft design that looks like a spaceship moving forward with ongoing propulsion. The device sports a 6.53-inch LCD panel with 2340 x 1080 resolution. It is IP68 and IP69K certified, making it waterproof, dustproof, and overall shock protected.
AGM Glory Features
AGM Glory draws power from Qualcomm Snapdragon 480 under the hood. Besides the 5G network connectivity, the chipset also features a dual Wi-Fi antenna. It boosts Android 11 OS paired with 8GB RAM and 128GB or 256GB of onboard storage.
In the optics department, the AGM Glory offers a 48MP main Sony camera accompanied by a 2MP macro sensor. Underneath, a 20MP infrared night camera is placed alongside a military standard thermal imaging camera. This further offers two modes of measurement— Human body mode and industrial mode.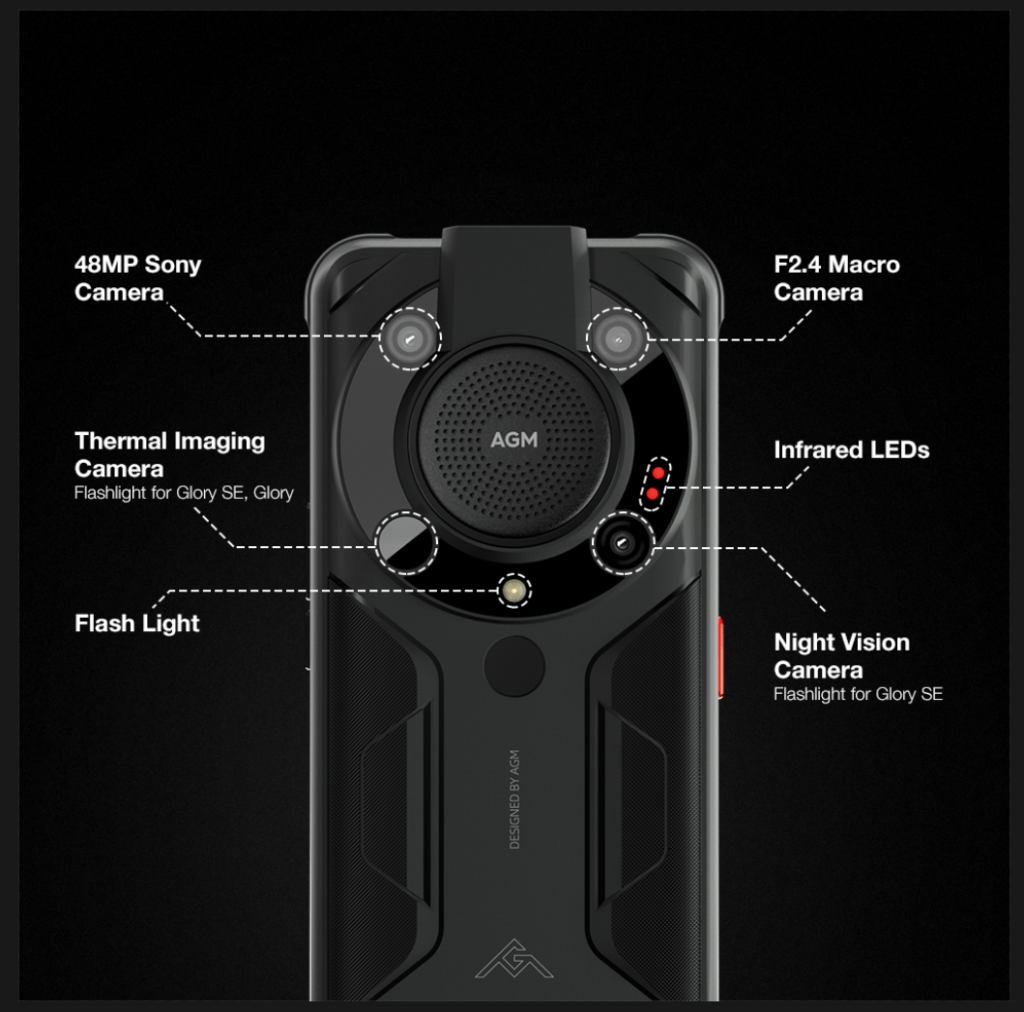 Here are some instances of the pictures clicked by the latest AGM Glory: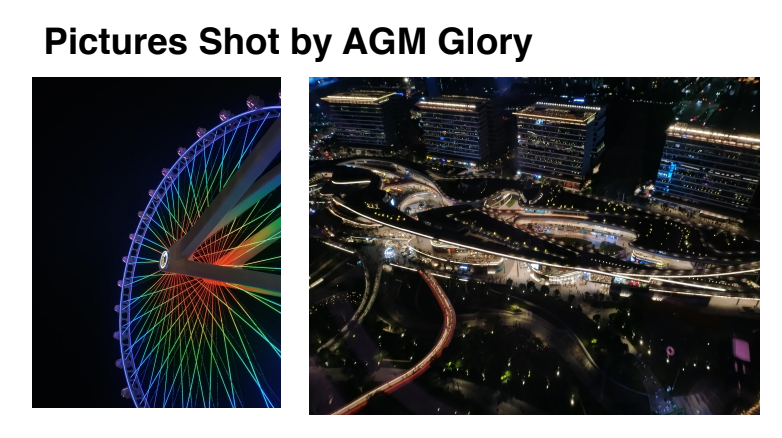 Apart from the smooth screen, an exceptional camera, and the best-rugged body, the AGM Glory has the world's biggest speaker. The volume of a 3.5w can reach 110 dB, which is even higher than an average house alarm. Plus, the speaker is equipped with an anti-pressure acoustic membrane thus, reducing noise and distortion underwater.
The AGM Glory packs a massive 6,200 mAh Long Lasting Battery which is said to support both desk charging and wireless charging. The smartphone's battery is capable to adapt to extreme conditions. It is the world's first battery-supported smartphone that worked for a day under -27°C. Further, it is eligible to run for 10 hours under -30℃ and gives 1-hour power under -40℃.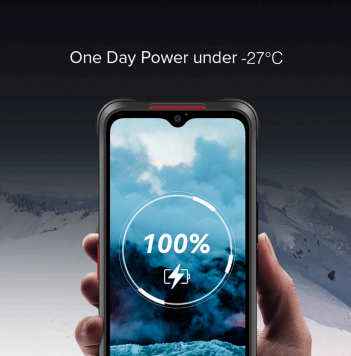 AGM Glory Technical Specifications
 *One day power under -27 °C, 10 hours power under -30℃, and 1 hour power under -40℃.
Qualcomm Snapdragon™ 480
128/256GB Rom + 8GB Ram
5G Frequency Bands
Android 11
Spacecraft Design
Thermal Imaging Camera
Sony 48MP Main Camera
20MP Infrared Night Camera
IP68, IP69K & MIL-STD-810H
3.5w World's Biggest Phone Speaker
Dual Mic Noise Cancellation
Desk Charging Dock and Wireless Charging Available
6200mAh Long Lasting Battery
NFC
Comparison AGM Glory SE vs Glory vs Glory Pro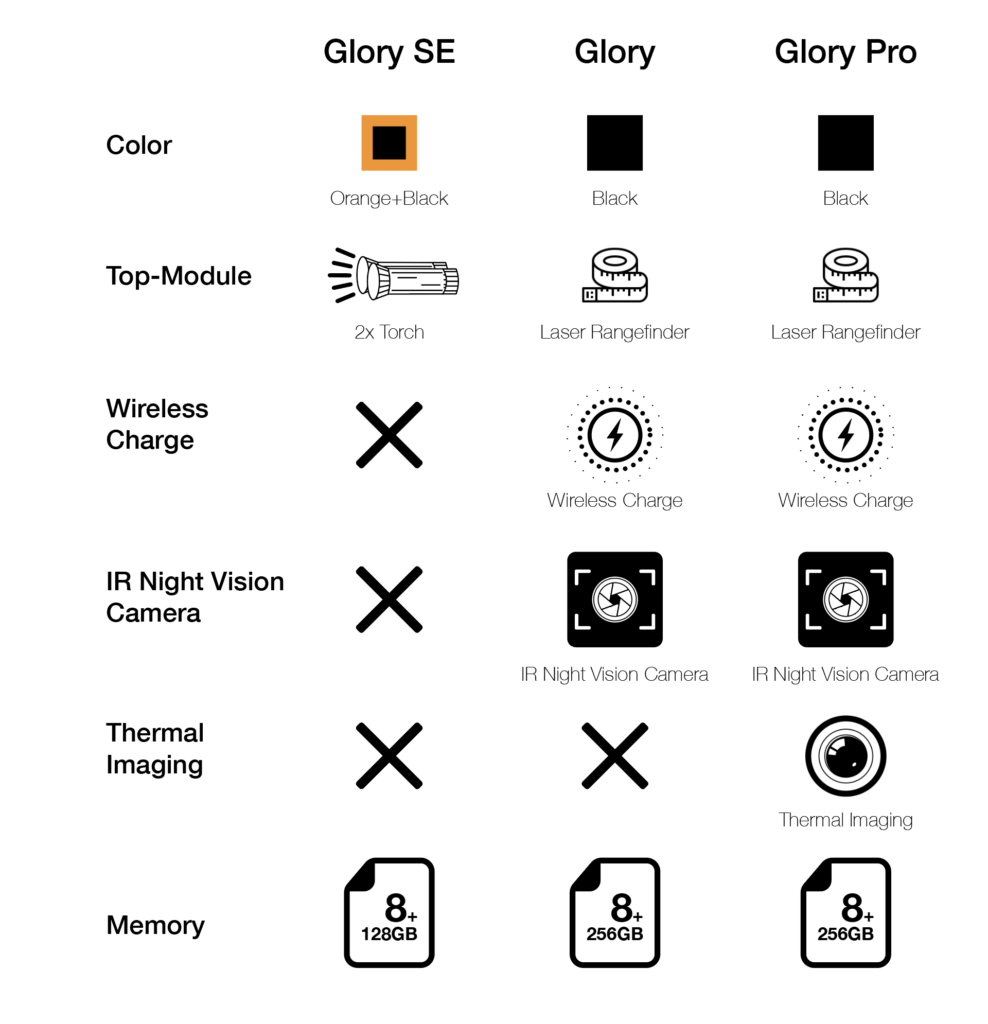 Know more about the AGM Glory smartphone by heading to the official website.