Google has today revealed Android market share stats for the month of Februrary. This time also Jelly Bean gained some more points in its share. While Jelly Bean and Gingerbread are now on the the down stream, both these Android versions are on downturn from past some months. Stats this month are entirely different in comparison with past month.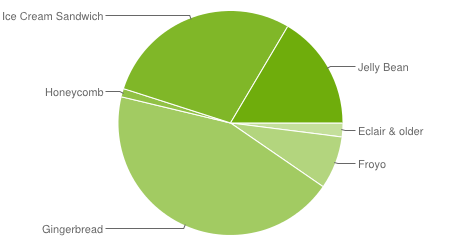 Detailing, Android 4.1 and Android 4.2 Jelly Bean  both rallied near about 2  as last month its market share was 13.5% and this month it has stepped up to 16.5 %. Android 4.1 is at 14.9% while the latest Android 4.2 version is only at 1.6% share.
Last month Android 4.0 Ice Cream Sandwich was at 29% and this month it dropped to 28.6 losing .4% of market share in February. No one can beat Gingerbread as it is still very much in the picture, with Android 2.3.3-2.3.7 accounting for 44% of the Android OS pie. After Gingerbread, ICS is the only version having big space on pie chart inserted above.
Android 3.0/3.1 Honeycomb also dropped but variation is much small.
All other versions like Froyo and Eclair also loosed some market share. Despite Android 4.1/4.2  Jelly Bean every other versions of  Android are loosing its customers.
On which Android version your smartphone is running? Also checkout last month's data.
Source: Google Blog