Angry Birds is now coming as 'Angry Birds Toons' cartoon series for Kids and set to premiere on March 16. Angry Birds was launched as Game on iOS and Android Platforms, then after it rocked to web clients like Chrome and OSs like Windows, then T-shirts, and now it's a cartoon Web series  will finally land on march 16.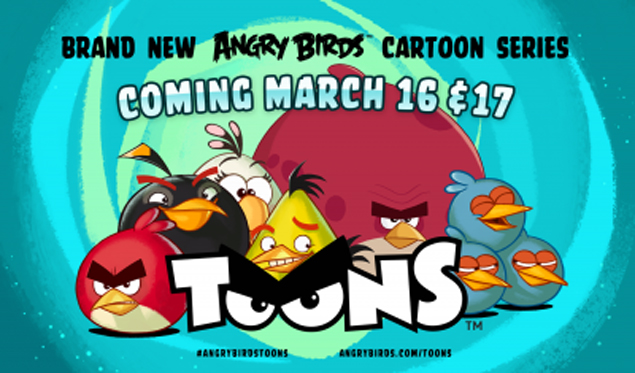 Cartoon series will feature short animation episodes and will be aired every week starting the weekend of March 16th. So now safe version for kids aka cartoon series of Angry Birds is coming and even teenagers can watch it if you want to know answers to questions like "What makes Bomb Bird so angry? Why is the King Pig the King Pig? And are those mischievous piggies ever going to get hold of the eggs?"
Talks were already started about 6 months ago when Angry Birds Space was launched.
In an interview to The Wall Street Journal, Rovio CEO Mikael Hed said that the company is looking at a long term future for the franchise and that it is looking at content and not growing distribution channels for the animated series.
According to CNET, 'Angry Birds Toon' Cartoon Series reveals that there will be 52 episodes that will each run for about three minutes long and it will be available to watch on a wide variety of devices.
There's half a month still left, so until that checkout teaser video below:
It will be available on internet on their official site. Currently we have no information regarding its streaming on other sites.
Source: Angry Birds Toons