Chances are that if you have used Android you have not heard of an app called Google Play Store. I'm just kidding. The Play Store is hands down the biggest Android app marketplace in the world, probably the universe. Unless aliens exist and have a bigger app store than Android. If you've owned an Android phone, the very first boot used to ask for your Google account to activate the Play Store. But there are many other third-party alternatives to the Play Store that give users untold freedom.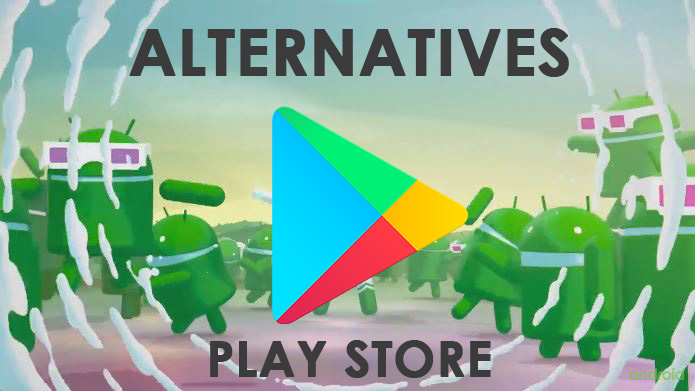 Why try out Google Play Store alternatives?
The main reason to try out these alternatives is free apps. As many as 60% of all apps are free on the Play Store. But others cost cash. There are app deals that we cover weekly that lists some temporarily free apps on the Play Store. But that's it. Some of these third-party apps have everything for free. That's a big plus for users who don't want to pay for any app. Apart from that, some apps on the Google Play Store are region-specific. And Google doesn't let other region users download them. This is another reason to use third-party app stores. A large number of apps are "early access" only.
All these reasons make the case of the third party app stores very tempting. That is why there is a ton of them. But we will hand pick some gems here some of them that are the most secure and provide a great user experience. So that you don't have to look for them.
Note: First, users will have to set up their device so that third-party apps are allowed installation on their phone. For that go to Settings > Security and toggle Unknown Sources
Disclaimer: Third party apps run the risk of malware and spam on installed devices. They can also lead to privacy and security compromise. It is advisable to be careful. We will not be held responsible for any apps that exhibit such behavior.
Amazon Underground app for Android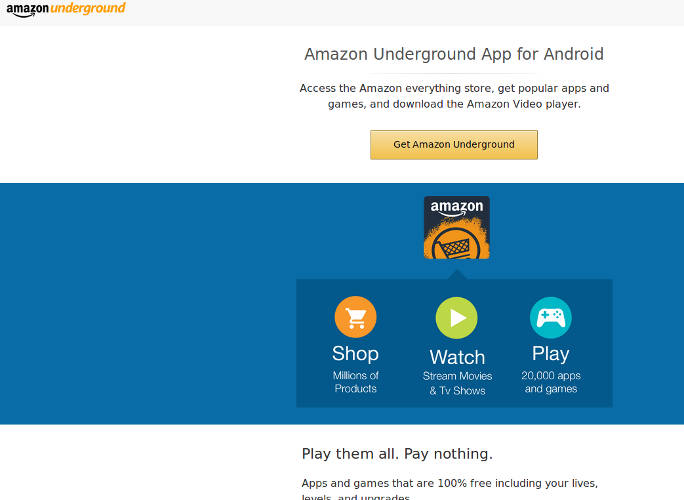 Amazon Underground app should be your first choice due to the fact that it is from another big online seller, Amazon. It also has a huge selection of free apps that include both free and paid ones. From time to time, you will find deals that list paid apps for free. One of the main reason to try Amazon Underground is the selection of books, songs, and movies. Some genres here might have more choices than the Play Store itself. To top all that, they are cheaper than the Play Store.
Download the app from here
Amazon App Store
Besides this, there is the Amazon App Store. It is another big ecosystem, and very popular too in Europe and America. Users have to sign-up first and there is no web version. Users will have to install the apk to get started. One thing worth noting is that Amazon makes a paid app free every day.
Download it from here
Aptoide
Aptoide has one of the biggest collections of software with 900,000 apps to choose from. Even F-droid (another popular app store) is its fork. And many apps on here are not even on the Play Store. APtoide is popular because most of the apps listed here are free. Users visit it because it presents an alternative for free games that are otherwise paid on Google Play Store. It has an app that can be downloaded as well as a website that can be accessed right away.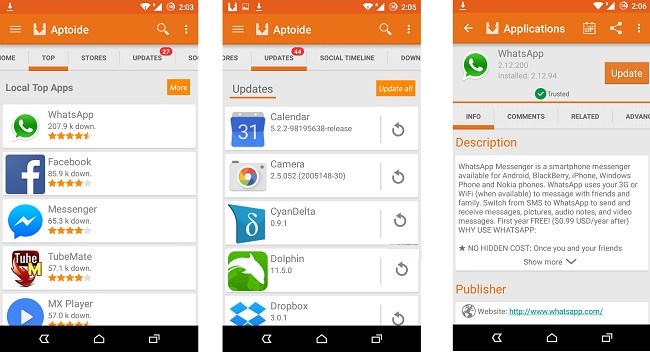 The UX of Aptoide is also impressive. It is really close to the Play Store in terms of looks.The devs have given it a lot of thought and hard work. The categories and tabs closely resemble Google's design. It should give users a far more premium experience than most others on this list.
Download the app from here
AppBrain
Appbrain is an ecosystem where new premium apps are advertised by the platform. To return the favor those apps are available for free for a limited time. Appbrain also has a website and an app to showcase its catalog.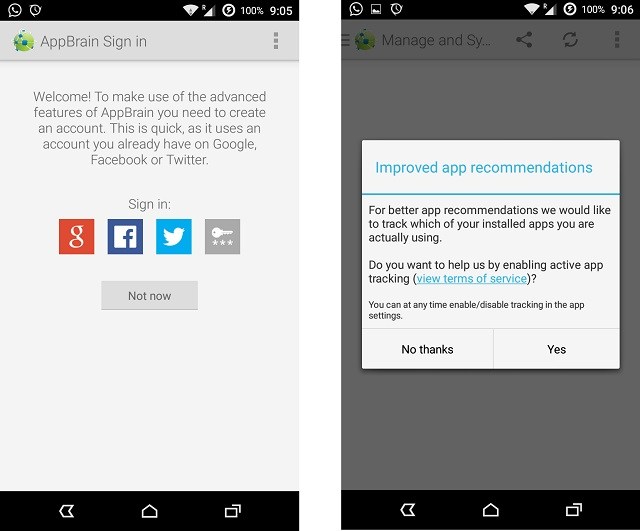 It's designed keeping in mind user control over all aspects of the app. Hence, the app asks users if they want it to track current installs to notify about their updates. It does require sign-up. If you don't, it will direct you to the Play Store version.
Download the app from here
GetJar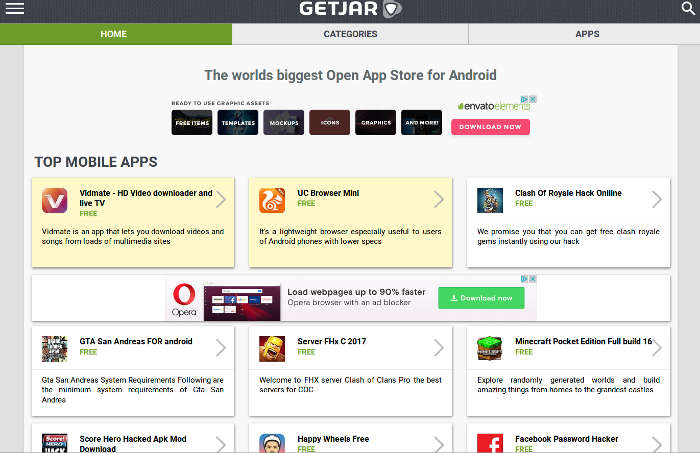 GetJar is the oldest of the old. It has existed even before the Play Store. It has a web and app option to access. The collection of apps is huge. But since it is quite old, you might find old versions of apps sometimes instead of new ones. Also, the app lacks fresh design and is far from today's standards. Also, GetJar has apps for platforms other than Android too. That is why it's on the list. You will also see what users have said regarding an app and what they didn't like. But the negative side is that there are advertised apps and sponsored recommendations.
Download the app from here
Mobogenie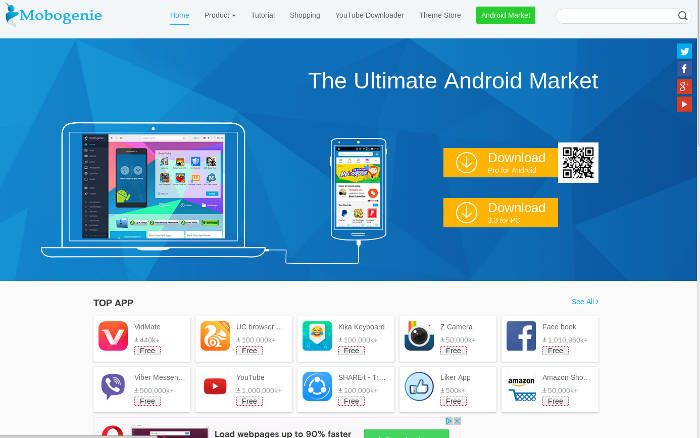 Mobogenie was developed in India and it continues to have a large userbase here. It offers a large selection of curated apps. Mobogenie has an AI that suggests the right apps in front of you by analyzing your preferences. The store is available globally, and there is no registration process. Mobogenie's interface is also decent and clean.
It also works as a file manager and it allows users to download other types of content as well like wallpapers, ringtones, books, and YouTube videos. It has a PC client that helps in transferring files between phone and other devices. Developers may also find it attractive as it is present worldwide and revenue sharing option is attractive.
Download the app from here
Apart from these, there are countless other reputed sources.
Short list of some more popular app stores:
APKmirror, Opera Web Store, 1Mobile, AppsZoom, Mobango, Mobile9, Pandaapp, Soc.io, and Softonic. Then, there's also the Baidu App Store and Xiaomi's Mi App store in China, Slide ME, AppsLib, Blackmarket, Itch.io and Yandex in Russia.
Do let us know your favorite? Which ones do you use? What are the standout features that you like the most? We'd love to hear from you in the comments below.