Whenever we talk about OnePlus 5T smartphone, the first thing that comes to our mind is a barking processor, Dual-Cameras, AMOLED screen and much more. Currently, it is the prime offering from the house of Chinese giant, OnePlus. The device has checked all the right boxes regarding performance as well as concerning looks. Out of the box, the device comes with OxygenOS pre-installed. Based on Android Oreo, the brand often releases new Open Beta updates for the device. Let's see custom ROMs for OnePlus 5T.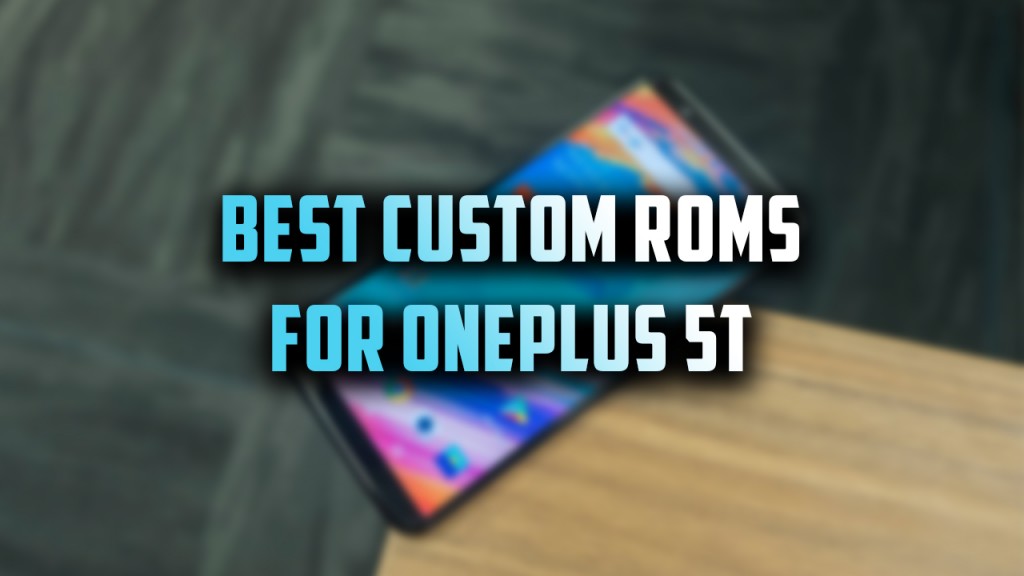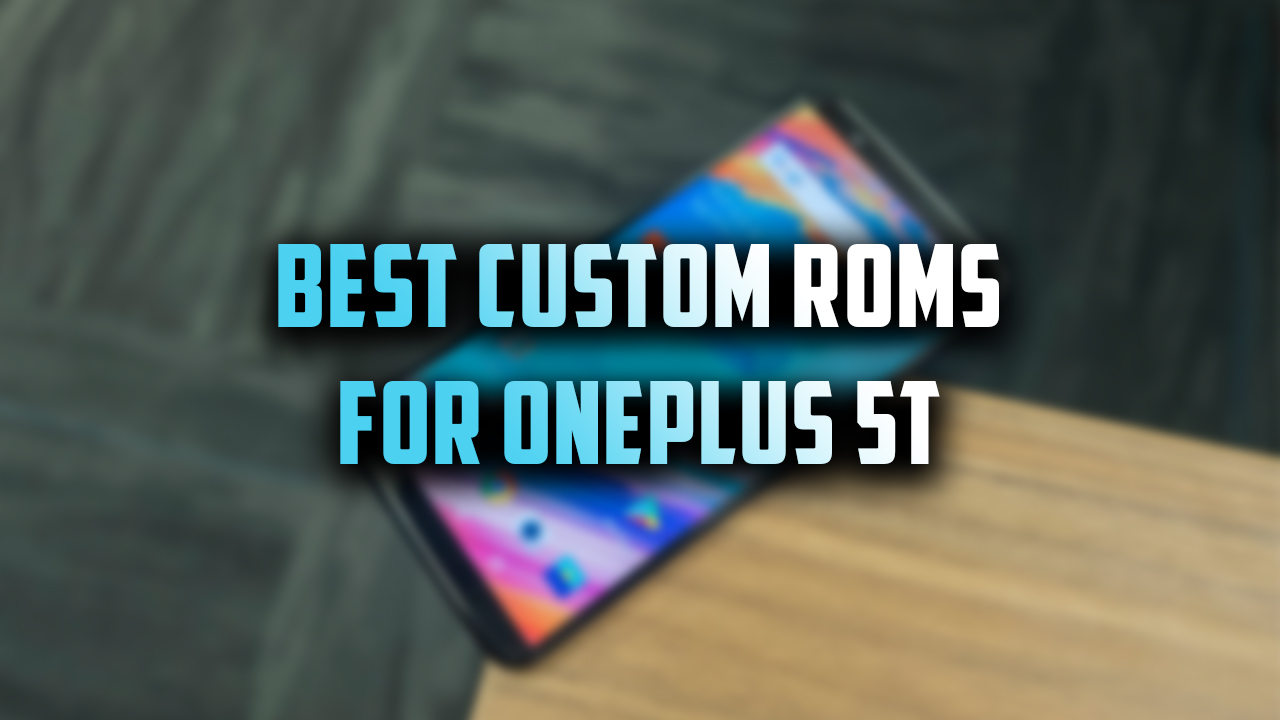 OxygenOS offers a very identical experience to what a stock Android ROM will offer. The device comes with almost zero bloatware and runs like a charm.
Some users are there who still have accusation with the device and for those custom ROMs are built. With ROMs, one can unleash the hidden strength of a handset. Installing a custom ROM is not a piece of cake as it requires rooting a device and some further processes as well. If you are into rooting for a while, then you will not be going to face any severe issues with the device. The next big query is which custom ROM to use, and in this article, we will be discussing some of the Best custom ROMs for OnePlus 5T.
List of Custom ROMs for OnePlus 5T:
LineageOS 15.1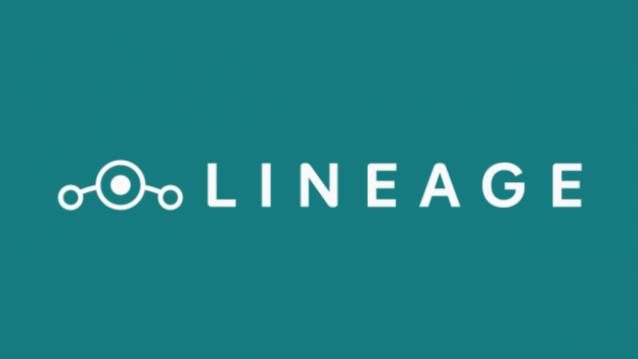 It is one of the best and well known ROM available for the device. It will bump up the Android version of your OnePlus 5T to the latest Android 8.1 Oreo. This ROM offers every function associated with Android 8.1 Oreo. It has been designed to increase the performance and reliability of the device. Lineage OS is based on AOSP(Android Open Source Project). It is worth mentioning that being a third party ROM, it possess some bugs/issues. Some features like Face Unlock will not work on your device as you have to compromise at some point. It is the best ROM on our list of best custom ROMs for OnePlus 5T. For more information about downloading and others visit official XDA thread.
OmniRom 8.1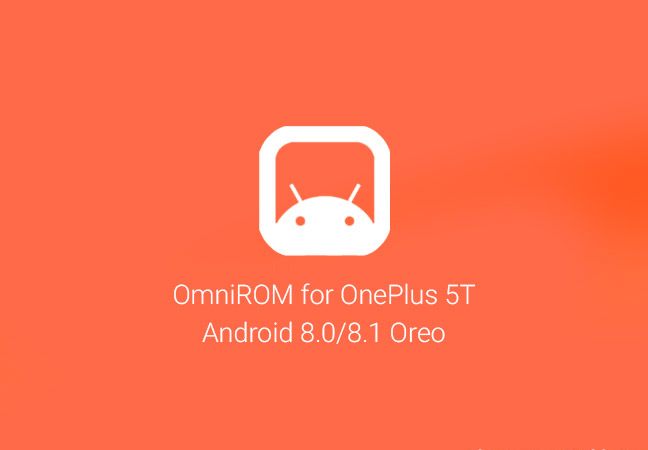 OmniRom 8.1 is among the list of very first ROMs for OnePlus 5T that runs on Android 8.1 Oreo. Except for few bugs, the ROM is acceptable and offers some exceptional features like PIP(Picture in Picture mode), OmniRom Wallpapers, Custom headers, etc. It also comes with offline gesture options that have all OxygenOS "V," "O" gestures included. The Ambient display on the handset can also be customized. This ROM doesn't support Face Unlock, Dash Charge notification but is faster than the stock ROM. For more information about this ROM jump to the official XDA thread.
Liquid Remix 9.0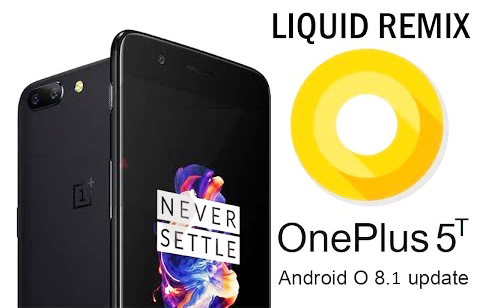 This ROM comes based on Android 8.1 Oreo and by the interface, it looks somewhat similar to Google Pixel's interface. The ROM comes with some cool OxygenOS stock features, and for the Camera app, it packs a Google Pixel camera app which works well. Some features like button customization are similar to OmniRom; gesture support is there, we can also enable the charging animation feature in the navigation bar. Identical to OmniRom you can customize header image as well. It is a custom ROM but still retains almost all OxgenOS stock gestures. The ROM is very stable, and you can use it on your daily device. For more information jump to the official XDA thread.
Freedom OS 2.1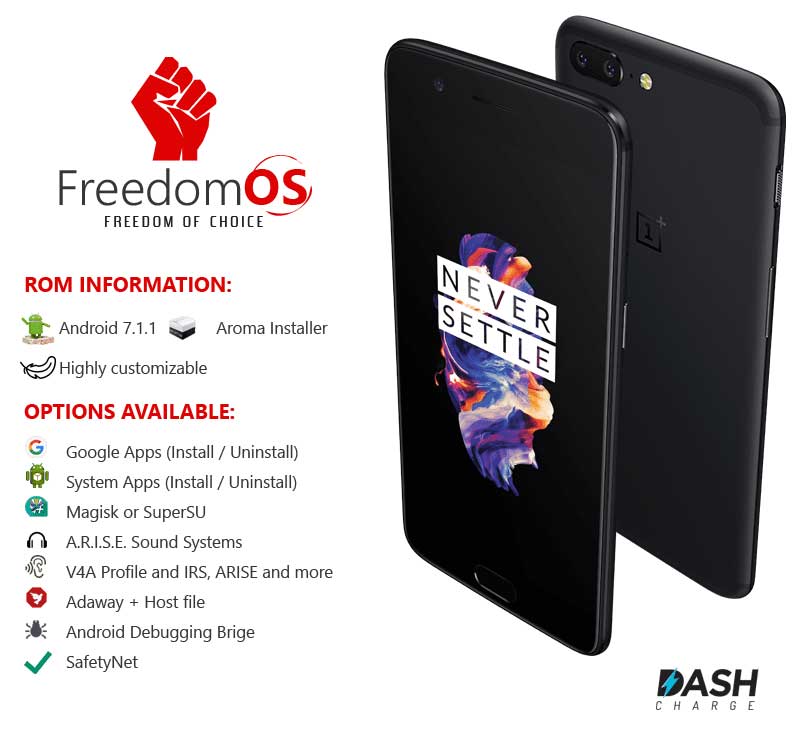 It is a highly customized ROM and comes with an ability to support third-party modules as well. The ROM is based on Android 7.1.1 Nougat which is a kind of disappointment here, but because of its great refinement, it is exceptional. The ROM offers stock Android experience with almost zero bloatware. This ROM supports Magisk, Arise sound system and the most significant merit of using this ROM is that it doesn't suffer from safety net issues. The ROM is buttery smooth and delivers jitter less performance. For more detailed information you can visit the official XDA thread.
Audax ROM v3.0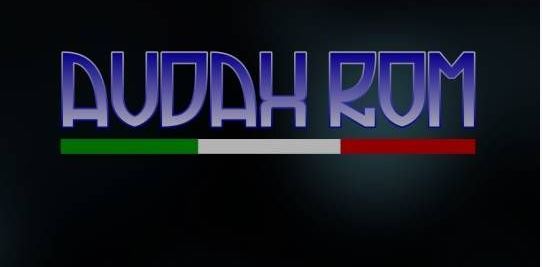 It is the latest version of Audax ROM as earlier only v2.0 was available. This ROM is based on OxygenOS Open Beta 4 and runs on Android 8.1.0 Oreo. It is rooted using Magisk due to which a user will not have to face safety net issues. It also comes with Arise sound system identical to the FreedomOS. As shown by changelog this new version has updated Audax Magisk Stereo, updated AdAway, updated busybox installer, etc. It offers all features which are limited to Android 8.1 Oreo and delivers the pure stock Android experience. For download links and installation visit the official XDA thread.