Already, there exist a strong speculation that OnePlus 5T will boast an upgraded Dual Camera setup of 20+20MP sensors. Numerous sources and other leaks have already suggested it. And, now a latest AnTuTu benchmark of the upcoming OnePlus device also consolidates the expectation.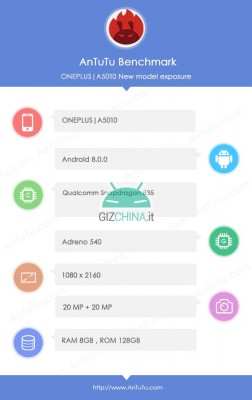 AnTuTu exposure of the OnePlus 5T enlists the same 1080×2160 FHD display as seen in the previous OnePlus devices along with the Dual 20+20MP camera. The device that hit the benchmarking site boards a massive 8/128GB storage option. Interestingly, it's seen running the latest Android Oreo. That seems to be unreal only because that, OnePlus has just rolled-out the Oreo beta program for OnePlus 3/3T.
Meanwhile, an online retailer with a brand name OppoMart has put the OnePlus 5T for pre-ordering before its official launch. In fact, the retailer has got something to say different than that what AnTuTu revealed.
According to OppoMart, the device carries a dual-camera, but of 20MP+16MP sensors and boots Android 7.1.1 on-board. Clearly, the OppoMart version is different to that of AnTuTu. Moreover, the retailer specifies an upgraded 3,450mAh battery for the device compared to its predecessor OnePlus 5. And, the price tag hanged for the device is $550 and $650 for 6/64GB and 8/128GB variants respectively.
Of course, both of the sources revelations aren't purely correct. So, it's quite a wise judgement to wait until the official launch of OnePlus 5T to happen most probably on next month.