Everyday new android phones are being launched. Samsung Galaxy J7 is the most popular mid-range phone in the present time. You will find this phone in the hands of many users as this is the best available phone by Samsung in its price range.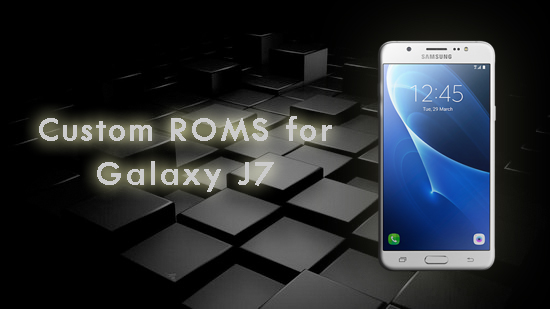 There is a sad news for the users of Galaxy J7 is that there aren't have much options available for the people rebooting the device and installing a new custom ROM. Still, the users of Samsung Galaxy J7 are not the ultimate losers and have nothing much to worry about as few good custom ROMs for this device are available for Galaxy J7.
Best custom ROMs for Galaxy J7
Sakindia123's Custom ROM for Galaxy J7- This is one of the basic ROM for Galaxy J7 and best part of it is that it comes pre-rooted. It is based on AOK8 stock ROM. Another feature for considering this ROM is that it is debloated and has Knox removed. The flaws of Galaxy J7 like multiple gallery or e-mail apps have been overcome in this ROM. So you can use it freely without having to worry about anything. A bug has been reported by the users while installing this ROM which is that while adjusting the brightness of the phone after rebooting it and selecting outdoor mode the phone itself gets restarted. [Download]
Unofficial CyanogenMod 13- It is the best known custom ROM launched by android developers so far. There have been many users of this ROM and the best part of it is that it has left all its users happy and satisfied. So, it is obvious for it to become the leading popular choice of the android users. Though, there is no official support by the developers of CyanogenMod for Galaxy J7. Still we can use the official port on our device without any worry. It is a combination of all the features of this phone and works limitlessly with the hardware.[Download]
Stock Custom ROM- In case you are comfortable with Touch Wiz on Samsung Galaxy J7 but do not want the additional apps that come with it, then you should definitely give a try to this ROM. The feature of this ROM which has led to its so many users is that you can use any theme by downloading from any of theme store. Another reason for considering this ROM is that it works on any Samsung J7 variant with Exynos7580 processor. [Download]
Lineage OS ROM- This is an open-sourced code as it does not include different hardware specific code. It is based on the open source project of the android. For making your device Lineage OS oriented you do not need to use any specific google play applications. [Downlaod]
Nougat 7.0- All the users of Samsung Galaxy J7 would be pleased to know that they can easily update their device to android Nougat 7.0 OS by using the custom ROM itself. The attractive features are:- multi-tasking window, direct reply notification, 3D touch.[Download]
You can also have a look at custom ROMs for other device .We have listed some best roms for OnePlus 2, Redmi Note 3, and 2014's Samsung's flagship Note 4. We have a compiled list of custom ROMs for the OnePlus One.