Indians will soon celebrate Diwali, and e-commerce giants have already started their respective sales. Amazon will start its Great Indian Sale 2021 starting from October 3, 2021. However, the sale is already live for the prime customers where Amazon has revealed all the deals on smartphones, laptops, and other gadgets. However, we wish to concentrate on smartphone deals as a continuation of the article listing the best deals in Flipkart Big Billion Days 2021. When compared to Flipkart, Amazon has more smartphones in the mid-range, premium mid-range, flagship segments. At the same time, Flipkart has more devices in the budget segment.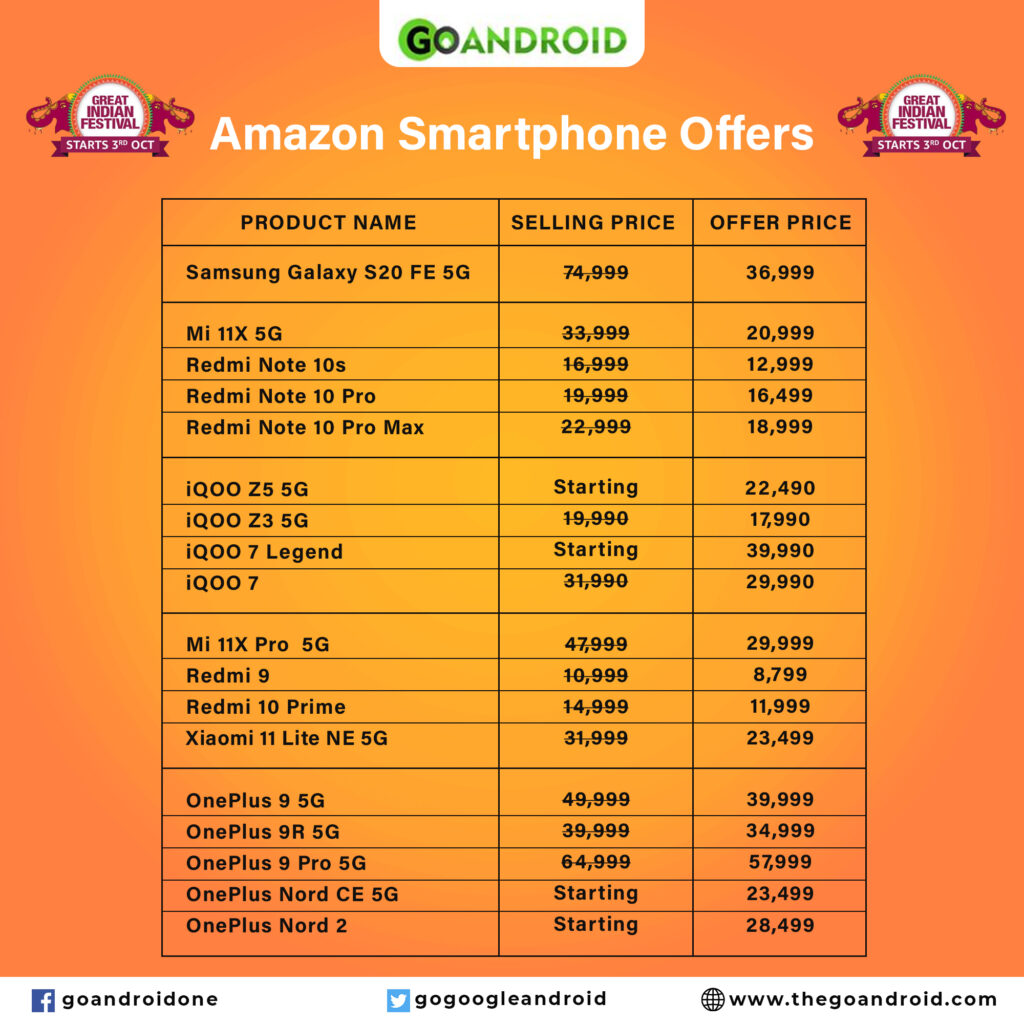 Samsung is offering massive discounts on its flagship and mid-range smartphones. They also come with an exchange bonus. In comparison, Xiaomi is offering hefty discounts on its latest Mi 11X series. The series brings the latest flagship Qualcomm chipsets at an affordable price. Then comes iQOO, which offers discounts on phones with mid-range & flagship Qualcomm Snapdragon chipsets. OnePlus has also reduced the prices of its smartphones. Amazon has tied up with HDFC to offer incredible discounts for its users when it comes to bank offers. Besides this, brands like Samsung and Xiaomi also offer significant discounts if you exchange your old smartphone.
Samsung Galaxy S20 FE 5G 128GB 36,999 Buy Now
Mi 11X 5G 128Gb 20,999 Buy Now
Redmi Note 10s 64GB 12,999 Buy Now
Redmi Note 10 Pro 128GB 16,499 Buy Now
Redmi Note 10 Pro Max 128GB 18,999 Buy Now

iQ00 Z5 5G 128GB 22,490 Buy Now

iQ00 Z3 5G 128GB 17,990 Buy Now
iQ00 7 Legend 128GB 39,990 Buy Now
iQ00 7 128GB 29,990 Buy Now
Mi 11X Pro 5G 128GB 26,999 Buy Now
Redmi 9 64GB 8,499 Buy Now
Redmi 10 Prime 64GB 11,999 Buy Now
Xiaomi 11 Lite NE 5G 128Gb 26,499 Buy Now
OnePlus 9 5G 128GB 39,999 Buy Now
OnePlus 9R 5G 128GB 34,999 Buy Now
OnePlus 9 Pro 5G 128GB 57,999 Buy Now
OnePlus Nord CE 5G 128GB 23,499 Buy Now
OnePlus Nord 2 128GB 28,499 Buy Now
These are the most significant deals for smartphones in the Amazon Great Indian Festival. HDFC offers a discount of Rs 1500 while purchasing smartphones. And for certain smartphones, HDFC offers a higher discount. Make sure to check out each and every offer before buying smartphones. Because the offers vary according to each and every smartphone. It is a pity that Amazon has only tied up with only a bank for bank offers. Flipkart has tied up with two banks to offer discounts.
Apple is also offering discounts on iPhone 11 on Amazon. Apart from iPhone 11, there are no significant discounts on iPhones. Other iPhones get massive price cuts in Flipkart. You can click here to know about the smartphone deals during Flipkart Big Billion Days. Also, make sure to share the article with your friends who wish to purchase a new smartphone during the festive period.