As expected, Vivo has now become the first brand to reveal an in-display fingerprint sensor flaunting smartphone. The subsidiary of BBK Electronics exploited the auspicious occasion of CES 2018 to showcase the revolutionary optical fingerprint sensor embedded on a smartphone display. Of course, it's the technology developed by Synaptics and Vivo is the exclusive client of the firm as of now.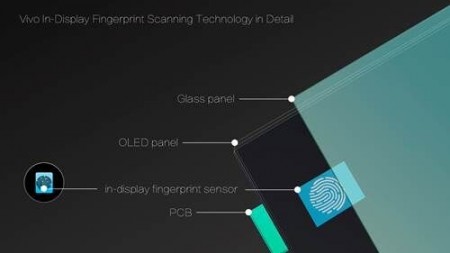 As we know, the on-screen fingerprint tech was always been an headache for top-tier smartphone manufacturers. The giants such as Samsung and Apple ran out of time to perfect the technology. Nevertheless, Synaptics – the firm behind this optical fingerprint sensor claims it to be more faster and equally secure compared to the traditional fingerprint sensors employed in current smartphones.
With the new technology in action on Vivo smartphones, the in-display fingerprint sensor will be embedded between the main board and the OLED panel. While the intense light irradiating from OLED display, literally illuminate the finger. In effect, the sensors will be able to easily analyse and interpret the lighted finger.
Speaking of this new revolutionary fingerprint sensor placement, a Senior VP at vivo, said: "The solution is solving the industry's challenge of providing a more convenient authentication experience. The phone is ready for mass production and should be announced in "early 2018".
We're excited to see the Vivo smartphone to debut with the technology, aren't you? Well, we'd like to know your views regarding this on the comment section below.