Samsung Galaxy S8 is one of the best Android phone present in the market. If you want to buy one, than here is a very good deal for you. Samsung Galaxy S8 (unlocked) 64 GB variant is available to buy for Just $599 on eBay. The normal price of unlocked Galaxy S8 64 GB is $724.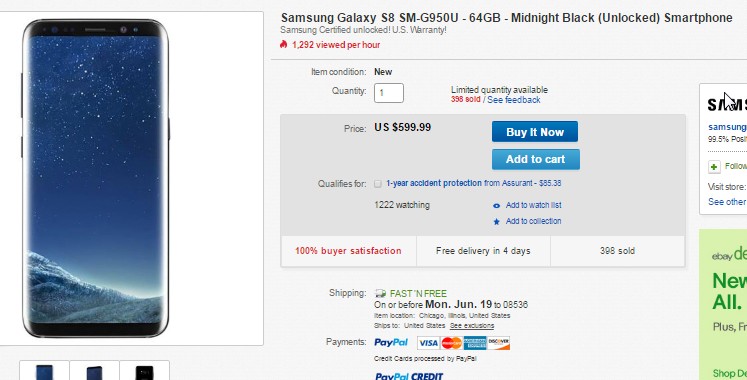 For a reminder, Samsung Galaxy S8 packs with a f/1.7 12MP Rear + 8MP Front Cameras with Octa-Core Snapdragon 835 Chipset, 64GB internal Storage Capacity and 4GB of RAM and 5.8″ AMOLED Infinity Display. Device is IP68 Waterproof to 4.9′ and runs on Android 7.0 Nougat. It includes AKG by Harman-Tuned Earbuds.
Note: The phone is only available in Midnight Black color option. People who want to buy Samsung Galaxy S8 (unlocked) 64 GB variant can go through the link below. As the seller written that the quantity is limited so act soon if you want to buy.
Buy Now– Galaxy S8