MicroSD cards have become the things of the past on smartphones these days. But still, there are a handful of smartphones which retain the microSD card slot every year with their new iterations. And if you own such a smartphone with microSD card slot, you might want to have a look at this new deal on Amazon. The SanDisk Ultra 256GB card is available for only $89.99 which makes it $60 cheaper than its asking price.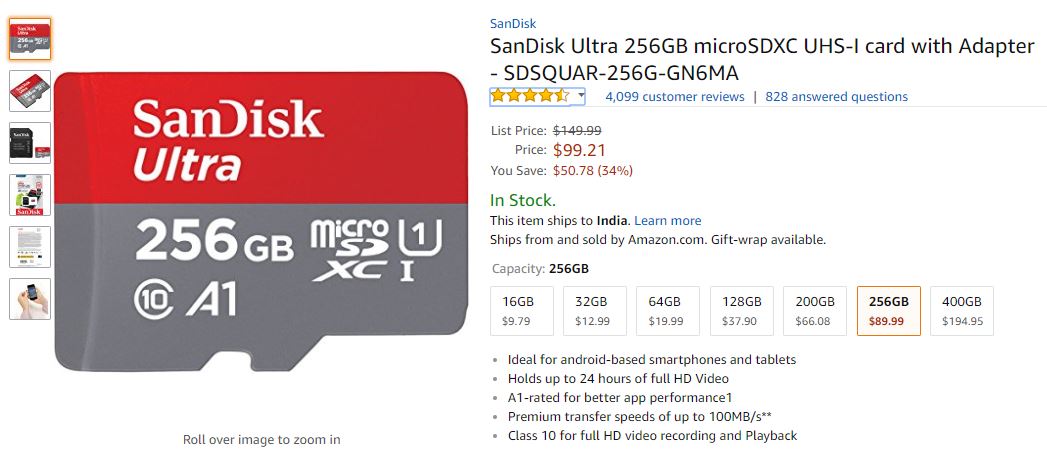 As for specifications are concerned for this microSD card, it is a class 10 card along with A1 certification. Which means it supports random read input-output access per second (IOPS) of 1,500 as well as write IOPS of 500. Also, it has a maximum transfer rate of 100 MB/s and can store 24 hours worth of Full HD video. Further, it also has resistance to water, temperature, shock, and X-rays. The SanDisk Ultra 256GB microSD card also comes with an adapter as well.
This microSD card from SanDisk is priced at $149.99. But, it is now available at only $89.99 on Amazon which might be the cheapest price you can get it for. So, what are you waiting for? Buy the Sandisk Ultra 256GB from Amazon by clicking on the link provided below.